Chainstack 2.0: Empowering scalable blockchain ecosystems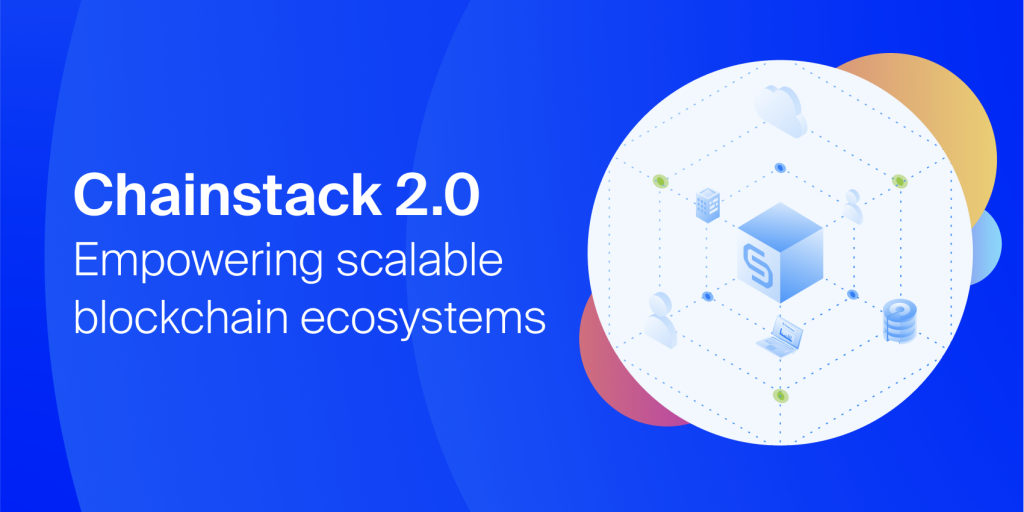 We launched Chainstack 1.0 a bit more than a year ago. Since then, we have shipped new versions regularly, driven by our customers' and partners' feedback. Reaching Chainstack 2.0, however, is a special milestone for me personally, and for the entire Chainstack team. Today is the day Chainstack becomes whole.
As a co-founder and CTO, the journey from 1.0 to 2.0 has been full of achievements and learning points, always guided by a customer-centric approach and precision engineering.
The mission from day one has been to create the most accessible and scalable platform to enable teams to deploy, manage, and scale blockchain nodes, networks, and applications. The more mature the blockchain industry becomes, the more enterprise partners come on board embracing decentralization as a path to a more efficient and profitable business. At the same time, the more we embark on this path, the sharper the contrast becomes with the tools available to make all of this happen. This is the gap that Chainstack wants to fill.
Seeing Chainstack grow into a complete suite of tools available to developers and innovators makes the bumpy road as an entrepreneur worthwhile. What was only a vision and an aspiration, today with the release of Chainstack 2.0 becomes a reality.
To achieve this, the team at Chainstack has worked relentlessly, and I speak for everyone when I say that it was an enjoyable development journey. Today, we are thrilled to share the exciting new features of Chainstack 2.0, the most accessible and transparent way to deploy, manage, and scale blockchain applications.
Our journey
Having released version 1.0 over a year ago with Quorum, MultiChain, and Ethereum support—the latter with our lightning-fast sync mechanism, we went on to work on the more modular and complex networks—Hyperledger Fabric and Corda.
We were the first to support Hyperledger Fabric v2 and the automated public Corda Network participation and node deployment.
At the same time, we hardened the security of the platform, released Bitcoin protocol support and Ethereum archive node deployment, updated the pricing to make the platform much more affordable, partnered up with bloXroute and implemented their gateway to enhance the speed of our Ethereum nodes.
We've been busy.
What's new in 2.0
Thanks to the release of the new features and marketplace, Chainstack 2.0 becomes a complete platform that will allow customers to run applications, complementary services, and development tools all in one place. This is a leap forward from the first version of the platform that primarily allowed users to manage blockchain networks and nodes.
Let us delve into the details of each new feature.
Platform API
We are opening up a powerful platform API that allows customers and partners to programmatically create and manage projects, networks, nodes, identities, services, and applications.
Developers can use Chainstack orchestration API to manage their blockchain infrastructure programmatically and build blockchain CI/CD pipelines to automate testing and delivery of their solutions.
Partners can interact with Chainstack orchestration API to seamlessly manage blockchain deployments from their platforms, which allows them to programmatically operate and scale their networks.
Microsoft Azure support
We are adding one more cloud provider to our multi-cloud lineup. Now our customers can enjoy the deployment of consortium networks and shared public nodes in Azure UK South region.
Anyone can spin up a decentralized network with nodes in three clouds in a few clicks.
No user limit on all plans
We are removing limits for organization collaborators… on all plans! Now our customers can invite as many users to their Chainstack organizations as they want to work together on exciting blockchain projects.
Advanced node lifecycle
We are introducing new ways to interact with nodes and networks on Chainstack. Now our customers can start and stop their nodes and networks at any time. It is useful when one wants to take a break from the project but preserve the state and avoid paying for the compute resources.
Service nodes and estimated cost visibility
We have always been committed to the best user experience and maximum transparency for our customers. Since day one, we have been absorbing the cost for service nodes like Corda Network Map Service and Hyperledger Fabric Orderer in consortium networks. Now all service nodes are visible in the platform so that our customers see exactly what their networks consist of.
We also improved our network and node creation wizards to always show the estimated cost of deployed resources so that it is always clear what you pay for.
Other updates
As usual, we follow the latest development by all protocol engineering teams. In this release, we add support for Hyperledger Fabric 2.2 and Corda 4.5.
The next steps
Although a major achievement for Chainstack, this is only the first step towards widespread blockchain adoption. I would be thrilled to see blockchain technology so commonplace in the business world to be part of the legacy infrastructure. Equally, I would like to see decentralized ecosystems create new paradigms in how people relate to the world around them, and innovators scale up these solutions without any barrier. With the help of the entire Chainstack team and the growing community of innovators already using our platform, I believe this vision will become a reality much sooner than expected.
Join our community of innovators
Have you already explored what you can achieve with Chainstack? Get started for free today.
SHARE THIS ARTICLE