Introducing Corda managed service on Chainstack
It is only recently that the word "consortium" has become fashionable again. Often driven by the perception that many enterprises are not willing to collaborate, doubts exist that this both-old-yet-new type of organization stands to offer any value.
Technical and governance issues among the budding consortia are often cited to be one of the biggest barriers to enterprise blockchain adoption, but human collaboration issues are typically larger than the tech itself.
The fact of the matter is that many of the world's enterprises are running on massive inefficiencies because they rely heavily on the processes and systems that are both weak and outdated. Hundreds of staff-years and billions of dollars are being lost to the reconciliation and validation of data involved in information exchange. Enabling multiple participants within a network to access accurate, real-time information eliminates the tedious processes that are traditionally involved in secure data transfer and sharing.
Across industries, distributed ledger technology promises to provide us with a way to unlock the value that has been lost through inefficient collaboration. Blockchain technology optimizes collaboration, enabling enterprises to realize their true potential. Here at Chainstack, we like to say that blockchains extend collaboration, turbocharging consortia into the era of the mega-consortium.
Optimizing entire markets is the new opportunity and enterprise blockchain is the key to delivering on this.

Richard Gendal Brown
R3 Corda
This past year we've seen significant activity within the enterprise blockchain space­ and some very, very large blockchain-powered consortia. In particular, solutions built on Corda seem to be making the rounds. Voltron is a finance platform that leverages Corda to provide documentary trade finance users with global connectivity, real-time synchronized updates, full data provenance, and audit. Its pilot involved over 50 banks across 27 countries in 2018. The Corda-powered Marco Polo blockchain network connects the leading financial institutions like BNP Paribas, Commerzbank, ING all together on a single business network. Among governments, Corda has been utilized in projects to develop digital currencies with the Monetary Authority of Singapore and the Bank of Thailand. This list goes on.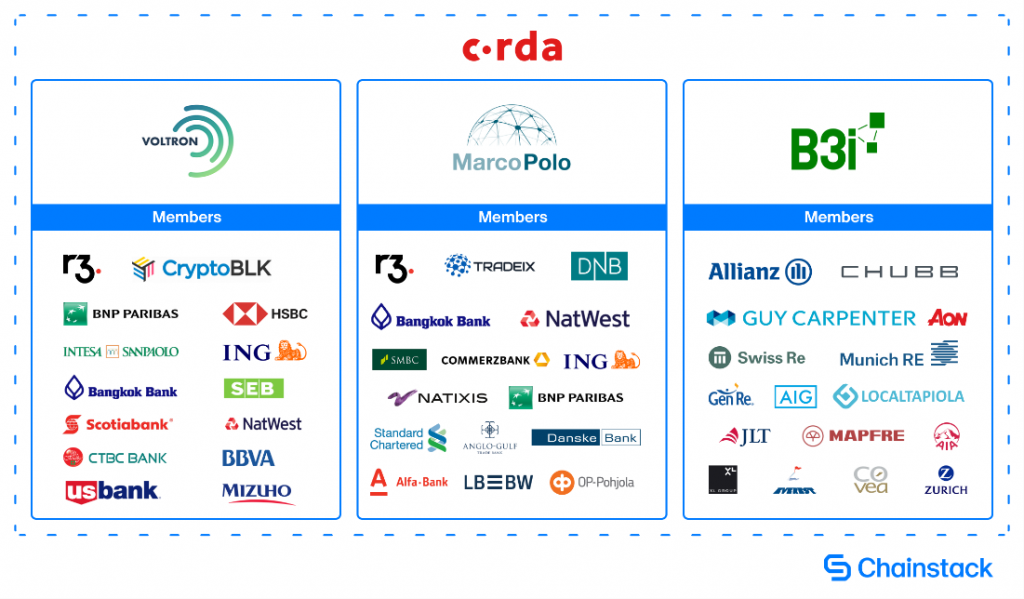 Corda was built with the sole purpose of creating a universally interoperable business blockchain network. Its solution to interoperability introduces a shared underlying network on which private networks can be built. This means that businesses both create and maintain private networks, but also easily interact with other private networks that exist on the shared network through a CorDapp.
We're fond of this idea because the interoperability and ecosystem vitality are correlated. The promise of the benefits of a network necessarily depends on the ability of its participants to interact seamlessly. Without which, private blockchain networks remain what R3 describes as islands of silo-ed data assets. Now, businesses have the potential to transfer data with any other business already on the Corda Network, even if they do not already share a private network.
At the same time, this is only significantly useful if most of the organizations you want to transact with are on this network. Without participants or an extended network, the value of an interoperable application remains meaningless. After all, one necessarily needs a network before one can start experiencing the benefits of the network effect. The value of being a part of an interoperable network grows exponentially as it increases in size. And the R3 team recognizes this very well.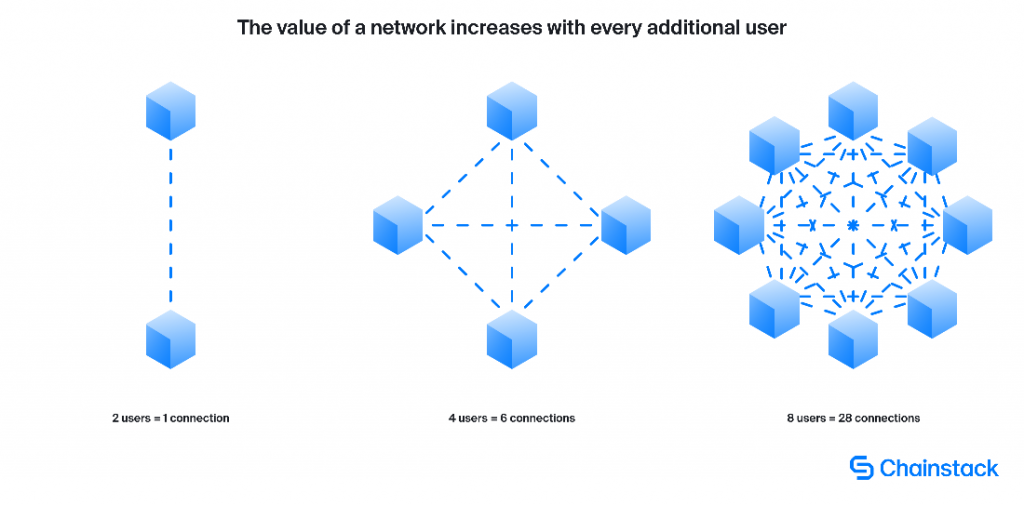 Corda managed service on Chainstack
This is why we are proud to announce the availability of Corda managed service today. This means that now anyone can effortlessly deploy consortium Corda networks based on the latest Corda open source version 4.1 in a few clicks and start running CorDapps in no time. All supercharged by Chainstack's battle-tested multi-cloud orchestration engine.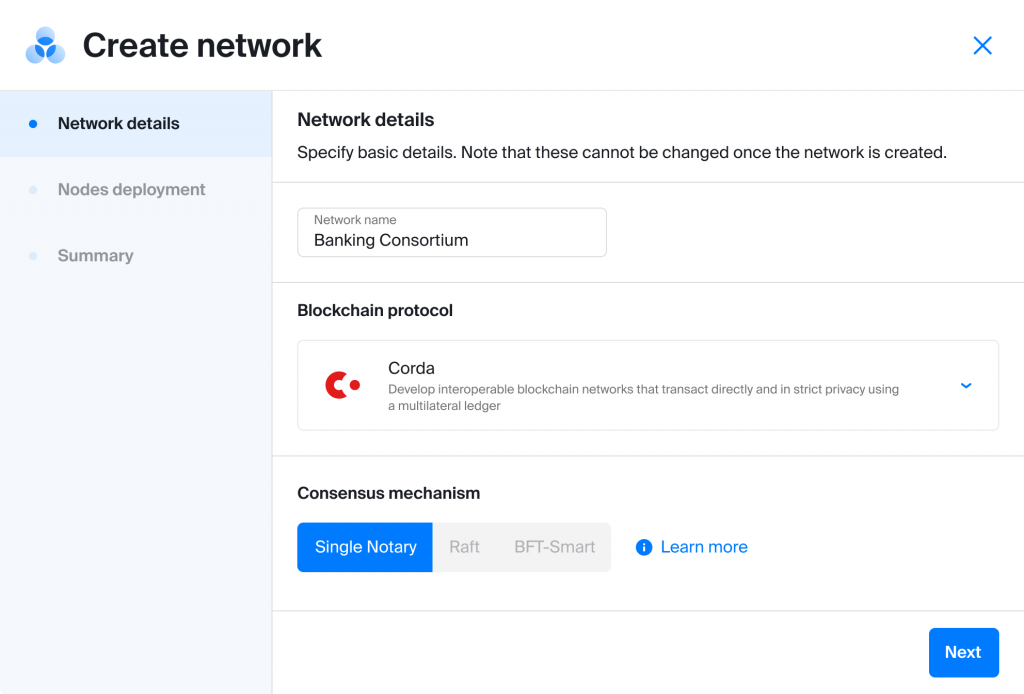 Our offering is a fully automated, self-service solution providing a convenient way for customers and partners to create new Corda networks, invite participants, dynamically add or remove nodes, install or remove CorDapps—all from a single interface. We made complex operations like NMS, doorman, notary services deployment and behind the scenes installation of CorDapps invisible to the users so that they can focus on the application business logic and not on the infrastructure.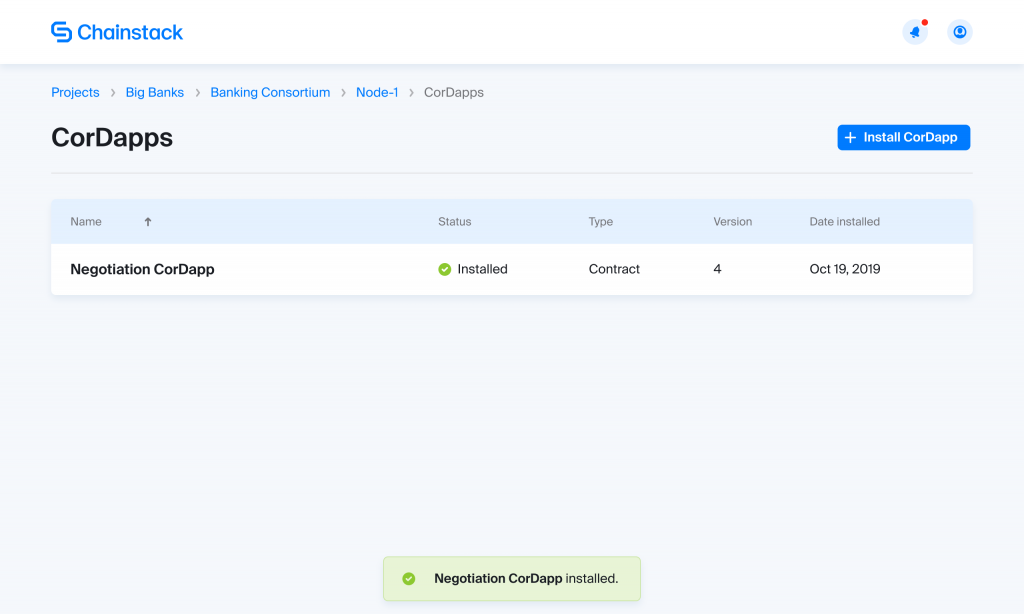 Moreover, our strategy is to never compromise on the quality of service—that's why, for instance, we decided to use PostgreSQL as a database backend for Corda nodes by default instead of file-based H2 database which has known performance limitations. As part of this strategy, we run the official distributions of blockchain software without modifying it to be always up to date with the recent improvements and fixes. Not even mentioning that by design all networks and nodes running on Chainstack have auto-healing capabilities that make network operation reliable and smooth for the participants.
Choosing to support Corda was an easy decision for us. We first met the R3 team back in 2018 in a developer bootcamp. We've encountered the Corda team on many other occasions from thereon. In fact, they were present with us as we celebrated the launch of our platform back in April 2019. Since then, in each successive encounter we've had, we've only grown increasingly impressed. Numerous discussions with existing Corda users helped us to refine the platform requirements and create a vision of an ideal managed solution.
From MonetaGo, SIX, and HSBC, we've seen some of the largest names joining the Corda ecosystem this year. Only a month ago, Mastercard announced a new partnership with R3 to develop a new blockchain-enabled cross-border payment solution. R3 is truly partner-driven like Chainstack—it is home to one of the largest ecosystems of hundreds of customers and partners. Nothing says this more than the work being done at the Corda Network Foundation, an independent, neutral body established as a solution to many of the universal governance issues that plague enterprise blockchain projects to date.
Empowering the developers and business networks
Corda is showing the world that realizing the potential of blockchain-based consortia is possible. With Chainstack's new Corda managed service, we hope to make it easier for the hundreds of enterprises already building on Corda, and the thousands more that will soon join the growing Corda ecosystem. We have been working very closely with the Corda team to get this right, and more resources will be poured into deeper integration and support over the next few months to make onboarding onto Corda as effortless as possible. Future support will include the ability to join Corda Testnet and Corda Network, manage identities on the network, and automate the network and node orchestration via an API.
We're excited to announce bringing the simplicity of Chainstack's deployment to the Corda ecosystem. We are redefining the way enterprises can start optimizing processes by making it easier to collaborate better with Corda.
Explore Corda with Chainstack
Join our community of innovators
Have you already explored what you can achieve with Chainstack? Get started for free today.
SHARE THIS ARTICLE