Chainstack introduces support for multi-chain subgraph deployment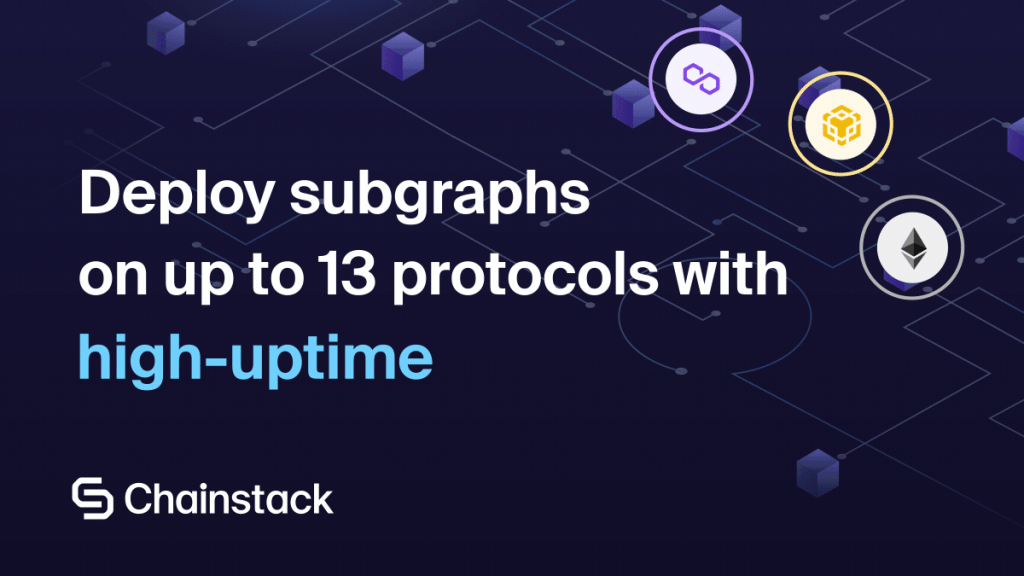 Say hello to the newest addition to Chainstack's suite – Chainstack Subgraphs. Thanks to this new service, you will soon be able to launch your very own subgraph to query blockchain data of all shapes and sizes.
What is Chainstack Subgraphs?
Imagine working on a cool DApp that needs to calculate the total volume of a token from on-chain data. As the blockchain is organized in a time-ordered structure, you will first need to aggregate the data by going through each block and fetching the appropriate values for all transactions. While it is possible to do this for 10, 100, or even 1,000 blocks, it is increasingly more difficult to scale block by block as the DApp grows and so does the data it requires.
The fact that most blockchains have millions of blocks already doesn't offer much condolence either, rather deeming such manual labor quite unnecessary. And this does not even consider the monumental effort it would take to tidy up and organize the data in a queryable format just so you can make it that much easier to handle.
This is where Chainstack Subgraphs comes into play. It removes the complexity of extracting and processing data from archive nodes and delivers an intuitive experience for Web3 BUIDLers to filter and query with ease. Thanks to this, you can enjoy setting complex query criteria and picking the granular data you need to generate even more value with your project from a single seamless Chainstack interface.
How does Chainstack Subgraphs work?
With Chainstack Subgraphs you can index all successful hits to your query criteria and then store the results in a PostgreSQL database making it accessible via a subgraph endpoint. You can use the same endpoint to access both recent and historical data from a particular subgraph, which is synced to the latest block with near-zero latency.
Deploying a subgraph from scratch is quite simple – no need to endure cumbersome workflows as all it takes is but a single CLI command to make it a reality. And the best thing about it? The same applies to existing subgraphs too! So, stop worrying about tedious maintenance and lengthy service interruptions, when you can be BUIDLing in the meantime instead.
Plug'n'Play subgraph deployment
Chainstack Subgraphs is a Plug'n'Play solution that offers a fast and reliable means of accessing Web3 data via a seamless interface for nodes. Say goodbye to stale data, and network disruptions. Chainstack's robust infrastructure ensures near-zero latency syncs and high availability in just a few clicks. You won't even have to pay for the archive nodes you are using for your subgraph calls!
By using Chainstack Subgraphs, you can effectively eliminate major challenges and deal-breakers like maintaining node health, syncing, and network availability that are a given for any casual setup. Start BUIDLing with confidence by signing up here and just deploying the service directly from the Chainstack console.
On top of that, you get to take advantage of Chainstack's robust infrastructure to power all your indexing operations. This means you will have timely access to critical information and enterprise-grade support, without even lifting a finger – all of which are instrumental to the success of your project.
Additionally, the Chainstack Subgraph service supports a wide range of protocols for you to perform queries on – Elastic Indexer beginning with Ethereum, Polygon and BNB Smart Chain and Dedicated Indexer with 13 chains, while offering a seamless migration from the hosted alternative. These chains are Fantom, Near, Aurora, Cronos, Gnosis, Harmony, Fuse, Polygon, Avalanche, Ethereum, BNB Smart Chain, Optimism, and Arbitrum.
Seamless hosted subgraph migration
Thanks to the Plug'n'Play integration of Chainstack Subgraphs, you can migrate any hosted subgraph you are using currently in a seamless manner. This directly translates into swift satisfaction for any blockchain data query needs you will ever have, so you can focus on what you do best – BUIDLing awesome DApps.
Don't miss the opportunity to leverage on-chain data seamlessly into your use case and supercharge your Web3 project's operation every step of the way. You can find detailed information on how to work with Chainstack Subgraphs in the documentation.
Pricing
Using Chainstack Subgraphs is just as affordable as it is user-friendly – our flexible and transparent plan commitments are a perfect fit for both your budget and your project needs. And the best thing about it? You won't even need to stake a single token to deploy and access your subgraph.
The same goes for subgraph hosting just as well. Instead of a fixed cost, you can enjoy an adaptable usage fee structure at the affordable rate of $0.1 per hour for a subgraph or $73 monthly. And, should you ever wish for more requests, you can always claim some extra for a mere $0.00025 per unit.
You will be pleasantly surprised to learn you will have the means to deploy up to three subgraphs under the most affordable Growth plan.
Opting for this plan will also grant you a pool of 50K requests. Should you prefer to go for a higher plan, for example, the Business one, these capabilities will be extended to ten subgraphs, including up to 350K requests.
And if that isn't enough why not take advantage of the Enterprise one? It removes the deployment limit for subgraphs and sports even more requests – up to 1M. Get an adequate cost estimate for your use case via the pricing list available here.
Swifter data indexing for your Web3 project
With this new addition to Chainstack's services, we have made another vital step towards maximizing the value of our platform for Web3 developers worldwide. Thanks to Chainstack Subgraphs, you as a BUIDLer now have swifter and easier access to critical data that your Web3 project needs to operate effectively.
They say data is the oil of the digital economy and the same goes for Web3 as well. By offering better means to access blockchain data with Chainstack Subgraphs, we are paving the way for developers to leverage essential information that is vital for creating seamless DApp experiences for everyone.

Eugene Aseev, Founder and CTO of Chainstack
Now that Chainstack's robust infrastructure supports subgraph operations, Web3 developers like yourself can take full advantage of its powerful indexing features. Because of this, you will now be better able to leverage on-chain data to generate value, while BUIDLing the next generation of blockchain applications.
Power-boost your project on Chainstack
Have you already explored what you can achieve with Chainstack? Get started for free today.
SHARE THIS ARTICLE