BetSwirl on Chainstack: Paving the way for decentralized gaming on Metaverse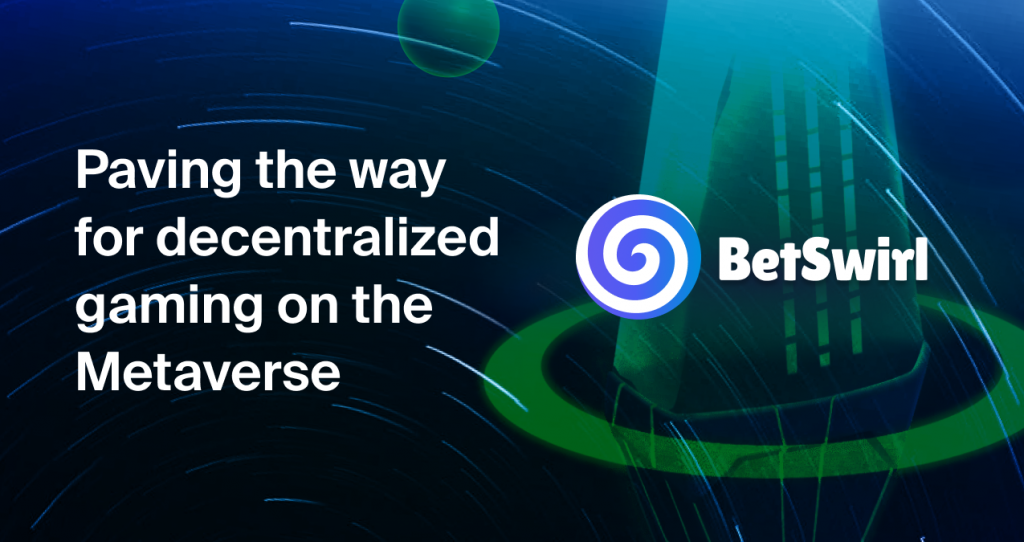 BetSwirl is a new online cryptocurrency gaming platform that is fully decentralized and anonymous. This means that everyone can enjoy a fair game, have an enjoyable time, and experience something innovative.
What does BetSwirl do?
The platform offers a unique interactive gaming experience, enriched by animations, sound effects, and an upcoming Metaverse integration. BetSwirl supports popular games like Dice, Coin Toss, Million Jackpot, and more. It is made for easy access, allowing players to use the token of your choice—MATIC, USDC, BETS, and others.
Powering the protocol is the platform's token $BETS, presenting multiple use cases and deflationary mechanisms. Apart from that, the platform offers a staking program, allowing the community to claim a share of the project's profits. BetSwirl also features a multi-level referral program, which creates opportunities for users to multiply their gains. The more referrals, the higher the reward.
All this runs through a system that offers complete transparency through the protocol analytics dashboard. Overall BetSwirl utilizes a community-driven approach and presents multiple incentives, rewards, and special surprises for the most dedicated users.
How did BetSwirl come across Chainstack?
BetSwirl's team was looking for a robust WebSocket Node API to power their platform's services when they began their search. This API needed to support the platform's rigorous requirements, especially when it came to uptime and stability.
Without access to such WebSocket node, BetSwirl's services would suffer from downtime issues that would plague their users' gameplay experience. And in the world of online gaming, more downtime translates to fewer profits, more unsatisfied players, and a severe hit to the project's reputation.
After looking into potential options, available on the market, the BetSwirl team discovered that only Chainstack presented a suitable solution in the form of the WebSocket API. For the purposes of the project, such API delivers better performance, considering its speed over HTTP and most importantly offers real-time updates. With a swift and scalable deployment, our team was fully able to match BetSwirl's desired uptime and requirements in a cost-effective manner.
How does the Chainstack offer match BetSwirl needs?
Above anything else, BetSwirl needed the means to offer a smooth and stable gameplay experience to its users. To do that, they leveraged the Chainstack WebSocket API to inform the community of bet resolutions in real-time. Aside from that, they wanted to extend their support to other layer one solutions, like Avalanche and Binance Smart Chain (BSC), as well as other side chains.
To accomplish this, Chainstack offered BetSwirl a complimentary Business plan trial. In doing so, their team took full advantage of Chainstack's reliable node infrastructure to build and test upon in the crucial moments leading up to the project's launch.
Chainstack's commitment to creating a truly multi-chain platform that is flexible enough to respond to customization, accessibility, and scalability needs from projects was a perfect fit for BetSwirl. Our team delivered on all their requests, resolving the above-mentioned roadblocks quickly and effectively.
Outcome
After deploying Chainstack's flexible infrastructure, BetSwirl was able to offer its users swift access to its core services on Polygon. The deployment of our solution proved vital for the streamlined experience the BetSwirl team was looking for.
Ever since the mainnet launch in March, the platform has been successfully handling a volume of more than 110,000 request calls for a total of 1416 bets from 68 players. This allowed early BetSwirl players to start enjoying a truly mainnet experience, even before the platform's official launch by scaling 2200% with ease.
BetSwirl were excited to see their services running without any disruption, whatsoever, highlighting Chainstack as the solution that stood out in this regard. Our teams worked together in resolving any issues encountered, such as the case of Brave Global Shield. Chainstack worked closely with the platform's development team and delivered a solution for the challenge at hand, quickly and effectively.
What does BetSwirl like about Chainstack?
We met Chainstack's team when we were unable to use the WebSocket feature which is required for our gameplay to be as smooth as possible, Chainstack has provided us with exceptional service that is highly responsive, supporting our requirements with a tailored business plan solution that just works!

Romuald Hog, CEO, BetSwirl
What does Chainstack like about BetSwirl?
BetSwirl offers an innovative and interactive take on the online gaming genre. Its fully decentralized and anonymous approach creates a transparent environment that fosters trust, where many other alternatives fail. We are excited to work with BetSwirl in disrupting the gaming sphere and paving the way towards complete Metaverse integration.

Eugene Aseev, CTO & Founder, Chainstack
What is the most interesting engineering challenge in working together?
By far the most interesting engineering challenge we encountered with BetSwirl was the strong security setting offered by the Brave Global Shield. While this normally works great for user privacy, it also brings undesired prevention of other vital connections that can interrupt core services.
In Chainstack's mission to make Web3 accessible for all, reliability and security are key components to better adoption. Our robust and flexible infrastructure provided a sensible and cost-effective approach for the product development initiatives of BetSwirl and quickly resolved any future disruption to the platform's experience, caused by Brave.
This allowed BetSwirl to successfully conduct testnet trials that effectively translated into a seamless experience for their users post-launch. Are you looking to take advantage of a scalable WebSocket Node API that can deliver results at scale? Secure high-performing infrastructure for your project, available at the click of a button today:
Power-boost your project on Chainstack
Connect to the Ethereum, Polygon, Binance Smart Chain, Avalanche, Fantom, Solana, Harmony, and Tezos mainnet or testnets through the interface designed to help you get the job done.
Get access to the Ethereum, Polygon, Binance Smart Chain, Avalanche, Fantom, and Tezos archive nodes to query the entire history of the mainnet—starting at just $49 per month.
Choose where you want to deploy, and we will provide you with the dedicated managed infrastructure that can handle high-volume, high-velocity read/write access to the network.
To learn more about Chainstack, visit our Knowledge Center or join our Discord server and Telegram group. 
Have you already explored what you can achieve with Chainstack? Get started for free today.
SHARE THIS ARTICLE