Introducing new Growth tier and reduced costs for all plans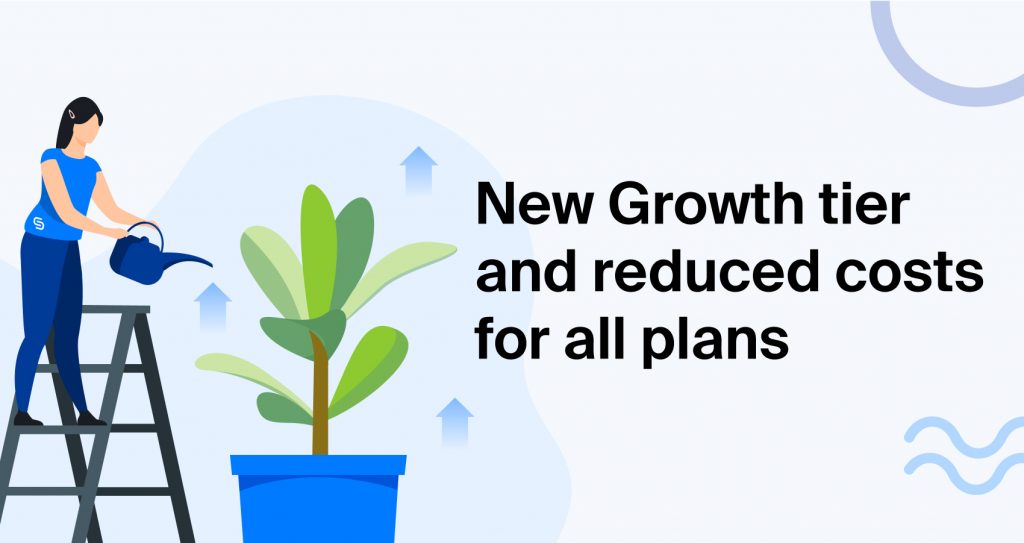 TL;DR: Whether you are just starting out, already working on an MVP or PoC, or are now ready to deploy, we are on your side and want to support you along the way. For this reason, we have created a brand new Growth plan at $19 per month, slashed the Business plan monthly price 50%—down to $49. Node usage rates are reduced too and are now uniform across all cloud providers. Check the new pricing!
Growth plan
Fitting right between the starter Developer plan and the more mature Business plan, the Growth plan is what we had an overwhelming number of requests for.
As your blockchain project moves from being a prototype or an MVP to the one with real users and requiring a small team to operate, the Growth plan at the fixed cost of $19 + dedicated node usage cost is your door into the adoption territory.
You can also run multiple shared nodes, such as Ethereum mainnet and Ropsten testnet, for $19 flat, no usage cost.

Reduced Business plan fixed cost
We slashed the fixed Business plan cost in half—down to $49.
Reduced usage rates
The node usage costs have gone significantly down—as much as 55% for some cases.
A dedicated Ethereum mainnet node on the Growth plan now costs $307 per month—$288 usage cost + $19 fixed cost.
A three-node consortium network on the Growth plan now costs $473 per month—$454 usage cost + $19 fixed cost.
Two dedicated Ethereum nodes (one mainnet, one testnet) and two dedicated Bitcoin nodes (one mainnet, one testnet) on the Business plan now cost $1417—$1368 usage cost + $49 fixed cost. It used to cost $1611 on the Business plan on Amazon Web Services—$1512 usage cost + $99 fixed cost.
Uniform usage rates for all cloud providers
The reduced usage rates are now the same for all cloud providers that we currently support, including the new ones that we'll introduce.
Custom plans for enterprise needs
The Enterprise plan is now unique for each customer. Talk to us and we'll make sure there's a deal that works for you.
That's it. Five small steps for the pricing, one big leap for the developer blockchain adoption.
Changes for existing customers
For all existing Business plan customers:
The usage rates on your subscription are updated, effective immediately.
You will be transitioned to the lower fixed subscription cost automatically starting from the next billing cycle.
Start building today
Join our community of innovators
SHARE THIS ARTICLE