Chainstack introduces Oasis Sapphire support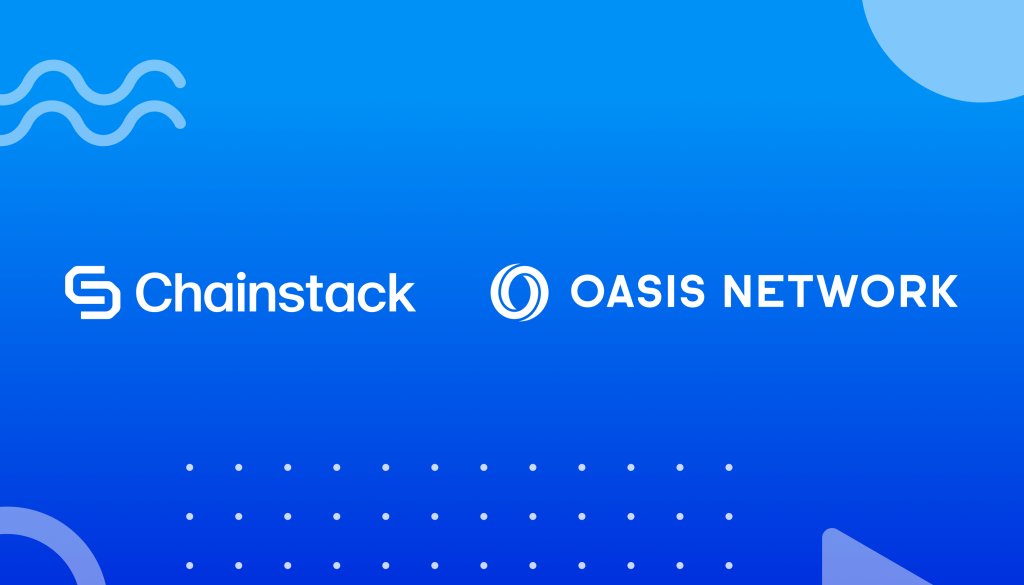 The Chainstack team is excited to announce its support of Oasis Sapphire, the confidentiality-enabled EVM network runtime on the Oasis Network, adding the first of its kind to our list of supported chains. Thanks to this, you now have the possibility to deploy an Oasis node under any of our subscription plans.
This integration with our robust, enterprise-grade infrastructure makes it more accessible than ever to build and scale cutting-edge DApps, freeing you from the burden of managing nodes, so you can focus fully on creating value with your Web3 project.
"We couldn't be more thrilled about Chainstack incorporating Oasis into their tech stack. This partnership represents a major milestone for both projects. By launching seamlessly on the Oasis Sapphire mainnet, Oasis developers are now poised to unlock a world of new possibilities and opportunities.

The result of this collaboration will be a more convenient and efficient development process for all involved, leading to even greater innovation throughout the entire community. We can't wait to see what exciting new projects will emerge as a result of this game-changing partnership."

William Wendt Oasis Ecosystem Growth Manager
What is Oasis?
The Oasis Network is an L1 proof-of-stake (PoS) blockchain supporting parallel runtimes designed for scalability, interoperability, and privacy. Their latest implementation, Oasis Sapphire, is the first ever EVM network to support confidential smart contracts, enabling encrypted smart contract states. Its aim is to provide a privacy layer to Web3 that allows developers to foster on-chain confidentiality in their DApps, making them ideal for real-world use cases.
With a secure, high throughput architecture, and unique privacy features at its core, the Oasis Network sets a new standard in Web3, effectively propelling the entire Web3 industry forward and providing the robust, flexible, and functional privacy that is needed direly.
And to top it all off, the introduction of Tokenized Data—a new digital asset type intends to give users even more control over their data, with the additional benefit of earning staking rewards for locking liquidity in DApps. In turn, this serves to further highlight of the main objective here, being to create the first responsible data economy that puts its users in complete charge of their data.

Building on Oasis Sapphire
Oasis Sapphire is a state-of-the-art solution that enables developers and users to personalize the confidentiality parameters and extensions of the applications built atop the network with utmost attention to the needs of both the software and its users. These confidentiality-enabling features allow for the development of ever more complex and sophisticated smart contracts, boasting exceptional user experiences that rival those of their well-established Web2 counterparts.
That being said, Oasis Sapphire aims to be more than just an environment for native confidentiality-enabled smart contracts. Quite the contrary—it aims to become the privacy layer for Web3, allowing DApps on any EVM network to offload their confidential compute needs to the Sapphire network. To do this, it leverages messaging bridges and gas relayers to connect the network with any DApp's home chain.
In addition to its EVM compatibility and end-to-end confidentiality support, the Oasis Sapphire Network too brings the powerful additional features that make it a premium network for developers, including:
Native confidential randomness support (without the need for off-chain oracles)
High scalability, supporting hundreds of transactions per second
Low cost—99% lower transaction fees than those of Ethereum
Cross-chain bridges that enable complete multichain interoperability
Sapphire enacts Oasis' avant-garde privacy technology, which enforces the use of a secure computing technology called a Trusted Execution Environment (TEE) by every network node. TEEs are analogous to a black box for smart contract execution.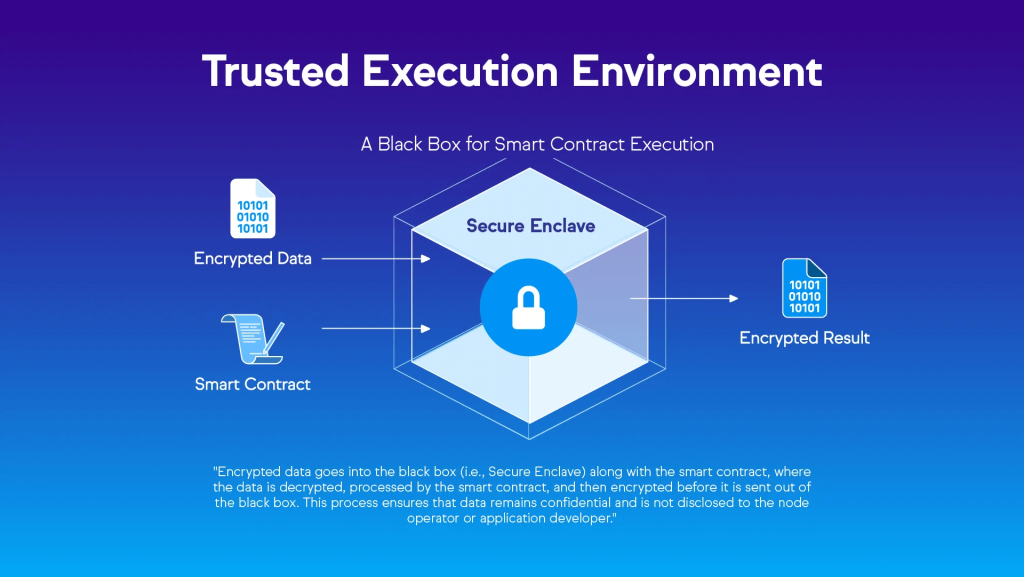 By implementing secure and reliable key management, encrypted data streams into the black box (known as the Secure Enclave) along with the smart contract, where the data is decrypted, and processed by the smart contract before it is re-encrypted and parsed further down the line from the Secure Enclave.
This process ensures the data remains confidential and avoids it being disclosed to any node operator or application developer.
How to use Oasis Sapphire
Getting started with Oasis on Chainstack is a swift and easy process. You just need these three steps to get started:
Open the Chainstack console and log into it.
Select a cloud service provider that is suitable for your needs.
Select a location with low latency for your Oasis Sapphire node to be deployed at.
The Chainstack platform offers many advantages for the deployment of your Oasis Sapphire nodes, and perhaps one of the best ones is having access to everything you will ever need within a single seamless dashboard. This makes node management both painless and efficient for the absolute pleasure of developers like you.
This makes it the perfect time to take your rightful place as one of Sapphire's leading early adopters. Take advantage of all the protocol has to offer for the betterment of blockchain technology and leverage it to put your project at the forefront of Web3, as you build atop the sturdy foundation Chainstack laid for you.
Pricing
Leveraging Chainstack's state-of-the-art engineering and cutting-edge infrastructure, managing Oasis nodes for optimal efficiency becomes reality. Enjoy the blessings of our cost-effective solutions that are tailor-made to fit both your budget and your project's needs with minimal overhead costs for this match that's truly made in Heaven.
Discover Oasis Sapphire and its awe-inspiring characteristics for yourself—no commitment needed, just sign up for the complimentary Developer plan and its special introduction rate for elastic infra. With up to 3M requests available with your subscription, you are sure to claim your fair share.
And in case you're looking for some even great value, worry not, for Chainstack's flexible pricing structure is there to make sure of it truly. Deploy Oasis Sapphire nodes for whatever project size and stage it may ever be and revel in its feasibility and candor.
In need of a more premium solution? Look no further than the Chainstack Growth plan that will bring you over twice the number of requests with 20M available at your disposal. And while you're at it, why not take things even further with the Business tier, here to reward you with a staggering 140M requests, as it lifts such restrictions for your dedicated nodes.
Rest easy should you reach your limits too—you can always snatch all the extra you will ever need at a mere $5 per million, beyond the first 20M. Just use our handy pricing calculator to quickly gauge how much you get to save once you go for Chainstack infra.
Take part in establishing the privacy layer of Web3
The Oasis Network heralds a new era in blockchain technology, transcending the limitations of existing solutions and empowering developers to create groundbreaking DApps. With its scalable, confidentiality-enabled EVM network infrastructure, Oasis elevates the potential of decentralized applications to brand-new heights.
This innovative protocol is meticulously designed to not only deliver exceptional performance and greater levels of privacy but to also simplify cross-chain interoperability, ensuring a seamless transition towards tackling the Web3 workloads of tomorrow. Its streamlined architecture makes DApp development a real breeze, accelerating your project's time-to-market while fortifying its overall security.
Oasis is the ultimate choice for enterprises seeking reliable, cutting-edge blockchain solutions that swiftly and securely propel their workloads with zero compromise for the privacy and integrity of any user data.
Embrace Oasis Sapphire, and the network's rapidly-evolving ecosystem with an unwavering commitment to privacy, and join forces with countless developers and enterprises unlocking boundless opportunities with scalable, privacy-enabled DApps that run on Chainstack infrastructure. Together, the ever brighter future of the blockchain landscape is a given, as we pave the way towards it one Oasis block at a time.
Power-boost your project on Chainstack
Have you already explored what you can achieve with Chainstack? Get started for free today.
SHARE THIS ARTICLE