Teaming up with Copperx to transform crypto payments with robust Chainstack infrastructure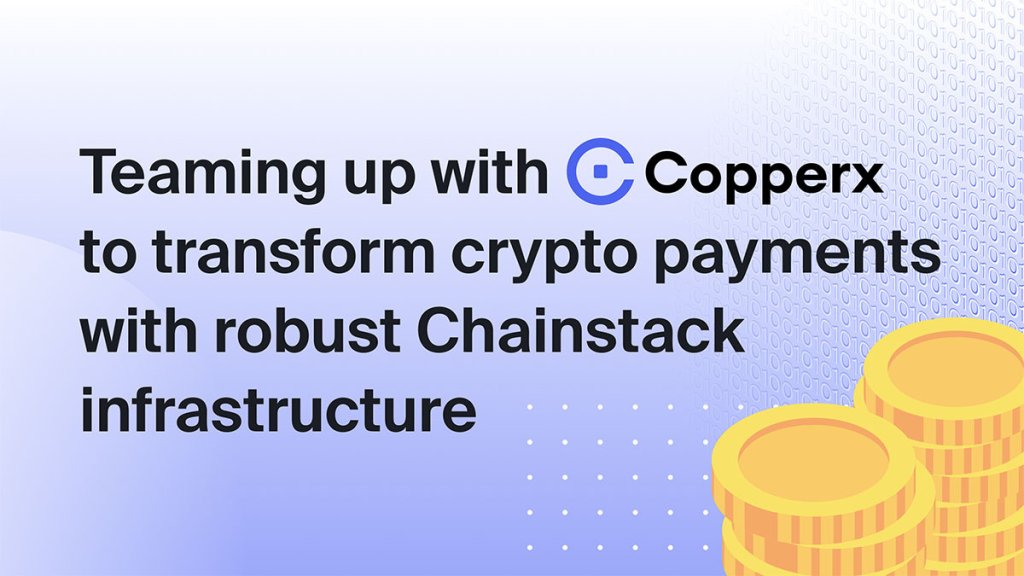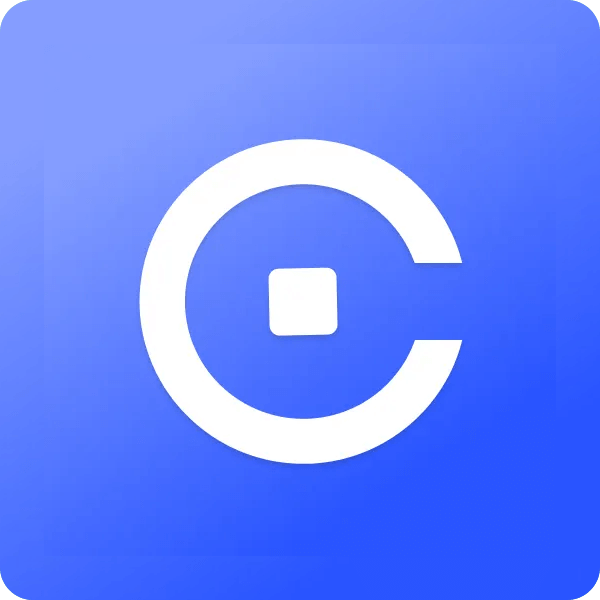 Chainstack's services have exceeded our expectations throughout our year-long partnership. Their exceptional support, swift responsiveness, and comprehensive offerings have been truly impressive. From the very beginning, Chainstack, led by Eugene, has consistently provided us with invaluable insights into the world of crypto payments. I am truly excited about this partnership, as it will enable businesses to accept and manage crypto payments in a secure, fast, and cost-efficient manner.

Tarun, Co-founder, Copperx
The world is becoming more decentralized by the day, and the adoption of cryptocurrencies is on the rise. With this shift, an increasing number of businesses are leveraging the power of crypto to improve their operations, extend their reach, and ultimately enhance their bottom line.
Copperx is an innovative cryptocurrency payment solution that is simplifying the complex world of crypto transactions. Copperx gives businesses ability to accept crypto payments across multiple networks like Ethereum, Polygon, BNB and Solana with powerful features like Invoicing, Recurring Billing, Payment Links and more.
What is Copperx?
Copperx is a leading payment solutions provider outfitting businesses with a robust, simple-to-use platform for accepting cryptocurrency. In a matter of just 5 minutes, businesses can start accepting popular cryptocurrencies such as BTC, ETH, MATIC, BNB, USDC, and SOL across multiple networks and wallets.
Comprehending the diverse needs of today's businesses, Copperx extends its flexibility beyond typical payment acceptance. Whether you're running a SaaS platform, E-commerce store, marketplace, or any other form of online business, Copperx provides the flexibility and tools for you to accept crypto payments, as well as generate context-specific payment links and invoices.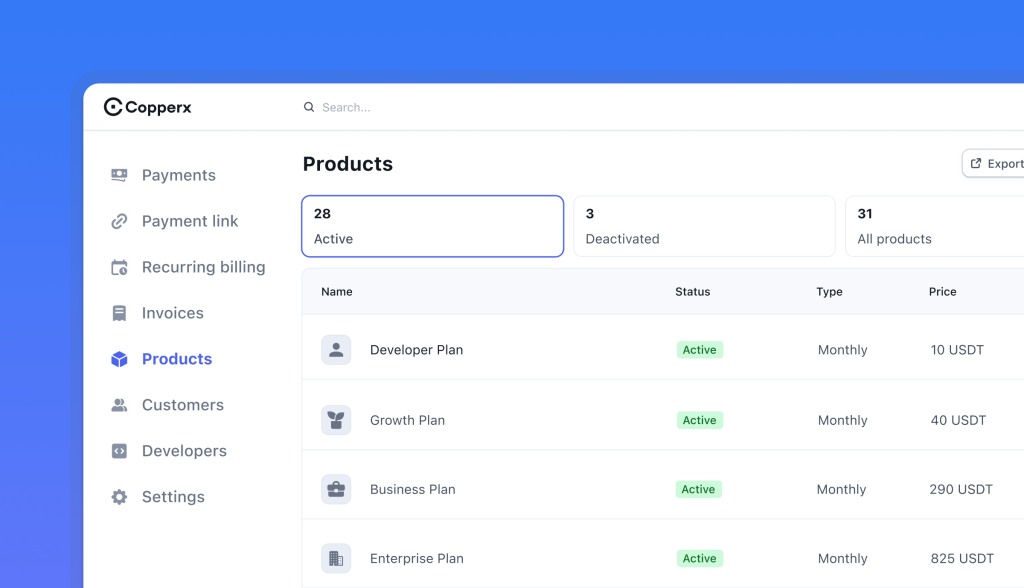 One of Copperx's major strengths lies in its developer-first strategy. Its powerful APIs help developers save thousands of hours spent in integrating multiple networks, tokens, and wallets. Furthermore, Copperx's built-in support for multiple chains like Ethereum, Polygon, Solana, and Binance Smart Chain, and an array of tokens, delivers a truly versatile developer experience.
Copperx's services extend beyond simple payment collection. The platform comes equipped with pre-built dashboards, reports, and integrations to tackle different operational needs, accounting solutions, and tools for AML and fraud detection, ensuring a well-rounded, comprehensive solution for any business accepting crypto payments.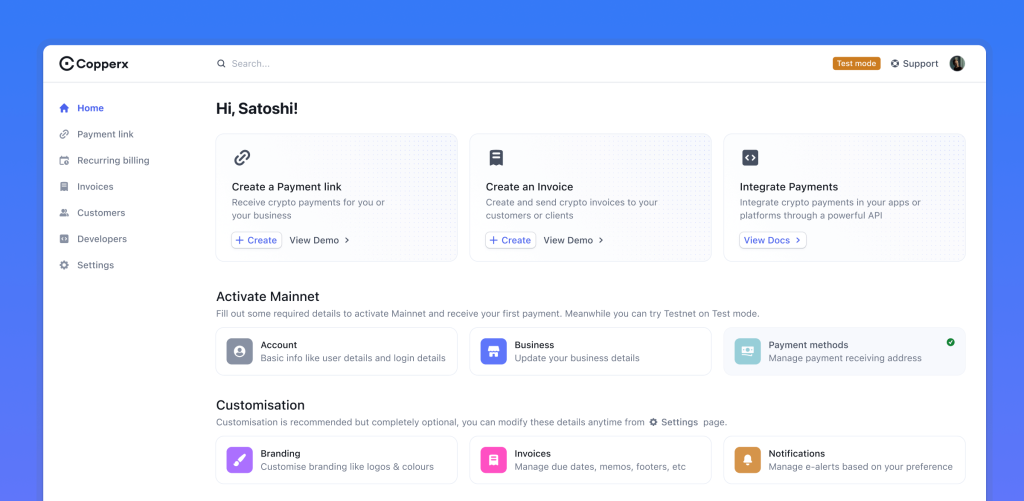 Recurring crypto payments in a SaaS world
Copperx doesn't limit itself to just payments and transactions, it opens a world of possibilities through its many advantages. It fully embraces the no-code movement, making it the perfect option for DAO memberships, newsletters, content creators, and freelancers. With Copperx, you can set up automated crypto payments, enabling you to generate sources of passive income and get paid on autopilot.
Designed with Web3 and its developers in mind, Copperx allows your business to accept recurring subscription payments over crypto. And in doing so it caters to the growing number of SaaS businesses in the diverse industry landscape.
Furthermore, Copperx's one-of-a-kind customer portal allows end-users to effortlessly manage their subscriptions. It transparently provides subscription details and gives the customer the freedom to update payment methods or even cancel them, displaying the customer-centric approach of Copperx.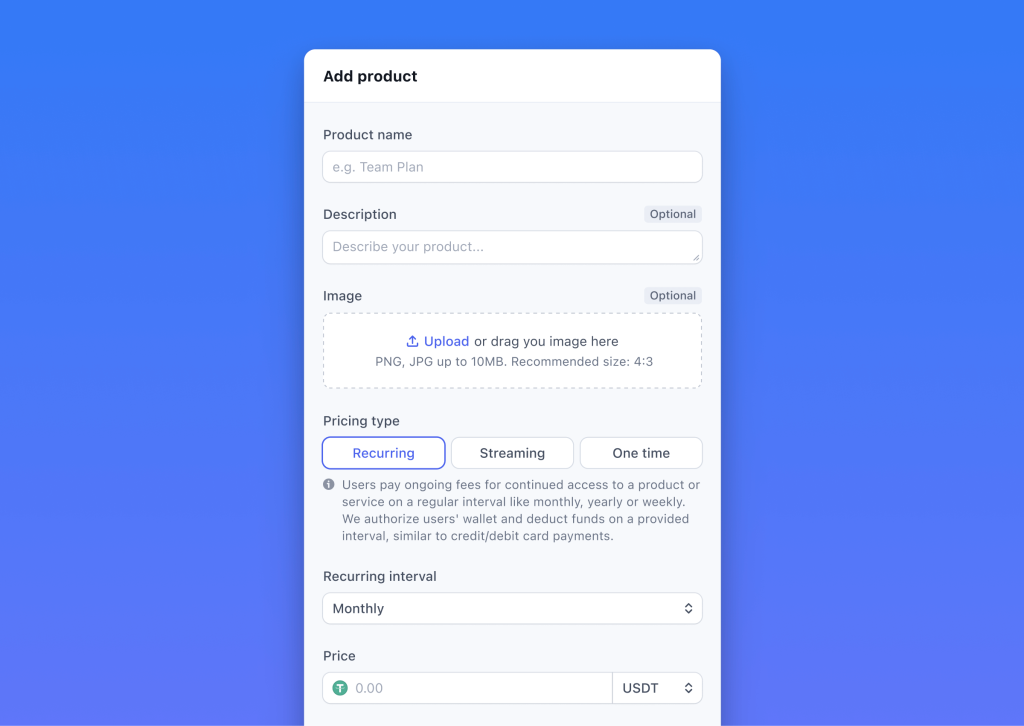 With easy integrations with popular tools like Quickbooks, Xero, and Zapier, Copperx goes above and beyond to ensure a seamless user experience. Copperx leverages the power of established streaming protocol – Superfluid, offering Web3 native subscriptions, salaries, and rewards for DAOs and crypto-native businesses.
Copperx truly stands as a testament that the combined strength of modern technology like blockchain and good business practices can result in revolutionary products that serve the needs of today's businesses.
Revolutionizing crypto payment experiences with Copperx
With Copperx, accepting crypto payments becomes as easy as generating a link and sharing it through platforms like Telegram, WhatsApp, or Email. Creating a link can be tailored to sell a product or service, event tickets, or even to receive donations.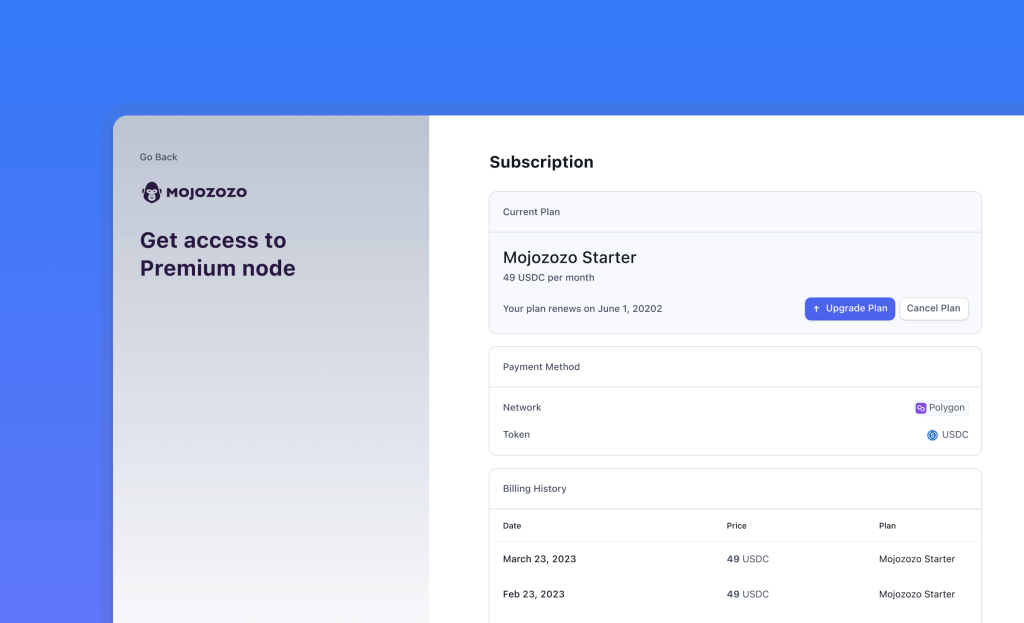 Making the process all the more effortless, Copperx allows users to embed these links on their websites and even provides the option of customized branding. This means that customer information like name, email, phone number, and billing details can be collected seamlessly as a part of the payment process via the payment link.
The true pinnacle of this feature is the assurance of instant settlements. Copperx users no longer have to wait for blissfully long payment clearance times; they can access their funds immediately in their self-custody wallets. With its Payment Link service, Copperx truly revolutionizes the process of accepting crypto payments.
Accessible crypto payments for all using Payment Links
With Copperx's Payment Links, accepting payments in crypto becomes as simple as sharing a link via messaging platforms or email. The Payment Link allows you to accept payments in Bitcoin, Ether, USDC, and more through secure and white-labeled payment pages. This service is ideally suited for selling products or services, crowdfunding, event ticketing, or receiving donations.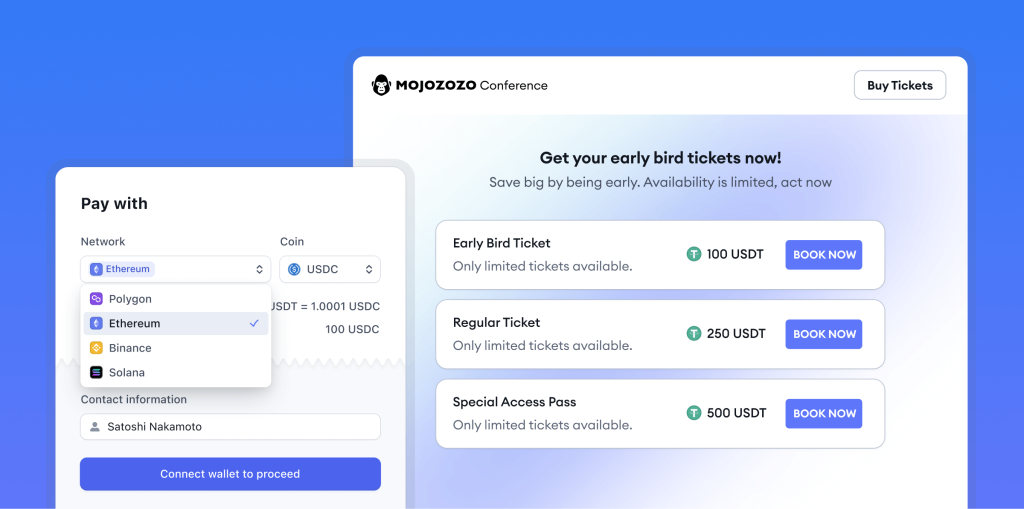 Another added benefit of these payment links is the customizable checkout page offered by Copperx. It lets you as a business carry your own branding forward into the payment process, creating a cohesive customer experience that inspires trust. Whether you're an e-commerce business, content creator, or a solo entrepreneur, Copperx's payment links ensure you never miss out on a potential revenue opportunity.
Customer portal
A truly standout attribute of Copperx is the seamless user experience it offers. With an intuitive interface and a dedicated customer portal, Copperx provides a customer-centric approach. Copperx extends the control over subscriptions and payments to its users, offering visibility into subscription details, the availability of payment methods, and the convenience to manage them as per their preference.
Powerful dashboard and reports
Copperx goes beyond the traditional model of analytics and offers real-time monitoring and updates. Automatic reminders ensure that users are aware of their wallet balances, subscription lifecycles, and any issue that may arise – a unique feature that sets Copperx apart.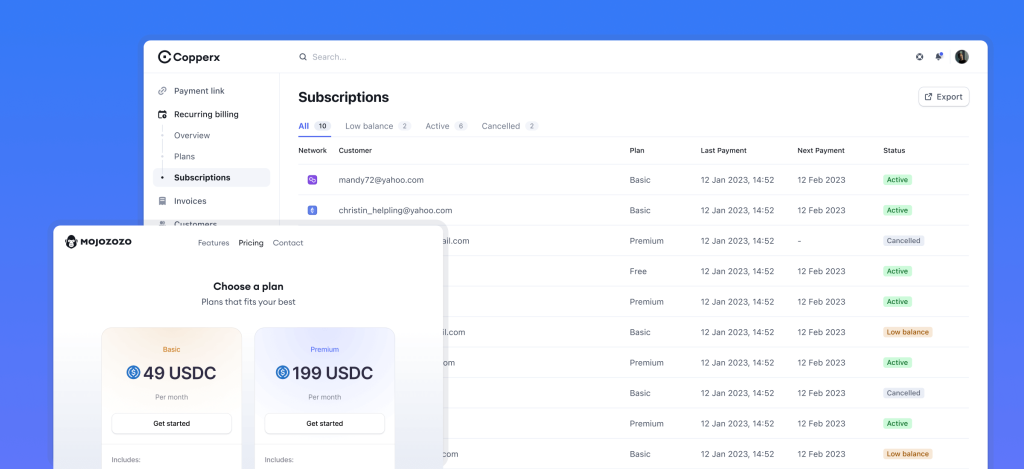 Integrations and more
Moreover, Copperx enables users to leverage popular tools such as QuickBooks, Xero, and Zapier. Through these integrations, seamless emailing to clients, bookkeeping, and custom report creation become far simpler.
Paying close attention to the pressing need for security, Copperx's association with Superfluid, a leading smart contract security firm ensures that every transaction and operation subscribes to the safety and security norms, thereby enhancing customer satisfaction. Through its unique approach, Copperx reinforces the importance of a truly satisfying customer experience in choosing a payment solution.
How Chainstack nurtures multi-chain payments with Copperx
At Chainstack, we're all about simplifying the complex world of blockchain technology. That is why we're always thrilled to see how our reliable infrastructure make a tangible difference in the journeys of our pioneering partners. It was certainly a pleasure to witness Copperx effortlessly navigate the treacherous waters of crypto payments and embrace multi-chain support at the same time.
The end result? Chainstack nodes played an instrumental role in improving response time, reducing latency and platform downtime, so Copperx could focus on what they do best—BUIDLing seamless Web3 experiences for their customers with fewer headaches. Plus, our powerful customization options gave Copperx the means to further scale their innovative recurring crypto billing and payment link solutions.
And thanks to this, Copperx moved steadily towards their mission of empowering both creators and businesses alike in accepting crypto payments for donations, ticketing, and e-commerce at the click of a button.
Resolution summary
In our fruitful partnership with Copperx, we worked together to overcome any challenges we faced in and achieving some significant milestones like:
Expanded network support: Copperx is now able to extend its services to customers on a wider range of chains, reducing complexity, lowering costs, and improving user experiences.
Improved service reliability: Our robust node infrastructure helped minimize platform downtime and effectively distribute network load geographically to the most performant nodes.
Scaling novel payment solutions: We paved the way for Copperx to further develop their cutting-edge crypto payment link and recurring revenue solutions in serving a wider global user base effectively.
Strengthened industry use cases: With our support, Copperx extended its services to facilitate creators and businesses in accepting crypto payments for donations, ticketing, and e-commerce applications.
Our joint journey has been all about teamwork and putting customer needs first. The strength of our relationship stems from a mutual understanding, a desire to learn and grow together, and a shared vision of a future powered by blockchain technology. At Chainstack, we're eager to continue our support for Copperx as they lead the charge in bringing accessible crypto payments to the global digital citizen.
Power-boost your project on Chainstack
Have you already explored what you can achieve with Chainstack? Get started for free today.
SHARE THIS ARTICLE