Trust raises ROI by up to 400% with custom Chainstack gateway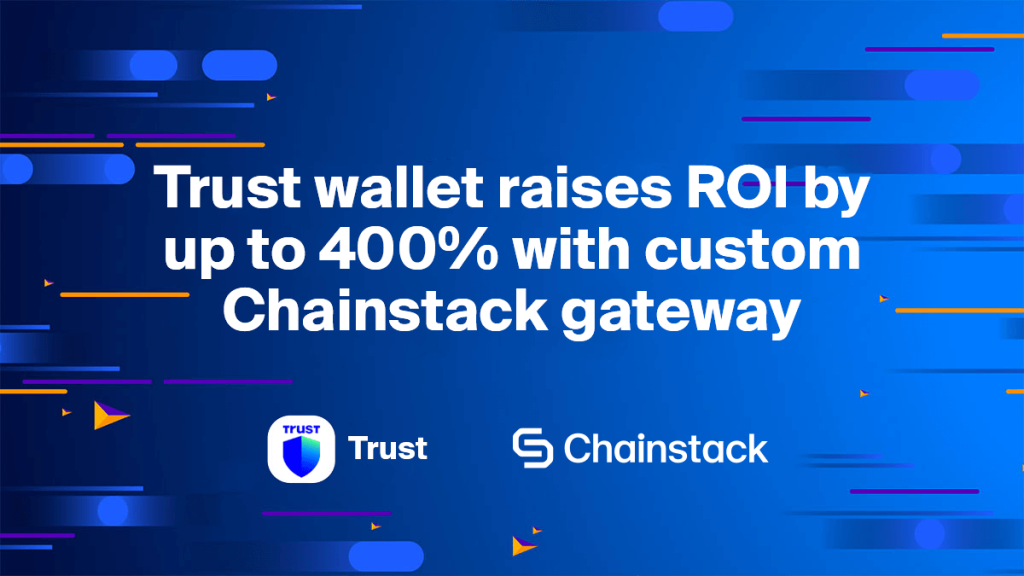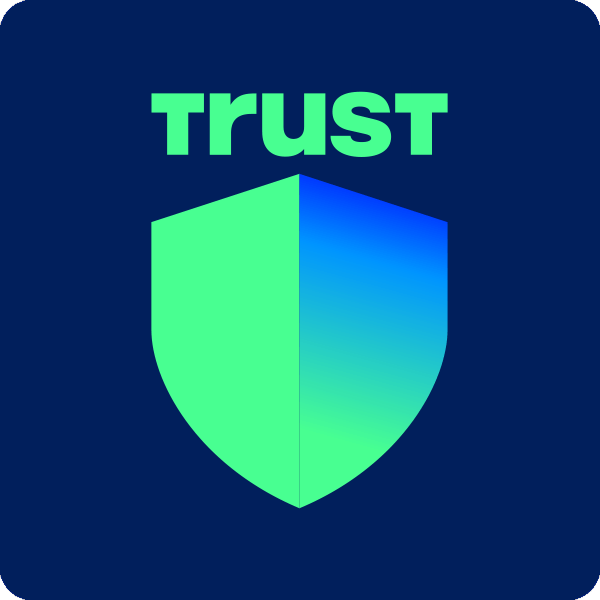 Chainstack's custom gateway and elastic nodes have made a stellar impact on our operational efficiency, allowing us to push our ROI higher by roughly 400%. Together, we're driving remarkable advances in decentralized technology.

The Trust team
As we reflect on our journey at Chainstack, we're constantly reminded of the partnerships that have significantly shaped our path and catalyzed our growth. One such collaboration that stands out is our work with Trust.
Trust wallet is a leader in the world of crypto transactions, boasting a user base tens of millions strong and supporting over several million assets across all major, and some not-so major, protocols.
Our shared vision and mutual commitment to redefining the crypto experience presented us with a unique challenge—to manage high-volume transactions without compromising the precision, reliability, and security Trust users have come to expect.
To do this, we set out to design a custom gateway that would successfully handle the transaction load and also guarantee clear communication for Trust's users. By focusing on both technicality and user experience, we transformed Trust wallet operations, setting a milestone in the way the wallet interacts with decentralized technology.
Let's delve into this journey and find out how Chainstack was able to empower Trust in achieving its goals.
Why Trust chose Chainstack as its infrastructure partner
In the vast landscape of crypto services, Trust had already cemented its reputation. The challenge for Chainstack was not just to be another service provider but to distinctly stand out among the myriad of infrastructure solutions Trust Wallet had previously explored.
Our promise of consolidating service providers, enhancing infrastructure robustness, and delivering cost-effective solutions had initially piqued Trust wallet's interest, especially given the positive feedback they had gathered from other Web3 developers in the community.
Recognizing the unique challenges Trust faced, particularly in managing a multitude of providers to cover an extensive list of chains, we saw an opportunity to deliver unparalleled value. Our extensive support for over 25 protocols, combined with our globally-distributed geo-load-balanced elastic nodes and scalable solutions, set us apart.
But what resonated the most with Trust's developer-centric vision was our transparent and predictable pricing model. Our commitment to simplifying the complexities of blockchain infrastructure, coupled with our transparent pricing, made Chainstack a match made in Heaven for Trust Wallet.
Facilitating interactions with a custom Chainstack gateway
One of the pivotal moments in our partnership was when Trust presented us with a unique challenge. They needed a solution that would not only handle their high-volume crypto transactions but also ensure clear communication for their users.
Rising to the occasion, we designed a dedicated gateway that not only met the technical requirements but also enhanced the user experience. Our solution delivers intuitive error messages when request rates are exceeded, guiding users on when to retry, ensuring seamless interactions even during peak times.
Through our partnership with Trust, the results have been nothing short of impactful. Trust has realized substantial cost savings, achieving an impressive 80% reduction compared to an on-premise setup and a 44% to 57% savings against other service providers.
With their consistent consumption of an average 2.5B RUs monthly on the Chainstack platform, the satisfaction Trust Wallet has expressed is a clear indicator of the mutual success we've achieved together.
Trust on Chainstack in numbers
Trust truly makes the most of Chainstack's capabilities, presently running 34 elastic nodes to bolster their comprehensive wallet's offerings. Our multifaceted protocol support enabled Trust Wallet to seamlessly manage operations across an extensive range of 18 chains, including Aptos, Arbitrum, Aurora, Avalanche, Bitcoin, BNB Smart Chain, Ethereum, Fantom, Gnosis, NEAR, Optimism, Polygon, Polygon zkEVM, Solana, Starknet, Tezos, and zkSync Era.
Trust's extensive use of our platform at Chainstack is a testament to the trust they place in our services. Our full nodes impressively managed 12.82B requests, while our archive nodes adeptly handled a significant 4.11B. At Chainstack, we pride ourselves on transparency, and these statistics only bolster Trust Wallet's confidence in our capabilities.
Chainstack's global reach with Trust is evident in our request delivery across various regions. Leading the way is Ashburn with 7.41B requests, followed by the EU at 2.55B, Southeast Asia with 2.33B, Amsterdam at 1.04B, London with 0.39B, and Dallas managing 0.24B. We stand as a comprehensive solution catering to Trust wallet's worldwide needs.
In terms of specific protocol usage, Ethereum took the lead with a massive 10.48B requests. This was followed by Arbitrum at 2.25B, Solana with 2.05B, zkSync Era at 0.67B, BNB Smart Chain with 0.58B, Polygon zkEVM at 0.24B, and Gnosis protocol registering 0.15B. Trust's diverse protocol interactions highlight their comprehensive approach to blockchain technologies.
These impressive figures paint a vivid picture of the foundational role Chainstack plays in Trust's ongoing journey. From scalability to unparalleled support, Chainstack anchors Trust wallet's operations, underpinning their objective of offering efficient and seamless services to their extensive user base.
We view these statistics as milestones, symbolizing our unwavering commitment and dedication to propelling Trust's continued growth and success in the dynamic world of cryptocurrencies.
What is Trust?
Trust wallet is a powerful and secure platform for conducting crypto transactions, boasting a user base exceeding 60M. From managing multi-chain support and executing crypto transactions to staking, accommodating NFTs, and even fostering a thriving environment for developers, Trust is indeed a virtuoso in the crypto space.
The platform is designed with scalability and performance at its core, crafted to handle high volumes of transactions and users without faltering. This reliability is backed by top-notch security measures, safeguarding users with advanced encryption and comprehensive security protocols.
Taking a deeper look, Trust supports over 4.5M assets and 70 chains, exemplifying its impressive compatibility and interoperability. The platform's extensive ability to accommodate a wide range of decentralized technologies is no small feat. It speaks not only to Trust Wallet's flexible architecture but also to its dedication to staying one step ahead in the rapidly evolving world of cryptocurrencies.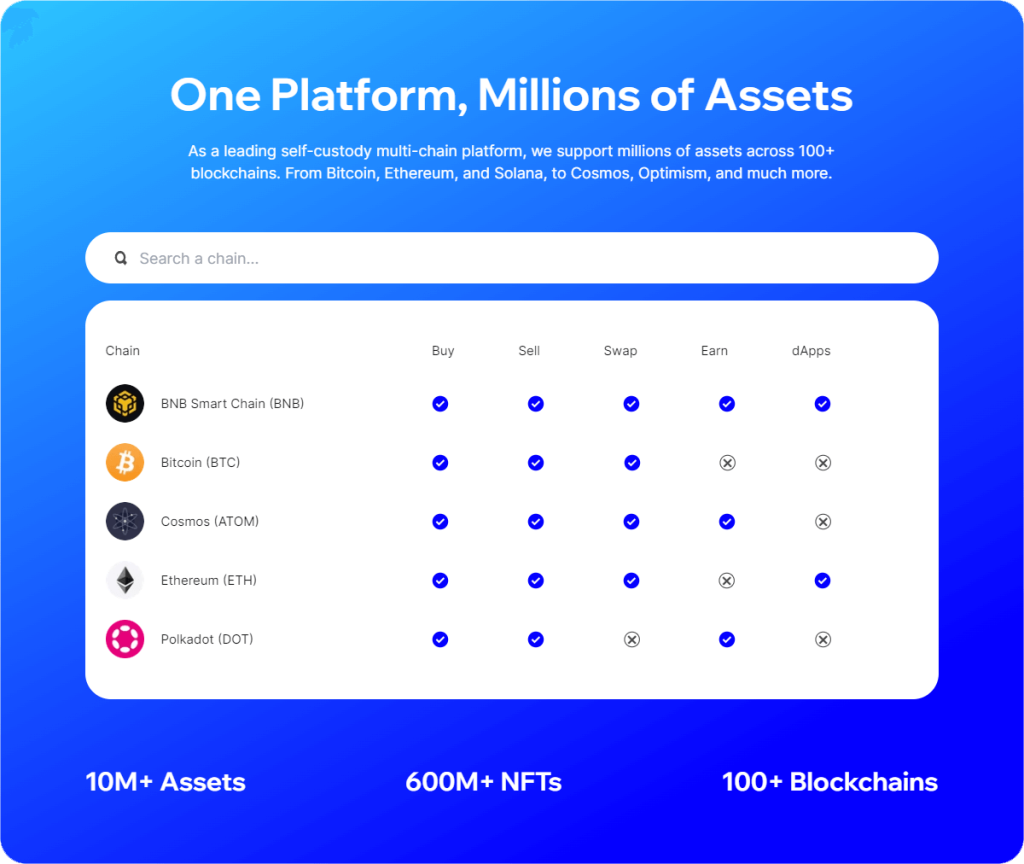 What makes Trust special?
While staking can typically be a complicated process requiring technical expertise, Trust wallet has revolutionized the experience. They've transformed this intricate operation into a user-centric approach, enabling everyday users to participate effortlessly. Trust Wallet's overarching mission is to demystify the blockchain realm, making it more approachable for the average individual. Their staking feature stands as a testament to this commitment.
In the ever-evolving crypto landscape, Trust remains agile, as evidenced by their robust support for NFTs. Recognizing the uniqueness of each NFT and the intricate smart contract requirements, especially for ERC721 and ERC1155 tokens, Trust adeptly manages these complexities. This proficiency empowers users to navigate the burgeoning world of digital collectibles with unwavering confidence.
Further enhancing the user experience, Trust wallet's integrated DApp browser offers a seamless gateway to decentralized technology. It simplifies interactions with smart contracts across a multitude of chains, allowing users to immerse themselves in the crypto ecosystem without the usual technical barriers.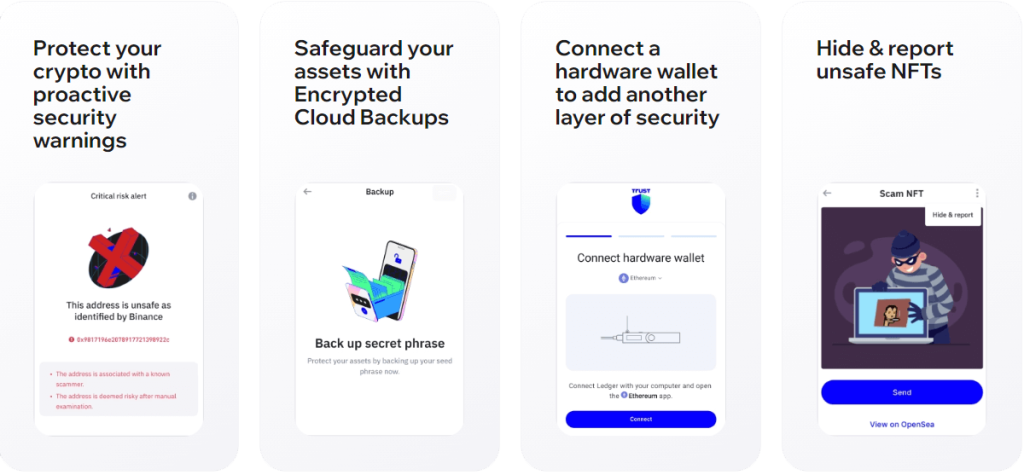 Complementing this is Trust wallet's browser extension, which brings the platform's full capabilities to web browsers. It supports a diverse range of chains and facilitates secure interactions with various blockchains. This extension underscores Trust's commitment to user-centric design, extending its reach beyond just the mobile application and offering unparalleled flexibility.
Bringing it all together
Viewing this journey retrospectively, our collaboration with Trust has been both successful and rewarding. At Chainstack, we helped Trust wallet tackle their challenges head-on. Through our consolidated services and robust support for a plethora of blockchains and protocols, they could considerably cut down on resource and time requirements.
Our journey together has been a testament to our shared values, commitment, and dedication to rendering superior crypto services to millions of users worldwide. Trust's extended commitment and positive feedback are evidence of the trust they placed in Chainstack's platform, services, and capabilities. The surge in usage statistics and broadened reach underline the efficacy and scalability we brought to their operations.
Trust's transition into consolidating their services onto Chainstack has led to substantial improvements in their operations' efficiency and efficacy. By offering a clear and forecastable pricing structure, we ensured they could budget effectively and stay on top of their expenses.
This led to a major 80% cost-reduction against running an on-premise setup and a significant 44% to 57%, when compared with other service providers. And overall, when it came to ROI, this meant a staggering uplift of 400% for Trust wallet.
At Chainstack, we aim to personalize our services to the unique needs of each client. With Trust Wallet, we not only delivered on their needs but also, through cooperation and shared experience, set a new standard for their services.
Being a part of Trust wallet's journey has been an honor for us, witnessing their continued growth and having the opportunity to be a part of it is indeed rewarding. Trust and Chainstack, together, we make a better crypto world for millions.
Power-boost your project on Chainstack
Have you already explored what you can achieve with Chainstack? Get started for free today.
SHARE THIS ARTICLE