Tendex on Chainstack: Blockchain trading infrastructure for institutional digital asset management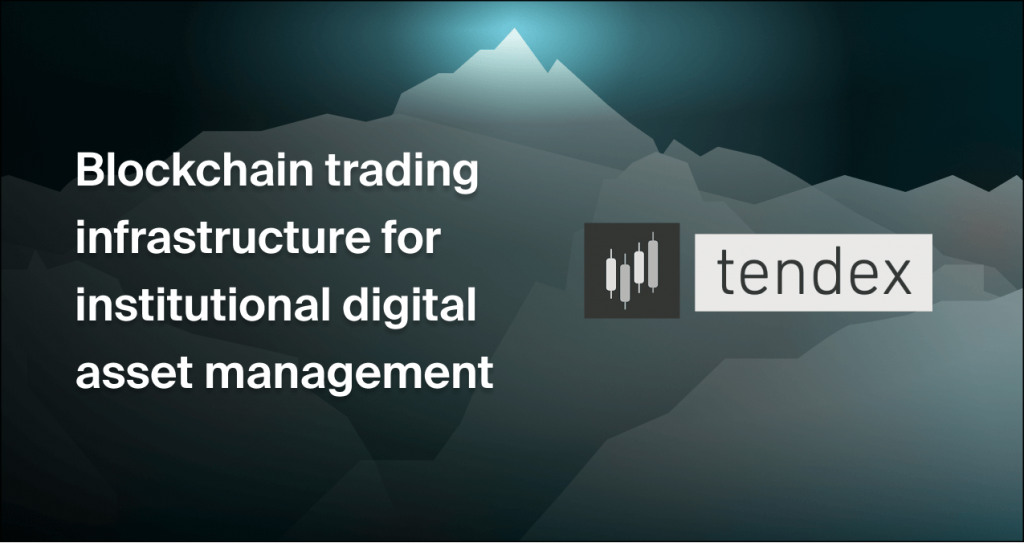 Tendex is a Swiss-based asset manager that specializes in investment products and trading infrastructure for the digital asset space. Their team is composed of engineers and mathematicians, with the goal to provide the best possible products and services for those working in or looking to invest in the digital asset world.
What does tendex do?
Tendex is a digital asset hedge fund that specializes in market-neutral strategies. As a hedge fund, the project focuses on the creation of highly competitive investment products which are built on its modern and secure trading infrastructure.
This trading infrastructure is at the core of tendex's business. The events-based trade application and proprietary order management system, they develop, allows clients to trade with confidence. Tendex's system is designed to handle large order sizes and provides its clients with the best possible execution.
Additionally, tendex has developed a complete set of tools, including advanced back-testing sets, and software for active strategy and portfolio management. With tendex's flagship product trading for over two years now, it has managed to double the number of assets under its management.
How did tendex come across Chainstack?
Tendex was looking for a robust infrastructure provider that could power its events-based trade application. This would allow them to successfully deploy their quantitative fund offering and leverage it to amplify their competitive edge in profiting from the inefficiencies within the digital asset market space.
To do that they needed a reliable node API. Without its features, or by using a service not adhering to their performance requirements, tendex's products would fall short of delivering the results their customers and investors are looking for. They simply could not afford interruptions to their service due to lag or dropped requests.
Tendex sent out a request for assistance and the Chainstack team was quick to respond by delivering a comprehensive view of what they could take advantage of. After a brief chat to go over the basics, tendex moved forward using Chainstack's services.
How does the Chainstack offer match tendex needs?
Above anything else, tendex needed a reliable infrastructure that it could deploy at will. At the same time, this infrastructure needed to provide private archive node functionality to handle sensitive data, as well as retrospective analysis, to perform tests against historical real-world scenarios.
Being able to leverage these features would prove essential for the effective delivery of tendex's services. These also needed to adhere to their budget, allowing them to pay for performance and thus be able to scale efficiently, as the needs of the projects grew with them.
Chainstack's offer was a perfect fit for all tendex's requirements. By signing up for our service, they were able to receive a robust infrastructure, supporting both private archive nodes and retrospective analysis frameworks. They were able to leverage these powerful functionalities with an attractive cost model excluding any imposed additional services, or overpayments.
Outcome
Following our discussion, Chainstack provided tendex with the reliable infrastructure setup they were looking for. By taking advantage of the Chainstack private and shared archive node functionalities the tendex team effectively gained access to the comprehensive data sets such service entailed. This allowed them to perform adequate testing of their core services against real-world scenarios, which is an essential part of delivering a seamless mainnet experience for their users.
Additionally, the tendex team also had an opportunity to stress-test the environment, at times requesting as many as 5 000 000 requests to Chainstack a day, across multiple contracts without any issues, or interruptions to the service. Upon completion, these tests provided tendex with tangible insights they could use to improve their offering and scale up their product's performance moving forward.
What does tendex like about Chainstack?
To be successful in trading decentralized finance products and provide the best possible returns for our investors, we needed to have a reliable partner next to us. Chainstack is a notable example of a node provider that includes reliability, functionality, and cost-effectiveness.

James Kilroe, Director, tendex
What does Chainstack like about tendex?
Tendex offers an innovative and professional approach to digital asset management, which is a welcome sight in the landscape. Having such options available will certainly bring additional institutional adoption because of the high trustworthiness rating it brings with it.

Eugene Aseev, CTO, Chainstack
What is the most interesting engineering challenge in working together?
As mentioned previously, one of tendex's core needs was being able to utilize the archive node's functionalities to perform back-testing against historical real-world data. These data sets can be particularly large, which proved to be an interesting challenge for the Chainstack team.
By leveraging the robust infrastructure Chainstack offered, we worked together with the tendex team in delivering these datasets, so they can perform the tests they sought. We worked together with tendex to customize the node settings in maximizing the throughput capacity of our nodes to make it all possible.
This allowed the tendex team to receive the priceless datasets on time and most importantly on budget, allowing them to complete the essential testing procedures of their core services. With the tests completed successfully, tendex was able to move forward with their project plans, resting assured that they had a reliable infrastructure provider to support their efforts.
Power-boost your project on Chainstack
Have you already explored what you can achieve with Chainstack? Get started for free today.
SHARE THIS ARTICLE