Chainstack Introduces Kenshi Oracle Network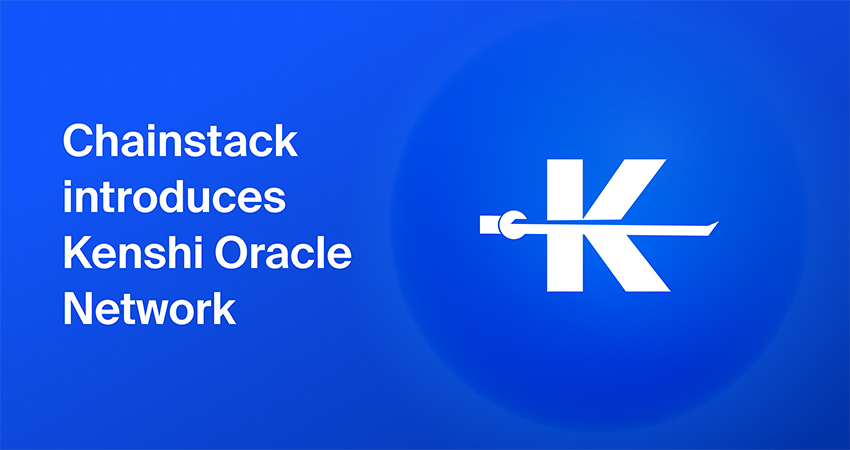 We are excited to announce the addition of Kenshi to our fast-growing list of supported networks and protocols!
With Kenshi listed on Chainstack, the web3 developer community can now easily enjoy the lightning-speed networks of secure oracles. Combined with Chainstack's robust infrastructure, it's a match made in heaven for web3 developers worldwide.
Kenshi is your one-stop shop for all your trustless oracle needs. It provides easy and secure access to real-world data points and lets you create custom oracle solutions for any blockchain protocol. Kenshi is a comprehensive starting point for developers looking to build trustless systems that run safely and efficiently.
With Kenshi's reliable and performant oracle infrastructure backed by Chainstack, developers can focus on what matters the most: creating value with their projects.
Kenshi's oracles are designed to integrate seamlessly with any blockchain protocol, from the most prominent smart contract platforms, like Ethereum and BNB, to upcoming projects in their early stages. This allows developers to easily access reliable real-world data without having to code their own custom oracle solution.
With Kenshi, developers will have access to a secure, efficient, and robust oracle infrastructure that can be used for any type of blockchain project supported by Chainstack, including Ethereum, BNB, Polygon, Avalanche, and Fantom, to name a few.
What is Kenshi?
First and foremost, Kenshi's products are made for developers by developers. A technology startup with a core team of industry experts, Kenshi closely collaborates with a network/ecosystem of partners and protocols to achieve its goals. Their mission is to accelerate and empower blockchain development by helping the builder community solve complex development challenges.
How will Kenshi help you?
1. By providing a rich ecosystem of blazing-fast, easy-to-use, secure, and robust oracles, which will allow you to focus on innovation instead of reinventing the wheel
The Kenshi Oracle Network provides high-speed, reliable access to real-world data points like the price of cryptocurrencies and other assets, fiat currency exchange rates, commodity prices, and more. As a leader in blockchain oracle technology, Kenshi is dedicated to bringing true decentralization to trustless systems that are safe, efficient, and accessible for everyone.
2. By indexing blockchain data flows and turning them into an easy-to-use data layer
This will enable you to query the blockchain data efficiently and use webhooks so that you can be notified of a specific event happening on the blockchain. Now, developers can store and query blockchain data seamlessly. This helps to eliminate the need for manual processes and reduces development costs by providing an easy-to-use interface to access blockchain data.
3. By allowing you to outsource your custom development challenges when reliable, safe, and fast delivery is needed
The team at Kenshi works hard to ensure that the platform meets today's security and scalability standards so that you can be sure your data is fully protected. By leveraging cutting-edge blockchain technology, Kenshi provides developers with a secure and robust infrastructure to build any application.
Deep Index
Kenshi provides various services for retrieving, querying, and processing blockchain data. The system provides access to the full blockchain, allowing users to explore real-time data, query transactions, and contract states, construct custom indexes, analyze transaction trends, and more.
Deep Index consists of three main services: Sync, Query, and Reverse-API.
Sync
You can use sync to retrieve, store, and index data on the Kenshi data clusters. It'll enable you to securely manage data and resources across all your environments, ensuring that the right information is accessible at any time.
Additionally, Kenshi provides tools for continuously monitoring data sources, making it possible to detect patterns and insights in real-time.
Query
Kenshi also allows querying the blockchain with GraphQL & MQL. This means that developers can create custom applications that interact with the blockchain by making use of Kenshi's GraphQL & MQL endpoints.
These applications can be used to send and receive payments, track transactions, execute smart contracts, and more.
Reverse-API (R-API)
Push notifications are sent to users when a particular blockchain event, such as a transaction or block, is created. This ensures that users remain updated about their transactions and other activities on the blockchain.
Furthermore, Kenshi also provides an API for developers to integrate their applications with the blockchain easily.
Verifiable Random Function (VRF)
This function allows users to receive a random value that is publicly verifiable by all network participants. It can be used for applications such as secure lotteries, voting systems, and consensus algorithms.
The VRF also ensures that the cryptographic keys used for generating random values remain private and can only be accessed by the user who owns them. This security measure helps prevent malicious actors from manipulating the output of the VRF, ensuring that all network participants receive the same random value.
Generating randomness for the blockchain
This additional security measure ensures that the blockchain remains untampered with and unpredictable. This helps to guarantee that no one can predict what will happen next on the blockchain, helping to protect your data and assets from malicious actors.
Custom services for clients
Kenshi's team includes a few experienced business consultants who specialize in helping clients develop effective strategies for their companies. Additionally, they offer custom project development, and on-chain services, such as Deep Index and the Oracle Network.
Where does Chainstack come into play?
Our partnership will see Chainstack provide Kenshi project builders and web3 developers with the advantage of having a geographically distributed powerful blockchain node infrastructure and node APIs capable of handling high throughput without compromising on scalability.
Just to put it in perspective, Kenshi runs 90M monthly lambda executions and 1.5M daily blockchain requests on ten networks to ensure quality, near real-time results. Naturally, they had some concerns about the high volume of requests becoming a problem, which would have resulted in gaps in their indexing services and subsequently, incomplete results.
Since an oracle is a crucial link to the "real world" for querying data found outside the blockchain, we understood the importance of providing them with the highest uptime possible.
To resolve this matter, Chainstack gave Kenshi an exclusive, dedicated gateway. Because we understood the importance of setting Kenshi up with a server in their geographic region to get the best latency.
The gateway is built on our private network, with dedicated connectors to various blockchains. The main function of this gateway is to act as a bridge between Kenshi and the "real world", providing an extra layer of security by enabling clients to query data from external sources without compromising their privacy.
Oracles play an integral part in bridging blockchain technology with real-world data. This factor alone puts projects like Kenshi in the spotlight and further emphasizes their role as key contributors to the development of blockchain technology. And as Kenshi oracles become available on Chainstack, we move further on our mission to deliver exceptional means for web3 BUIDLers and help them create more value with their projects.

Eugene Aseev, CTO & of Chainstack
Contributing towards a swifter web3 for all
As a result of this partnership, Kenshi's services are now fully integrated with the Chainstack RPC nodes. Kenshi now saves 15000 hours of computation time (90M monthly lambda executions * 600ms) and gets an increase of up to 80% in execution speed. VRF results are also 10-20% faster, not to mention the RPC node response time that is now consistently under 100ms.
Our partnership with Kenshi has been extremely beneficial for both companies. It provides Kenshi with the blockchain infrastructure to run its operations optimally and gives Chainstack the opportunity to demonstrate the scalability of its node infrastructure.
We are thrilled about this opportunity to further our collaborations in the web3 space and explore other use cases of blockchain technology in the future.
With Chainstack's innovative node infrastructure and Kenshi's cutting-edge technology, we are committed to making web3 better and even faster. By leveraging the combined power of our two teams, we are confident that the development of this space will continue to thrive. We believe that together, our companies have what it takes to drive the growth of web3 and unlock its full potential.
At Kenshi, we believe developing on the blockchain should be fast and accessible to all developers. We're excited to have Chainstack as our service provider to help us carry this mission!

Pouya Eghbali, Founder and CEO of Kenshi
Pricing
Thanks to Chainstack's innovative engineering and next-generation infrastructure, you can now significantly reduce your overhead by integrating Kenshi. So you can reap the benefits of flexible and affordable commitments, friendly to your budget, and able to take care of all your project needs.
Give it a try and start harnessing the unique features Kenshi brings to the table with an introductory plan for developers. No commitment is required. Enjoy up to 3M requests once you start your first subscription.
And if you're interested in getting the most out of your money, don't worry! All of Chainstack's pricing tiers are custom fit for your specific needs and requirements.
If you go with the Growth plan, you will get up to 20M requests. However, you can get 140M requests if you opt for the Business tier, with no restrictions on dedicated nodes. You don't need to be a math whizz to get our competitive pricing. All you have to do is check out our pricing page and let the calculator do its thing.
Power-boost your project on Chainstack
Have you already explored what you can achieve with Chainstack? Get started for free today.
SHARE THIS ARTICLE