Unicrypt on Chainstack: Setting a stable foundation for incubating blockchain initiatives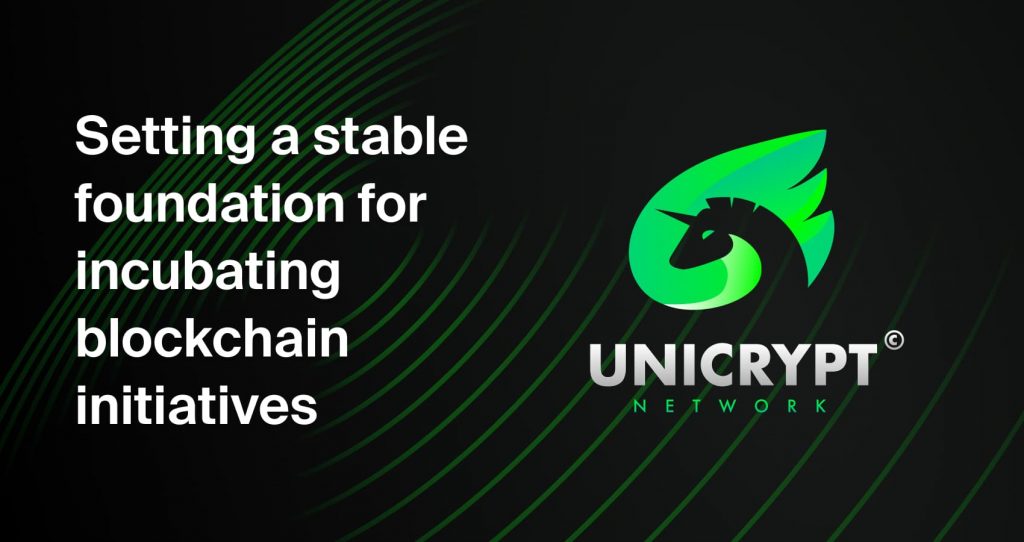 Unicrypt is a protocol for locking liquidity and incubating blockchain initiatives. The protocol is a vital player in helping projects launch tokens from the ground up in a secure manner by offering an opportunity to create flexible staking pools and farms according to the needs of the development teams.
What does Unicrypt do?
Since its launch in June 2020, Unicrypt has delivered an ever-growing palette of decentralized services. The main goal of the initiative is to create value within the Web3 space by developing a suite of disruptive, flexible, and audited technology that provides projects with a launchpad for rewarding their communities.
Some of the main avenues Unicrypt is working on are liquidity locking for up-and-coming initiatives, token vesting for both project owners and early adopters, token minting, as well as ILO, farming, and staking opportunities. Altogether, this DeFi suite as a service provides a stable foundation for new projects to start their journey in the Web3 landscape.
Up until now, this foundation has helped more than 14,000 projects successfully in their launch, generating over $500,000,000 in terms of TVL from over 1,200,000 users across their six services. In doing so, Unicrypt has become a vital player for on-chain analytics and security organizations, especially due to their exceptional security against liquidity theft and malicious actors.
How did Unicrypt come across Chainstack?
Powering such a large user base and doing so without significant interruptions brought forward a demanding set of requirements in terms of infrastructure. That is what kickstarted the Unicrypt search for a reliable partner that could successfully handle high volumes of traffic and do so with flexible pricing that is fit for their budget.
Finding one was no easy task, however, as the protocol's popularity directly translated into a major flow of requests in a short period of time, especially during ILO processes. Without a robust provider that could handle the load, Unicrypt would face regular interruptions to their service, creating much interference for users and damage to the project's reputation.
After conducting several trial runs with various alternatives, Unicrypt was still left facing sync issues and unsuitable billing plans. This eventually led them to discover Chainstack's offering, which stood out from all the options in terms of flexible pricing and low downtime.
How does Chainstack's offer match Unicrypt needs?
By comparing all the available options, Unicrypt found out that by working with Chainstack the team could reduce the cost of scaling multiple chains significantly. Unlike other alternatives, Chainstack offered a pricing structure based on the number of requests across multiple nodes, rather than per chain, or node, which was a perfect fit for their budget.
Unicrypt's team was happy to discover that Chainstack offered the utmost performance, even for less stable chains. This meant leaving block sync issues in the past when using websockets and the ability to launch additional chains swiftly, further speeding up the time-to-market for new Unicrypt products.
Another welcome sight for Unicrypt was Chainstack's consistent responsiveness that helped them resolve any challenges they faced quickly and effectively. With our help, their development team was able to deploy new nodes within days, significantly trimming down delivery times.
Outcome
With a reliable infrastructure provider supporting their efforts across the Web3 space, the Unicrypt team was able to resolve any performance bottlenecks they previously faced. Block synchronization was no longer an issue, even during the hectic processes that are a given with ILOs and community incentives, such as farming and staking.
Seeing Chainstack nodes as the first to respond eliminated plenty of stress factors for Unicrypt, when it came to network stability. With consistent smooth performance that's constantly improving their development team no longer needed to worry about desync issues and interruptions to their services.
Not only that but thanks to the flexible and affordable pricing that comes with using our services, Unicrypt could also rest easy knowing they are getting their money's worth for their budget. This helped their team significantly in supercharging their product offering and in giving them the ability to launch nodes quickly and effectively when the need arose.
What does Unicrypt like about Chainstack?
Chainstack has given us the tools to scale in some very flexible ways. We have been able to balance requests across multiple chains and spin up custom nodes in minutes without having to think about the bare metal. These features have allowed us to free up considerable time in development.

Alex, Backend developer, Unicrypt
What does Chainstack like about Unicrypt?
Unicrypt provides a stable foundation for the launch of new blockchain initiatives and in doing so positions itself as a vital player in pushing the envelope for the entire landscape. We are happy to work together with the Unicrypt team in creating a better environment for the development and launch of new projects across Web3.

Eugene Aseev, Founder & CTO, Chainstack
What is the most interesting engineering challenge in working together?
One of the major obstacles that the Unicrypt team faced in delivering an exceptional user experience was the node desynchronization that was a common occurrence on one of their supported chains. Considering the heavy loads that came with their use case, this created an interesting engineering challenge to resolve.
Working side-by-side with our team, Unicrypt successfully managed to fine-tune its infrastructure stack to handle large volumes of requests and do so with the utmost stability and performance. Thanks to Chainstack's robust technology, the Unicrypt development team saw an impactful improvement in terms of response time.
In the end, this allowed them to free vital resources that were better put towards building value with their products. With network performance woes in the past, Unicrypt could easily offer the seamless user experience they desired and at the same time launch new nodes in a matter of seconds.
Power-boost your project on Chainstack
Have you already explored what you can achieve with Chainstack? Get started for free today.
SHARE THIS ARTICLE