Pickle Finance on Chainstack: Accelerating growth into new networks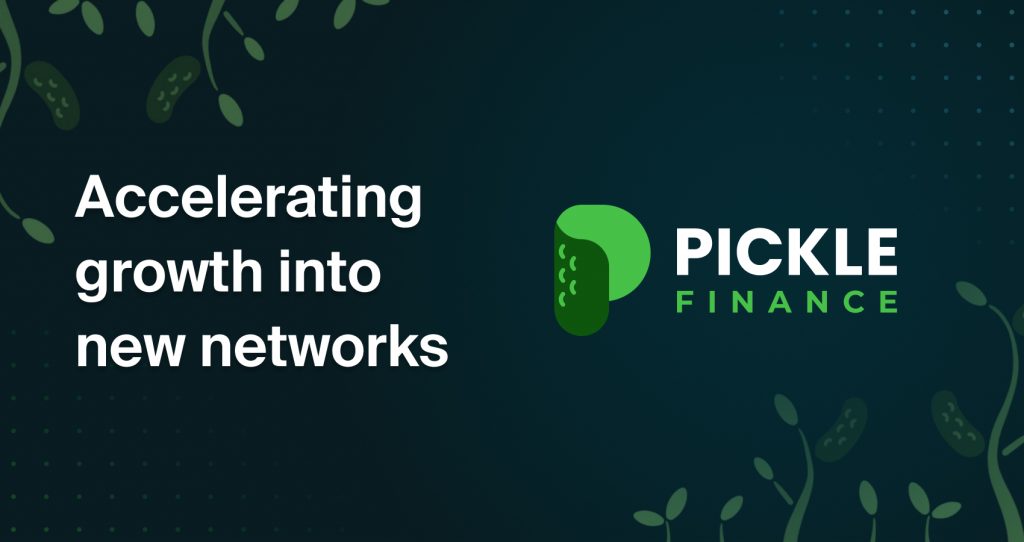 DeFi yield aggregator
Pickle Finance is a yield aggregator, auto-compounding users Liquidity Provider positions across DApps like Sushi, Curve, and Uniswap, saving them time and money. The governance token PICKLE can be staked as DILL (or PICKLE) to earn a share of the protocol's revenues and boost users' farm APY. Since its inception, Pickle Finance's jars and farms have ballooned into the hundreds. At the time of writing, Pickle Finance holds over $55 million in TVL with over 6000 users.
What does Pickle Finance do?
There has been phenomenal growth in decentralized finance (DeFi) over the past year. There are many parts of DeFi, from decentralized exchanges, automated market makers, lending platforms, liquidity protocols, stock synthetics, and yield aggregators. Yield aggregators is a service within DeFi that aggregates and compounds yield from other protocols, automates various strategies in token and liquidity staking that are performed across different investment products such as liquidity pools, vaults, and yield farms. This DeFi option has risen with great popularity among users seeking to invest money and tokens through staking in yield markets. Using a yield aggregator, a user's profits are maximized by leveraging different DeFi protocols and strategies for elevated returns.
Pickle Finance allows users to earn great compounding yields on their deposits in the easiest way possible, automating the compounding process daily and absorbing the gas fees by reducing the number of transactions required. The team at Pickle Finance is also constantly bringing users new opportunities to generate yield on assets catering to all risk tolerance levels.
While there are a few yield aggregators out in the market to choose from, Pickle Finance is uniquely positioned within the DeFi market to scout the most promising protocols, build partnerships, and bring those opportunities to its users. The project is governed by a DAO (Decentralized Autonomous Organization), providing the token holders and community with voting rights to make changes to the protocol, emissions, and more. Pickle Finance also offers its users several other benefits other than just auto-compounding returns and reducing transaction fees. The team provides a smarter choice for alternative investment vehicles that are paired with accurate insights and expert strategies that are viable for all risk profiles and long-term goals in the DeFi ecosystem, no matter what phase the market is currently in.
How did Pickle Finance come across Chainstack?
In its early days, Pickle Finance started out with their main products, Pickle jars and Pickle farms on the Ethereum mainnet. As the ecosystem grew and a vast number of decentralized exchanges operated across various networks, Pickle Finance eventually expanded into the Polygon network, opening more opportunities for yield aggregation. With the incredible speed of expansion and scale, Pickle Finance had to look for reliable node infrastructure capable of meeting their requirements and providing access to multiple networks. The core development team at Pickle Finance had asked across various other protocols for their preferred solution, and Chainstack came in highly recommended among many communities.
How does the Chainstack offer match Pickle Finance needs?
When Pickle Finance decided to switch to Chainstack, they were looking for an infrastructure solution that could cost-effectively meet the protocol's growing needs. The decision has been ratified by the stellar reputation Chainstack holds among many Web3 communities and protocols. Pickle Finance's growing community is now backed by Chainstack's reliable and scalable infrastructure. With Chainstack, Pickle Finance is able to consistently process blockchain data and transactions up to 300% faster with greater stability and performance. Chainstack is the go-to solution for multi-chain projects because it can manage and support the deployment of nodes across numerous protocols and networks. Pickle Finance can now focus on developing better products, establish farming aggregator contracts, and build its strategy of customized selection of Pickle Jars and Pickle Farms to earn yield across multiple assets from different protocols and networks.
Outcome
Chainstack collaborated with Pickle Finance to significantly scale their yield farms. Chainstack's team of engineers worked closely with the Pickle team to satisfy all the growing demands of the project. Chainstack's infrastructure has proven to be a cost-effective and dependable solution to Pickle Finance's increasing number of yield products on the Polygon network. Pickle Finance now has an expert infrastructure provider working together to further accelerate the development and scale higher, supporting the growth of over 6000 yield farmers on the platform. Chainstack's multi-chain solution supports a variety of networks in addition to the Ethereum mainnet and the Polygon network, supporting any future expansion plans into other protocols. The Pickle team no longer need to worry about node maintenance or upgrades because they now have the support of our consistent and dedicated team of engineers.
What does Pickle Finance like about Chainstack?
I use Chainstack for many personal projects as well as for their reliable infrastructure. Many times, I have received personal support from the Chainstack team without even asking for it and knew that Chainstack would meet the future needs of the protocol. I've enjoyed every interaction with Chainstack's engineering team and look forward to our continued collaboration as Pickle Finance grows.

Larry the Cucumber, Pickle Finance
What does Chainstack like about Pickle Finance?
Many projects, such as Pickle Finance, need the assistance of a skilled engineering and DevOps team to optimize operational procedures and provide enough and dependable infrastructure to support rapid expansion. Glad to have Pickle Finance join us on our mission to make Web3 accessible to everybody, offering outstanding blockchain and DeFi solutions to a wider audience.

Eugene Aseev CTO & Founder, Chainstack
What is the most interesting engineering challenge in working together?
With the aid of the Chainstack infrastructure support, the process of establishing farming aggregator contracts on the Polygon network was eased. Pickle Finance's core infrastructure integrity is assured by Chainstack as the number of transactions and user interactions rose. This extension into the Polygon network resulted in a considerable increase in the number of users, transactions, and harvests with the farms running each day. Using Chainstack, Pickle Finance is able to shift from weekly to hourly harvests, and in various instances, transact and handle harvests smoothly even when it is carried out within a couple of minutes.
Chainstack helps businesses like Pickle Finance to build high-performing products and grow applications by utilizing blockchain infrastructure solutions designed for interoperability, performance, and scalability. Chainstack's enterprise-grade, user-friendly infrastructure, tools, and services allow developers and project teams to focus on building ground-breaking blockchain solutions while minimizing friction and optimizing operations.
Power-boost your project on Chainstack
Have you already explored what you can achieve with Chainstack? Get started for free today.
SHARE THIS ARTICLE