Trava.Finance on Chainstack: Optimizing data processing with access to multiple blockchain networks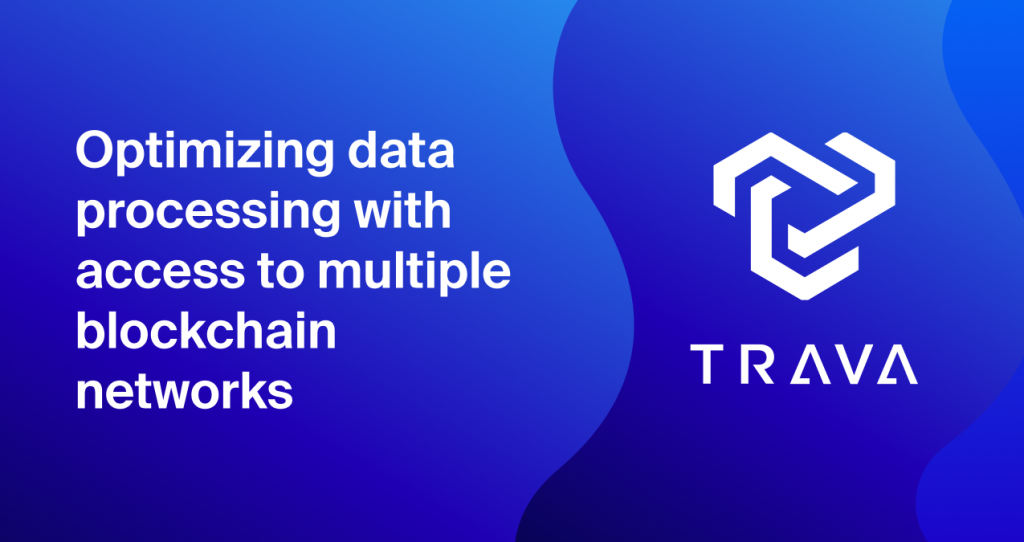 Trava.Finance is a cross-chain lending protocol that offers unique functions, including pool creation, credit score evaluation, NFTs-collateralized, and data analysis built on a semantic knowledge graph.
What does Trava.Finance do?
Trava.Finance's cross-chain lending marketplace is where users can create and manage their own lending pools. This multiple-pool model allows lending pool owners and their members to flexibly adapt their investment strategies to the volatility of the crypto market and earn greater returns. There are currently over 361 lending pool owners with a TVL of over $22 million. Initially deployed on the Binance Smart Chain (BSC), the platform allowed users to start lending immediately with BSC tokens, and subsequently released support for cross-chain lending with various tokens on Ethereum and other blockchain networks. The lending marketplace model has helped promote the growth of cryptocurrency liquidity and accelerate the growth of the entire DeFi ecosystem.
Trava.Finance's lending marketplace is built upon a semantic cross-chain knowledge graph; a distributed ledger that holds the data collected from multiple blockchain networks in the form of entities and their inter-connections. Starting with pool creation, Trava.Finance offers a flexible mechanism in which users can create and manage their own lending pools to start the lending business. Pool owners are supported with recommended optimal parameters that are generated to reduce lending risks based on statistical data analysis on the cross-chain knowledge graph and other data sources. The data analysis identifies any unusual transactions and gives greater insights to help users maintain their liquidity pool.
Trava.Finance developed a pioneering solution for credit score evaluation within blockchain lending that uses a cross-chain knowledge graph to evaluate credit scores for users and their digital assets. In addition, Trava.Finance aims to increase the overall market liquidity of special assets such as NFT, stock tokens, or smart contracts, allowing users to use all these asset types as collaterals. Utilizing a cross-chain identification protocol that identifies all wallet addresses of the same user on different networks, users can use a combination of all types of cryptocurrencies and crypto assets they have as collateral for a larger loan, in a single transaction.
How did Trava.Finance come across Chainstack?
The team at Trava.Finance started with building and managing their own blockchain node infrastructure and eventually faced many technical problems to effectively operate and maintain the blockchain nodes. Trava.Finance tested many different node providers in search for a better solution and access to Binance Smart Chain. Looking to optimize and analyze transactions on the public blockchain networks, such as Ethereum, Polygon and BSC, Trava.Finance eventually found Chainstack's managed blockchain platform to be the perfect solution. Chainstack out-performed and was the perfect choice for better API stability across different blockchain networks with best-in-class priority support.
How does the Chainstack offer match Trava.Finance needs?
Chainstack supports Trava.Finance's blockchain data analysis by providing stable and reliable blockchain nodes that can easily handle the requirements for a huge number of requests in querying both the transaction data and the state data. Chainstack provides accessibility to the old and the newest state of a node, allowing for queries to be performed on both full nodes and archive nodes on Ethereum, Polygon and BSC. The ability to make an unlimited number of requests to nodes is a crucial advantage for Trava.Finance.
Outcome
Chainstack fulfilled all the requirements by helping the entire lending marketplace system to run smoothly, efficiently, and steadily. This allowed Trava.Finance to focus on optimizing data processing and building new, innovative products for the end users. Supporting over 2,656 unique holders and addresses, Chainstack's stable network infrastructure has helped Trava.Finance to accelerate growth, processing over 44,513 transactions on the platform. The collaborative partnership with Chainstack brought ease in deploying and maintaining blockchain nodes, coupled with timely support from a knowledgeable and reliable team at Chainstack. With an ever-changing DeFi and web3 landscape, Trava.Finance can continuously depend on Chainstack to deliver new protocol support and services for cross-chain use.
What does Trava.Finance like about Chainstack?
Relying on an innovative model of multiple lending pools created by users, Trava.Finance is the world's first decentralized lending marketplace. We perform blockchain data analysis to optimize pool parameters and calculate credit scores for users to reduce risks. To this end, we need to listen to and analyze a huge amount of data from different blockchain networks at the same time. This requires a large number of stable nodes on multiple chains, which can be fulfilled with ease by using Chainstack services. The cooperation between Trava.Finance and Chainstack is a fruitful collaboration. Our services are able to run with the highest performance and stability so that we can provide the best services for our customers. Chainstack can also benefit from the partnership with Trava.Finance as they can approach the large number of our users in the DeFi domain.

Dr. Minh Nguyen, CEO & Co-founder, Trava.Finance
What does Chainstack like about Trava.Finance?
Trava.Finance was created with the goal of promoting the DeFi ecosystem by improving liquidity markets and did so by pioneering some of the best products within the lending space. This project has shown immense potential for new, interoperable, and innovative products that is cross-chain, multi-protocol.
Projects like Trava.Finance accelerate Web3 in its entirety, not only promoting liquidity in DeFi markets, but also building innovative products that help bring Web3 and DeFi projects closer together. Chainstack is perfect for builders and developers to run multiple protocol networks, access archive data and let you focus on building innovative solutions catered to a wider group of users on multiple networks.

Eugene Aseev CTO & Founder, Chainstack
Cross-chain projects have accelerated the need for better support so that developers and builders can focus on solutions that could operate on different network protocols. Chainstack was built to support this with an all-in-one platform to easily access various blockchain networks, deploy and manage blockchain nodes.
Power-boost your project on Chainstack
Have you already explored what you can achieve with Chainstack? Get started for free today.
SHARE THIS ARTICLE