LinkPool on Chainstack: Facilitating Entry Into the Chainlink Oracle Network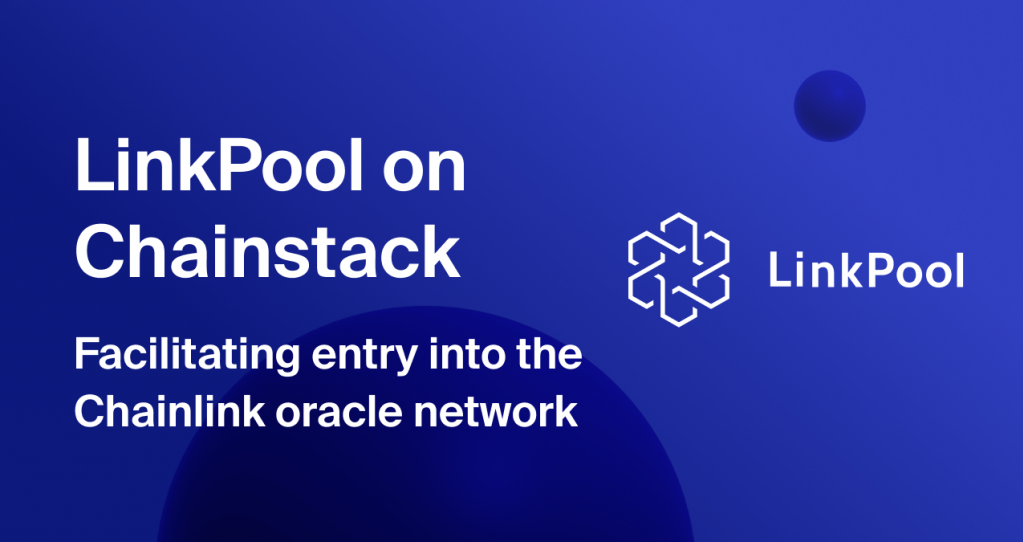 What is LinkPool?
LinkPool is a third-party Chainlink focused company, ecosystem developer, and node operator that is engaged in developing the tools and the infrastructure for node operators on the network. Additionally, LinkPool aims to break down the barriers of participation to the Chainlink Network through its staking and infrastructure services, and to increase transparency in the network through the Chainlink Market analytics platform. The company was founded shortly after the Chainlink token offering in 2017 and was one of the first independent node operators that went live on Chainlink mainnet in June 2019.
What does LinkPool do?
Since its founding, LinkPool has set out to achieve the following:
Be at the forefront of all Chainlink services being offered on every network with the highest up-time
Increase transparency in the Chainlink Network
Reduce the barrier of entry to meaningfully participate in the Chainlink Network for all tiers of users:

Retail users
Enterprise users (Data providers, institutions, enterprises, funds, firms, etc.)
Power users (users who wish to operate a node, develop external adaptors, build their own dApps)
For retail users, LinkPool has developed a set of pooled staking contracts. When staking goes live in the Chainlink Network, retail holders will have the ability to explicitly stake their LINK in a trustless manner onto a node, and payouts will be made proportionally to the total amount of staked LINK each user has put up for collateral in the node based on the specifics of the underlying service agreement.
This enables participation by retail LINK holders and contributes to further securing the Chainlink Network. LinkPool also helps onboard enterprises into web3 by integrating Chainlink into their existing processes, creating custom integrations for new types of data, and by providing infrastructure consultation.
Apart from that, LinkPool has also played an integral role in developing relevant documentation, resources, and tools for dApp developers and node operators. Part of this initiative was the creation of the first of its kind data feed directory – the Chainlink Market. This in effect created a crucial bridge between developers and operators that allowed them to connect to data sources with ease in leveraging the powerful features behind the Chainlink Network.
LinkPool was initially part of the group of three nodes behind the launch of Chainlink's mainnet. It has since evolved its business model entirely and scaled up the Chainlink Market into the analytics powerhouse that it is today. This development journey led LinkPool's growth from a supporting revenue generator to a fully-fledged Node-as-a-Service (NaaS) platform that manages node operations for both small players and enterprise customers within the Chainlink network.
How did LinkPool come across Chainstack?
Before digging down into the details of how LinkPool discovered Chainstack, it is essential to have a better understanding of just how Chainlink works. In order to participate in the network and parse data as a node, a constant and stable full node connection is necessary. Taking into account that the majority of DeFi's TVL hangs in the balance of accurate price fees, this means that downtime cannot be tolerated.
That's why in order to power their infrastructure, LinkPool needed a robust full node provider that could serve as a backup to fill any void at a moment's notice in the event there was ever a disruption within LinkPool's internal full node network. On top of that, the provider needed to offer a flexible payment plan that could meet LinkPool's demanding usage requirements at an optimal cost without major impacts on profitability.
It was not only performance and cost that the LinkPool team was looking for, though. Because of their active engagement in the development of Chainlink's infrastructure, their development team sought a responsive provider whose founders would be interested in going the extra mile, as well as working together with LinkPool in expanding and improving the products and services they needed. After a thorough search and evaluation of possible options, LinkPool discovered Chainstack as the provider that offered the best experience.
How does Chainstack's offer match LinkPool needs?
LinkPool uses a range of third-party full node providers for backup proxy purposes that are regularly evaluated and regulated. Despite the constant scrutiny, however, Chainstack has maintained a prime position in LinkPool's ranking list, never moving an inch from the top, serving as their go-to option for RPC node provision.
Chainstack has scored highly not only in terms of performance, but affordability just as much in the eyes of the LinkPool development team. Being able to connect to multiple nodes across protocols without additional charges to Chainstack's total usage cap was a welcome sight among them. On top of that, the generous calls quota to archive nodes that LinkPool tends to use frequently made Chainstack stand out from competing providers, and became a perfect fit for the platform's needs.
Overall, thanks to the support of a diverse set of chain protocols that LinkPool needed, paired with exceptional performance, customer service, and pricing, Chainstack became a match made in heaven for their team. It was due to these outputs that kept Chainstack at the top of LinkPool's provider rankings.
Outcome
After integrating the platform's services with Chainstack's robust full node infrastructure, LinkPool saw unparalleled up time, even under stressful network conditions. In doing so, LinkPool experienced the required stability needed for effective operation of the platform. Considering just how much is at stake in securing the majority of DeFi's TVL, this reliability alleviated a major stress factor.
Chainstack's team was happy to engage with LinkPool's development team directly in identifying the most adequate solutions in responding to the platform's exponential growth and growing set of requirements that came with it. Essentially, our responsiveness and availability evolved with their demands, allowing their team to focus on what they did best – creating an exceptional environment for participating in the Chainlink Network.
After a smooth integration process, LinkPool could rest easy knowing that a stable and responsible full node infrastructure partner was there to meet them in a time of need. Through this forged relationship, LinkPool is best positioned to contribute to the stability of the network which will facilitate the continued growth of a decentralized world rooted in cryptographic truth built on Web3 applications.
What does LinkPool like about Chainstack?
After extensive and ongoing evaluation, we've found Chainstack's services are the most reliable, cost-effective, and have the support necessary to use as our primary backstop when operating Chainlink nodes.

Ian Read, Director of Operations, LinkPool
What does Chainstack like about LinkPool?
The oracle problem is one of the most critical questions in Web3 development and its successful resolution is not only a matter of protocol but supporting infrastructure just as well. That is why it is such a pleasure to work with initiatives like LinkPool which have taken the enormous responsibility of facilitating the development and successful operation of the oracle protocol, integral to the DeFi boom.

Eugene Aseev, Founder & CTO, Chainstack
Power-boost your project on Chainstack
Have you already explored what you can achieve with Chainstack? Get started for free today.
SHARE THIS ARTICLE