Powering Metaverse gaming and social media marketplace – Gamerse on Chainstack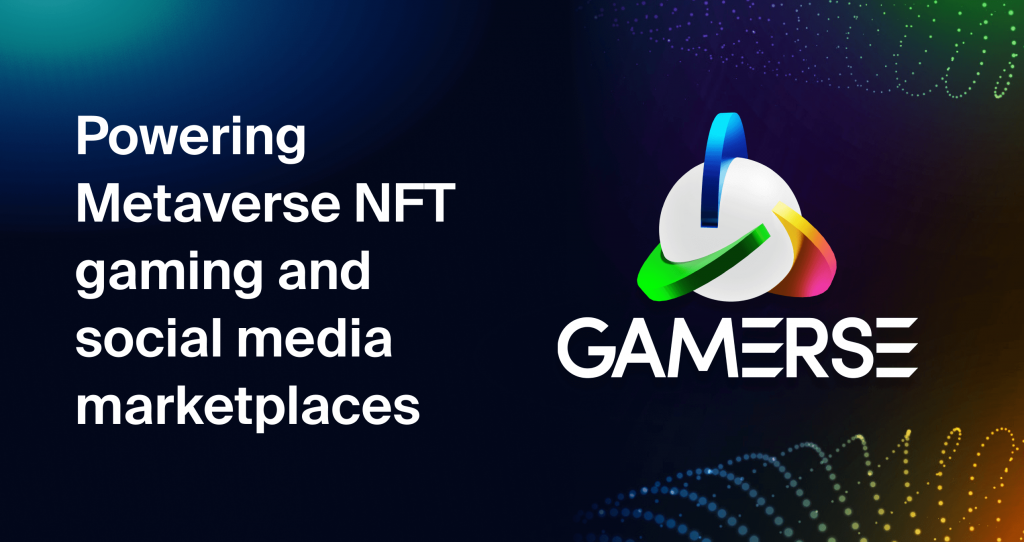 Gamerse is a community-driven social hub that connects NFT games with players in a Metaverse social aggregator ecosystem. The project aims at unifying the fragmented NFT gaming landscape and fostering a welcoming environment for all stakeholders to participate.
What is Gamerse?
Gamerse's goal is to improve the GameFi experience by helping its users make the most of exciting NFT gaming applications, interacting within the platform, and trading any sort of digital assets within the Metaverse. At the same time, the platform aims at tackling some of the biggest problems in the Gamefi space, such as the case of fragmentation within the landscape.
As Web3 gaming projects and communities are scattered across the web and on different blockchains, Gamerse focuses on becoming the leading social hub for Web3 gamers, enthusiasts, and traders to come together to forge new connections, communities and trade their exclusive NFTs. The rapidly growing blockchain-gaming world will benefit greatly from this single central hub, as the discoverability of interesting initiatives improves drastically.
While most current blockchain-based gaming projects are focused on connecting to one specific blockchain, Gamerse's goal is to achieve maximum cross-chain interoperability and connect the many blockchains under a single roof with its platform. The Gamerse marketplace's role here would be to aggregate gamer-to-gamer trading, acting as a trusted escrow. This means users will be able to easily discover and filter listed NFTs by category, chain, and price for complete transparency. Simply put this would allow you to find what you want and get the info you need — all in just a few clicks.
Up until now, Gamerse has made steady waves across the landscape, by doing a successful IDO with its $LFG token on 4 major platforms – Gamezone, 0xBull, Moonstarter, KCCPAD-MEXC CEX listing. This is further highlighted by the platform's accumulation of over 70 GameFI project partnerships and integrations ever since its launch in October 2021, in addition to the launch of the LFG Polygon Token bridge.
How did Gamerse come across Chainstack?
When the Gamerse developer team kickstarted their search for a reliable Web3 infrastructure provider, they first and foremost needed one that can successfully manage the BNB Chain staking program and subsequently the Gamerse platform itself. And to achieve this goal, they first set out to explore potential opportunities via relevant search queries, reviews, and recommendations from other tech teams that faced a similar situation.
While searching, the Gamerse team stumbled upon several competitor solutions but found that their availability, in terms of multi-chain support, was severely lacking. Considering the platform's focus on cross-chain interoperability, this could certainly be detrimental to their successful operations, which is why they opted for moving forward with a Chainstack integration in the end.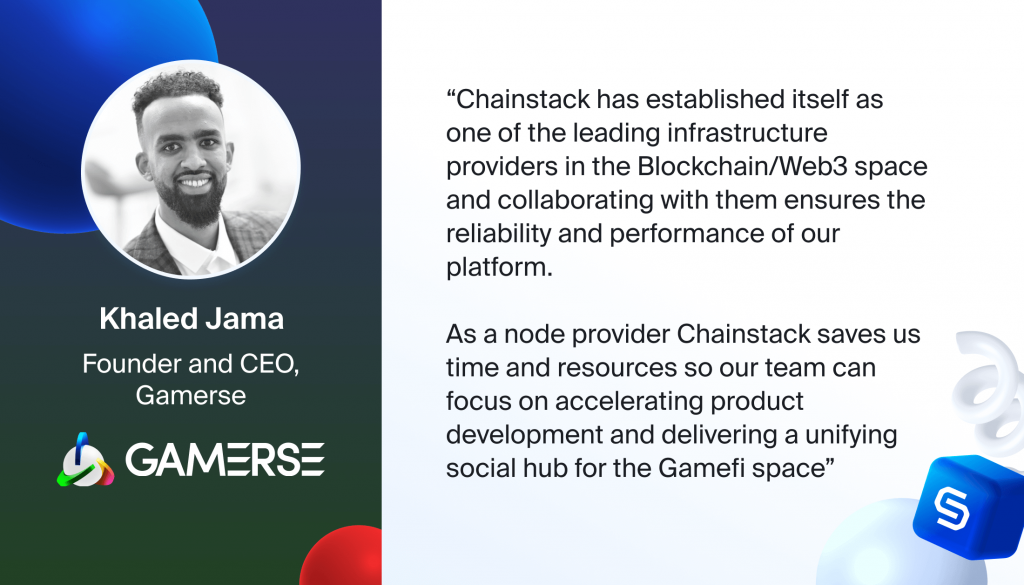 How does Chainstack's offer match Gamerse needs?
Keeping in mind the critical factors outlined above that the Gamerse development team was looking to answer, Chainstack became a perfect fit for their use case in terms of cross-chain capabilities and the scalability of such offerings. Above anything else, however, Chainstack's ability to support Gamerse efforts and $LFG token on the BNB Smart Chain also became an avenue that matched exceptionally.
Apart from that, the Gamerse development team saw a smooth onboarding process thanks to the introductory meeting with one of our Business Development managers, who made sure the entire process was completed effortlessly. And to put the cherry on top, the overall flexibility of Chainstack's subscription packages guaranteed that Gamerse is truly getting their money's worth, considering their needs and budget.
Outcome
Thanks to the Chainstack platform's intuitive and user-friendly interface, Gamerse saw little need to engage with our team in solving any bottlenecks while running their services on top of our secure and robust infrastructure. In turn, this created a smooth sailing experience and more opportunities for community actions together to look forward to.
What does Gamerse like about Chainstack?
Chainstack has established itself as one of the leading infrastructure providers in the Blockchain/Web3 space and collaborating with them ensures the reliability and performance of our platform. As a node provider, Chainstack saves us time and resources so our team can focus on accelerating product development and delivering a unifying social hub for the GameFi space.

Khaled Jama, Founder/CEO, Gamerse
What does Chainstack like about Gamerse?
As the growth of the NFT landscape becomes ever so rampant, the need for social marketplaces to unite the fragmented landscape, like that of Gamerse is more apparent than ever. That is why we are thrilled to support such initiatives with powerful and reliable infrastructure that will allow them to focus more on creating an awesome product, while we take care of the rest.

Eugene Aseev, Founder & CTO, Chainstack
Power-boost your project on Chainstack
Have you already explored what you can achieve with Chainstack? Get started for free today.
SHARE THIS ARTICLE