Darkpool Liquidity on Chainstack: Boosting competitiveness of new projects in crypto markets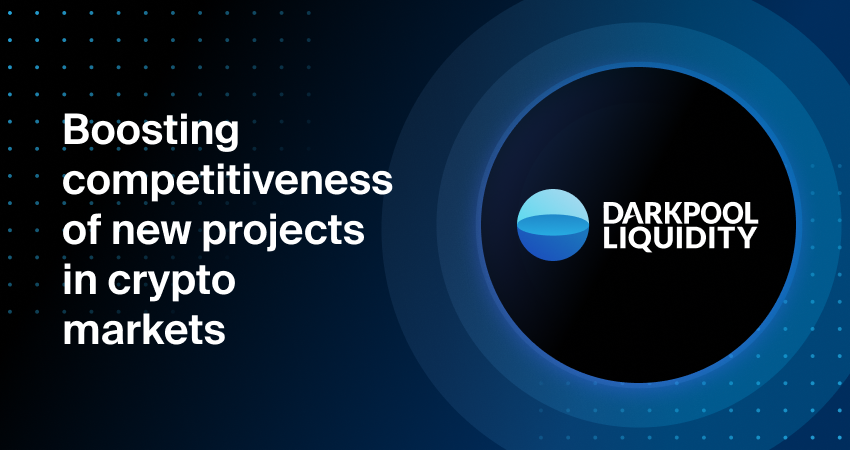 Darkpool Liquidity is a crypto-focused market-making firm that has serviced over 150 clients and crypto startups in the industry. The firm offers algorithmic market-making, advisory, and a treasury management service using proprietary trading software.
What does Darkpool Liquidity do?
Darkpool Liquidity is a digital asset market-making firm that is mostly known for creating the Binance API, one of the most advanced and widely used APIs in the blockchain ecosystem today. Darkpool Ventures is the venture capital and incubation arm of Darkpool Liquidity, focused exclusively on early-stage venture capital investment and advisory deals.
Darkpool Liquidity brings an extreme advantage to clients with their trading and market-making operations. Utilizing proprietary trading software, Darkpool Liquidity confidently generates consistent profit under any market conditions. Providing sustainability as a core service, Darkpool prioritizes its strategy in promoting the growth of working capital over time and the ability to recover any quote currency invested at a profit, recovering funds for teams and investors without affecting the market price.
The Darkpool Liquidity key advisory service has helped numerous clients to be well positioned to capitalize on current or future market conditions. The Darkpool advisory strategy effectively elevates investors' confidence in any project. By maintaining tighter spreads and creating a liquid market with Darkpool Liquidity, market makers can leverage greater visibility to potential investors and simultaneously generate consistent profits and grow operationally.
How did Darkpool Liquidity come across Chainstack?
The team at Darkpool Liquidity believes in providing the highest quality of service to their clients, and when it comes to their own blockchain infrastructure needs, nothing but the best makes the cut. They initially trialed a self-managed setup but quickly realized that they needed the help of a highly skilled team who could customize and optimize continuously to ensure the best performance, no slippage, and reliable uptime. After evaluating several other managed blockchain service providers, the team at Darkpool Liquidity realized that Chainstack was the perfect match.
How does the Chainstack offer match Darkpool Liquidity needs?
After looking at several options available on the market, the team at Darkpool Liquidity chose Chainstack due to the high level of experience of the Chainstack engineers in optimizing node performance for fast transaction listening and execution. This, paired with very accessible pricing, made Chainstack top the list and become a long-term partner for Darkpool Liquidity.
Chainstack could provide highly performant infrastructure for Ethereum, BSC, and Polygon with dedicated node infrastructure deployed on multiple fully managed public cloud hosting options, and optimized for low-latency, production-grade workloads with the fastest transaction propagation possible. The Chainstack high-availability architecture allows for seamless scaling and failure-resilient infrastructure thanks to nodes capable of high traffic and stable transactions. This reliability has helped the team at Darkpool scale their platform and achieve operational excellence with ease.
On top of that, Chainstack professional services helped Darkpool with integrating marketplace tools and services; the Chainstack infrastructure was highly compatible with setting up blockchain distribution networks such as bloXroute's BDN gateway; and Chainstack priority support provided experienced builders and engineers to work closely with Darkpool at every step.
Chainstack consistently maintains deep industry partnerships with leading blockchain platforms, staying on top of emerging networks in the constantly evolving landscape of blockchain. This means that Darkpool can rely on Chainstack to be a modular infrastructure platform that is built for the future.
Outcome
Powered by the Chainstack platform and managed services, Darkpool can automate the infrastructure network operations with databases and the blockchain application all on a single platform. Having uncompromised connectivity, security, and performance, Darkpool doesn't need to waste time worrying about maintenance or upgrades to nodes.
The affordable and predictable pricing structure of Chainstack allows Darkpool to accurately allocate resources to improve its core services, focusing on developing the important product optimization and products in the betterment of Darkpool's trading and market-making operations.
The partnership with Chainstack has opened avenues to a wider range of customization options that help Darkpool improve the performance and utility of its platform. Services such as GraphQL and bloXroute have transformed and streamlined multiple operational processes and business functions. Supported by Chainstack's experienced team, Darkpool can develop on various networks and protocols with ease, integrating blockchain distribution networks and tools, expanding Darkpool's platform at scale in a short period of time.
What does Darkpool Liquidity like about Chainstack?
Having the infrastructure, database, and blockchain application running on one platform made it so much easier for us to expand our platform very quickly and at scale. With Chainstack, networking and backup are highly automated, so our lean development team are more focused on business solutions that add value to our customers.

Jon Eyrick, CTO of Darkpool Liquidity
What does Chainstack like about Darkpool Liquidity?
Darkpool Liquidity has been a trusted liquidity solution provider and advisory firm to various esteemed projects in the cryptocurrency and blockchain market. Darkpool's solutions has helped projects from incubation stages to being listed on the largest centralized and decentralized exchanges. Chainstack's dedication to bring success to customers has perfectly aligned with Darkpool attention-to-detail, sustainable and performance-focused market-making strategy. The partnership of two highly experienced service providers brings the cutting-edge innovative technology solutions that accelerate the growth of all customers and stakeholders on the market.
What is the most interesting engineering challenge in working together?
Darkpool facilitates liquidity in the market, ensuring the true value of assets and raising awareness and confidence of investors thanks to deep expertise and proprietary trading technology. The commitment to service excellence and advancement of technology innovation is similar to how Chainstack strives to remain a technology leader for enterprise blockchain and Web3. Galvanized by the challenge of supporting a fast-growing platform at scale that could support a wider market, Chainstack has provided direct support in the testing and development of a tailored solution that would meet Darkpool's infrastructure requirements. The one-size-fits-all solution is not the answer when it comes to various working functions on the network especially in Web3. Thanks to Chainstack's dedicated support, the combined partnership has led to exponentially beneficial optimization on the platform. The customizability and integrated services have proven highly effective in bringing incremental improvements to Darkpool Liquidity and transformed the business moving forward.
Power-boost your project on Chainstack
Have you already explored what you can achieve with Chainstack? Get started for free today.
SHARE THIS ARTICLE