Aleph One on Chainstack: Accelerating customer growth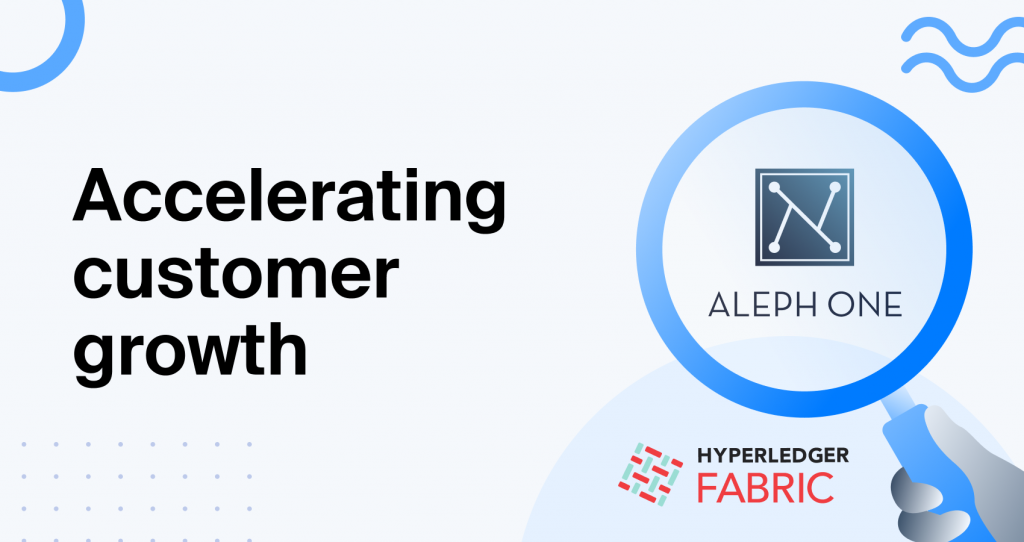 With Chainstack on board, Aleph One was able to increase its team productivity by 30%, saved 1.5 months of engineering hours, and achieved 25% reduction in release cycle.
What does Aleph One do?
Aleph One is a global one-stop-shop Fintech consulting and engineering boutique operating since 2016. Their focus is on the creation of innovative software products and systems. Aleph One's track record includes leading-edge blockchain-based solutions for various supply chains, tokenized asset trading systems for a global Swiss bank, and pitch-perfect regulatory consulting. Their customer base comprises Inc. 500 companies and swift disruptors, including Swag.com and Bloomberg.
How did Aleph One come across Chainstack?
Right after the release of Hyperledger Fabric 2.2, which introduced features like decentralized governance for smart contracts and private data enhancements, Aleph One's team decided to move away from a self-managed solution and started to look for a managed service that would fit into their development lifecycle and the production requirements of their customers.
Being a power user of Hyperledger Fabric, the Aleph One team had to write and test Fabric chaincode locally, putting 20% of the efforts and time of their cross-functional team in configuration management activities, thus requiring a substantial workforce and infrastructure investment for development and staging environments.
It is at this point that finding a more scalable solution became fundamental to Aleph One's business, and they came across Chainstack managed blockchain services. Although they initially tried IBM Blockchain Platform, Aleph One quickly realized that Chainstack was superior when it came to providing fast and highly responsive support as well as competitive pricing given our highly customer-centric ethos and agile processes.
Fortunately, moving their client's decentralized apps from IBM Blockchain service to Chainstack was easy as Chainstack's Hyperledger Fabric infrastructure is fully compatible with IBM's.
How does Chainstack's offer match Aleph One's needs?
The Aleph One core belief is to always operate smarter and more efficiently because this leads to building deeper customer relationships. They needed robust and agile Fabric 2.2 infrastructure so engineers can focus on their product development and customer value.
Chainstack's Hyperledger Fabric offering seamlessly integrated into Aleph One's CI/CD pipeline and the development environment, contributing to shorter time-to-market and release cycles.
Aleph One's decentralized applications, implemented as Hyperledger Fabric chaincode, could easily be integrated into Chainstack thanks to its execution environment and the support of development tools such as VS Code extension, unmatched by the competition.
Outcome
25% shorter release cycle
15% reduction in the total cost of ownership
30% increase in team productivity
1.5 months engineering hours saved
What does Chainstack like about Aleph One?
Chainstack is a class apart when it comes to doing the right thing. For instance, from gathering clear and specific requirements from our business and IT teams, to detailing out the plan considering both processes and tools—to seamless integration of our decentralized applications developed in Fabric chaincode into Chainstack's environment. Chainstack's knowledge and expertise helped save us time and money. Thanks to them, we were able to maximize our resources to reach our IT and product development goals.

Stanislav Synko, Aleph One's Founder
Aleph One is committed to extraordinary customer experience, just like Chainstack. Their drive to continuously streamline and optimize processes in order to better focus on customer requirements resonates with the core values of the team at Chainstack.
In addition, the deep technical expertise of the Aleph One team in Hyperledger Fabric has meant sharing of knowledge and ideas between the two engineering teams, which is fostering improvements and innovation on both sides.
What is the most interesting engineering challenge in working together?
Hyperledger Fabric development requires an ongoing investment of time and effort due to the open-source nature of its codebase. Chainstack has great experience in handling and localizing occasional issues in Hyperledger Fabric and supports Aleph One in dealing with them, saving significant amounts of time.
This day-to-day collaboration and interactions allowed to discover and resolve critical defects within the protocol. Among them, the Chainstack team revealed a security issue that could lead to the full degradation of the Hyperledger Fabric network as all network peers were constantly crashing due to the incorrect block data they were trying to sync. The peers could not correctly process a block containing an empty byte array added through Hyperledger Fabric chaincode.
Chainstack engineering team troubleshot the flaw and reported it as soon as the reproduction steps were identified. Fortunately, Hyperledger Fabric community was very responsive and version 2.3.1 with the fix is already available.
Get started with Hyperledger Fabric on Chainstack
Deploy and manage high-performing Hyperledger Fabric nodes and networks in cloud or on-prem within minutes.
Install and test chaincode, create channels and build applications on top of an infrastructure layer that you can trust.
Scale-up by deploying as many nodes as you need, on your cloud of choice, always with predictable pricing.
To learn more about Chainstack, visit our Knowledge Center or join our Discord server and Telegram group.
Have you already explored what you can achieve with Chainstack? Get started for free today.
SHARE THIS ARTICLE