Covalent on Chainstack: Connecting developers to billions of Web3 data points
We're thrilled to share our partnership with Covalent, a game-changing API that lets you, as a Web3 builder, effortlessly fetch historical balances, transactions data, NFT data, and event logs, all with one API call, across 100+ chains. Covalent's mission is to achieve incredible time-savings for developers by providing a suite of Web3 API that is the easiest to use and requires no maintenance. Now available in our Chainstack Marketplace, the Covalent API provides a seamless way for you to access billions of full historical Web3 data points.
This partnership and integration with the Chainstack Marketplace represents a fantastic opportunity to expand our reach and make our Premium API even more accessible to Web3 developers worldwide.Chainstack's robust platform and commitment to fostering innovation in the decentralized ecosystem perfectly align with our mission to provide developers with the essential data and tools they need to create exceptional Web3 experiences.

Erik Ashdown, Head of Ecosystem Growth, Covalent
What is Covalent?
Covalent is a leading Web3 data provider that specializes in offering a powerful and comprehensive Unified API, giving blockchain developers like yourself access to billions of Web3 data points spanning across more than 100 blockchains and alternative sources, such as app-chains and Layer 2 solutions.
Covalent's data collection process is designed to ensure low latency, allowing you to access the most recent information with minimal delay. By streamlining the process of data retrieval from various blockchains, Covalent has become an invaluable resource for the ever-growing Web3 developer community.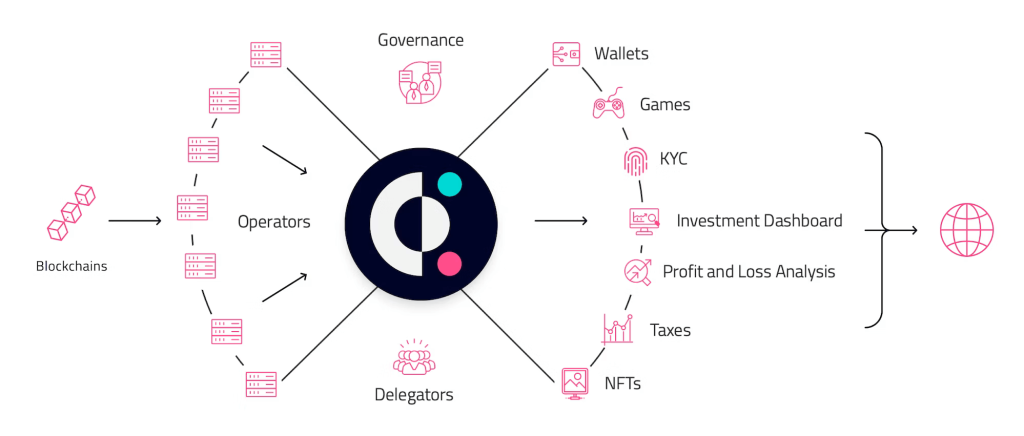 By providing detailed, granular, and up-to-date information of on-chain activity, Covalent's API has become the go-to solution for Web3 builders like yourself, aiming to harness the full potential of blockchain technology. Additionally, the platform boasts an impressive breadth, covering a wide range of protocols and alternative sources, as well as extensive depth – allowing you to examine data from the genesis block and beyond.
Why choose Covalent?
Serving a community of over 40,000 developers and parsing data for more than 5,000 applications, Covalent's Unified API is widely utilized in creating innovative multi-chain solutions. Examples of such applications include crypto wallets, NFT collections, analytics dashboards, investor tools, and many others.
The Covalent API has become a trusted resource for prominent applications across Web3, such as 0x, Zerion, Rainbow Wallet, Rotki, Bitski, and many others. By providing developers like yourself with the tools and data necessary to create and scale decentralized applications, Covalent plays a crucial role in fostering innovation and growth within the ecosystem.
How can Covalent help you?
Thanks to our partnership with Covalent their Premium API is now available via the Chainstack Marketplace, providing Web3 developers across the world with seamless and efficient means of accessing billions of data points. The Premium API also brings higher endpoint rate limits, allowing you to spend less time on data retrieval and more on building exceptional Web3 experiences for your users.

With the Covalent Premium API via the Chainstack Marketplace, you can access comprehensive blockchain data quickly, enjoying a rate of 50 requests per second instead of the 4 that come by default. This minimal latency offering includes historical token balances for all native tokens, ERC20s, and NFTs, as well as all historical transactions for wallets and smart contracts, empowering builders like yourself to create greater value with your projects.
By making Covalent's Premium API available via the Chainstack Marketplace, it is our absolute pleasure to provide Web3 developers across the world with the powerful toolset and resources that they need to create and scale comprehensive decentralized solutions for any use case. In turn, this partnership helps accelerate the adoption and development of blockchain technology by connecting developers like yourself with vital Web3 infrastructure and data.
Pricing
Covalent is available via the Chainstack Marketplace at an accessible monthly subscription fee that accommodates the needs of developers like yourself, as well as those of business and enterprise across the Web3 landscape. The Premium API is yours for the taking for just $50 a month and comes with a 12.5x higher rate limit of 50 requests per second, a significant increase from the initial offering's 4.
With the Premium API, you benefit from swifter access to Covalent's comprehensive blockchain data, including historical token balances for native tokens, ERC20s, and NFTs from genesis and beyond. And thanks to the affordable monthly commitment, developers like yourself can give their utmost attention to the BUIDL.
Feature highlights
Powerful Unified API: Access billions of Web3 data points across 90+ blockchains and alternative sources from the genesis block and beyond.
Low latency: Fetch the latest data with minimal delay and explore historical token balances for native tokens, ERC20, and NFTs
High request rate: Enjoy Covalent 12.5x more with 50 requests per second offered via the Chainstack Marketplace, instead of the 4 that come with the default offering.
Trusted by developers: Join the ranks of 40,000+ developers and 5,000+ applications using Covalent.
Affordable pricing: Gain access to the Premium API with just a $50 monthly subscription.
Power-boost your project on Chainstack
Have you already explored what you can achieve with Chainstack? Get started for free today.
SHARE THIS ARTICLE