Chainstack announces support for Gnosis Chain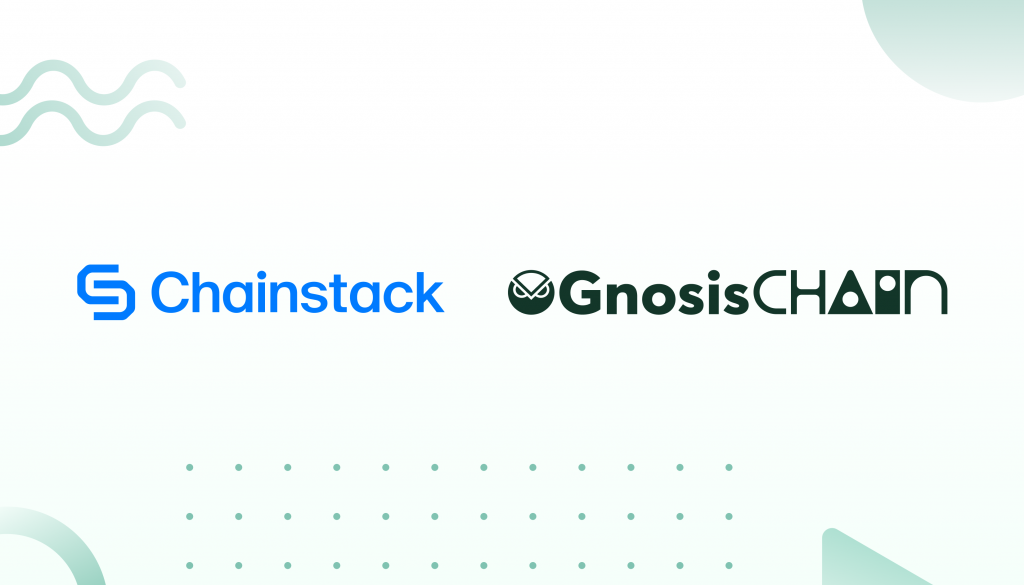 We are excited to announce the upcoming addition of the Gnosis Chain to Chainstack's list of supported blockchains. This means that you can launch your own Gnosis Chain RPC node as part of the available features under all subscription plans.
Gnosis Chain is a stable and lean network with proven tailor-made technology that is built for performance. The chain's faster block and epoch times allow for much greater effectiveness in processing transactions and in doing so minimizing overall network congestion.
These traits make Gnosis Chain a powerful addition to any Web3 builder's toolkit by creating better opportunities for cultivating solutions that can handle substantial transaction volumes with ease. And now with Chainstack's secure and reliable Web3 infrastructure, accessing the Gnosis Chain network as a developer, researcher, trader, or enterprise is stress-free.
What is Gnosis Chain?
Established in 2018 as the xDai Chain, the now reformed Gnosis Chain aims to provide the means for value exchange without the risks of volatility. To accomplish this, Gnosis Chain leverages the predictable currency that is the xDAI stable coin for transactions, which has a 1:1 ratio in terms of value to Dai.
Additionally, the two cross-chain bridges that Gnosis Chain ships with, will make sure all your network interactions are a truly smooth experience. Thanks to these connections, the network facilitates the transaction process even further, nurturing affordable, lightning-fast transactions, whose fees are paid in a single coin.
Pairing all of this with the benefits of faster block and epoch times effectively eliminates any major boundaries, standing in the way of lower congestion and higher transaction stability. And in doing so, Gnosis Chain brings some welcome peace of mind for developers, while paving their way toward exceptional experiences with streamlined applications.
Building on Gnosis Chain
Gnosis Chain is an EVM-based blockchain network, so if you are an Ethereum-native you will be greeted by the familiar developer experience you know and love. At the same time, however, you also get to access all of the bonus capabilities and scalability features it carries with it.
Because of its complete EVM compatibility and extensive cross-chain connections, Gnosis Chain fosters a perfect environment for developers to build exceptional streamlined experiences, regardless of how demanding or ambitious their use case really is.
And to top it all off, Gnosis Chain also comes featuring the option for decentralized on-chain randomization with its RandomAuRa RNG contract which enables you to introduce verifiably random numbers into your applications, without having to rely on a centralized service to do it all for you.
Pricing
With best-in-class engineering and streamlined infrastructure, Chainstack is able to offer competitive, elastic full Gnosis Chain RPC node prices starting at $0/month on the Developer plan, which comes with 3M requests per month.
Subscription tiers are thoughtfully designed to provide the lowest possible cost for individual developers and teams in various project stages, allowing all users to use the platform, regardless of their use case. The Growth plan supports 20M queries per month for elastic full node requests and 3M for elastic archive node ones, while the Business plan accommodates 140M and 20M respectively. For the Enterprise plan users, these would be 400M and 60M accordingly.
For all additional requests beyond those included in the plan, the price amounts to $0.00001 per request for the first 20M and $0.000005 per request for each above that threshold.
Gnosis Chain on Chainstack
Gnosis Chain's approach of delivering exceptional performance, when it comes to transaction processing is a great match for developers building effective solutions for demanding use cases. Thanks to the chain's extensive cross-chain support, Gnosis Chain paves the way for even greater blockchain adoption in the future. It is certainly a pleasure to join forces with Gnosis Chain in delivering better access to the network's features and reinforcing it with enterprise-grade blockchain infrastructure.

Eugene Aseev, Founder and CTO of Chainstack
Meeting the Gnosis Chain developer community
There are plenty of Web3 builders leveraging the powerful scalability features of Gnosis Chain already. That is why it should come as no surprise to see some household names too.
Some examples of such are Swarm—a decentralised storage and communication system, Chainlink—a decentralized blockchain oracle network, Curve—an exchange liquidity pool, as well as 1inch Network and SushiSwap—two of the most popular DEX platforms currently.
That being said, it should become apparent that you will be in good company should you choose to start your developer journey on Gnosis Chain. And now that you know just how impactful this can be, there is little more to do than to take action.
Now it's your turn. Get ready to build!
Have you already explored what you can achieve with Chainstack? Get started for free today.
SHARE THIS ARTICLE