Chainstack announces support for Arbitrum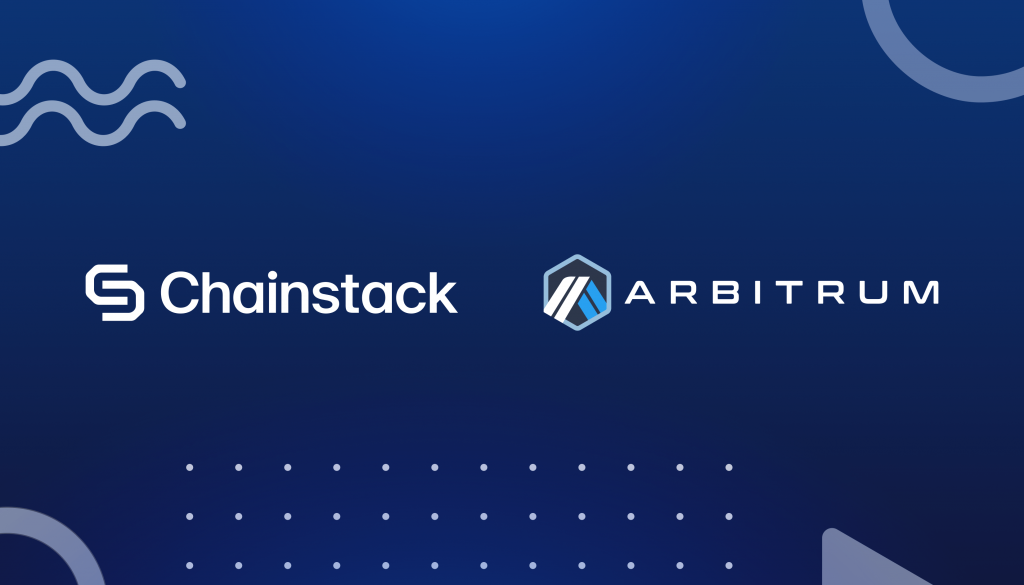 It's time for yet another awesome update, as Chainstack announces support for Arbitrum Nitro, following the official going live date on its first anniversary of August 31. This means you will be able to take advantage of this powerful upgrade with the option to launch your own Arbitrum Nitro RPC node, as part of the services offered under all existing plans.
We're happy to have Chainstack fully supporting Arbitrum One now that the migration of Nitro has been complete! We believe that to build an ecosystem, support is needed at all levels. With Chainstack's full support we're excited to keep empowering the Arbitrum ecosystem with infrastructure that will continue to provide for the community.

A.J. Warner, Chief Strategy Officer of Offchain Labs
What is Arbitrum Nitro?
Arbitrum is a Layer 2 scaling solution for the Ethereum network that leverages optimistic rollups to introduce a number of efficiency improvements to transaction processing and their costs. To do this, Arbitrum bundles several off-chain transactions together in a batch, prior to parsing the result to the Ethereum network. At present, it is one of the most used solutions for scaling, generating a total value locked (TVL) of over $960M at the time of writing.
Once launched, Nitro will offer even faster transaction processing, lower costs, and better UX to do just that. According to Offchain Labs, the company behind its development, Nitro serves as the "most advanced rollup stack ever built."
Building on Arbitrum Nitro
In its essence, Nitro delivers a new prover that will replace Arbitrum's typical interactive fraud proofs by means of a WebAssembly (WASM) implementation. In turn, this allows the Arbitrum L2 engine to be written and compiled using common languages and tools while removing the current custom in-house options used presently.
The most interesting engineering factor behind Arbitrum Nitro is that it is essentially running Geth on Layer 2 on top of the Ethereum network, while proving fraud through the core Geth engine in a WASM implementation. To make this a reality, Arbitrum Nitro compiles the EVM engine that defines the Geth core and in doing so replaces the previous in-house EVM emulator.
This translates into validators and nodes running the Nitro engine as a native code compilation and switching to WASM to serve fraud proof when needed. And the best thing about it? It will all feature a seamless migration to the Nitro stack, resulting in an uninterrupted experience for users, while kickstarting the benefits of lower fees, higher capacity, and a faster experience all across the board.
At the same time, it is important to note that the upcoming Arbitrum stack is quite flexible just as well and makes building new scaling modes on top of it a walk in the park and a faster one at that too. The Nitro update offers a sneak-peek into the technology that powers Arbitrum AnyTrust chains, whose aim is to deliver a scaling solution that is as affordable as it is secure – a perfect fit for both gaming and social decentralized applications.
How to use Arbitrum Nitro on Chainstack
Using Arbitrum Nitro on Chainstack is just as easy as it is to launch any other node on the platform:
Log into the Chainstack console.
Select a cloud provider.
Deploy the node in any preferred global location with low latency.
This allows both developers and enterprises, interested in building on Arbitrum Nitro to deploy, run, and manage all the nodes they've launched within a single, seamless platform. With Chainstack's help running blockchains at scale becomes truly effortless for any project, regardless of its use case or size.
Take part as an Arbitrum Nitro early adopter and seize this opportunity to grab a quick win by attracting its first users. Kickstart your Web3 build on Chainstack today and put value generation at the forefront, with no compromise in terms of speed or security.
Pricing
With world-class engineering and lean infrastructure by its side, Chainstack provides exceptional affordability and flexibility, when it comes to pricing for Arbitrum Nitro nodes.
Come to find this yourself, by taking a closer look at our Arbitrum Nitro introduction pricing package, offering elastic full node deployment starting completely commitment-free on the Developer plan, in addition to 3M requests.
And should you be interested in getting more than what the free Developer plan entails, you will be pleasantly surprised to find all subscription tiers are custom-tailored with price competitiveness and cost-efficiency in mind. In turn, this gives projects access, regardless of their use case or the current stage they are in.
For paid subscription tiers, the Growth plan offers 8M requests, while the Business one—20M. But what if that's not enough to fit your needs? Worry not, for you can grab extra requests priced at $0.1 per 10K for the first 20M, followed by $0.05 per 10K for those above.
No need to start calculating things yourself, either – just let our handy pricing calculator handle all the heavy-lifting for you, instead.
Making Web3 easier and better
It is Chainstack's mission to offer secure and robust infrastructure that delivers utmost performance, when addressing the scalability woes of the many protocols and chains, in order to make Web3 truly accessible and available for every stakeholder involved in its development.
Arbitrum is a match made in Heaven when it comes to the scalability and performance of projects within the Ethereum ecosystem. With their latest upgrade – Nitro, OffchainLabs further builds on top of their already exceptional solution and offers even better affordability, capacity, and UX at the same time. We are thrilled to extend support to Arbitrum Nitro at Chainstack and in doing so help developers scale their decentralized solutions more effectively while opening the Web3 doors even wider.

Eugene Aseev, Founder and CTO of Chainstack
With the help of Chainstack's accessible enterprise-grade infrastructure, tools, and services, both developers and project teams can now enjoy some extra time on their hands that can be better put more towards generating value with their cutting-edge solutions with less friction and leaner operations.
And by adding Chainstack's high-performance infrastructure to Arbitrum's exceptional ecosystem, we are thrilled to take part in the successful resolution of the obstacles standing before blockchain adoption. In turn, this helps pave the way to a future that is as efficient as it is connected, where projects and their users reap the benefits of the innovative power of decentralized applications while enjoying better performance and lower fees, just as well.
Power-boost your project on Chainstack
Have you already explored what you can achieve with Chainstack? Get started for free today.
SHARE THIS ARTICLE