Chainstack 2.3: Faster and better public blockchain APIs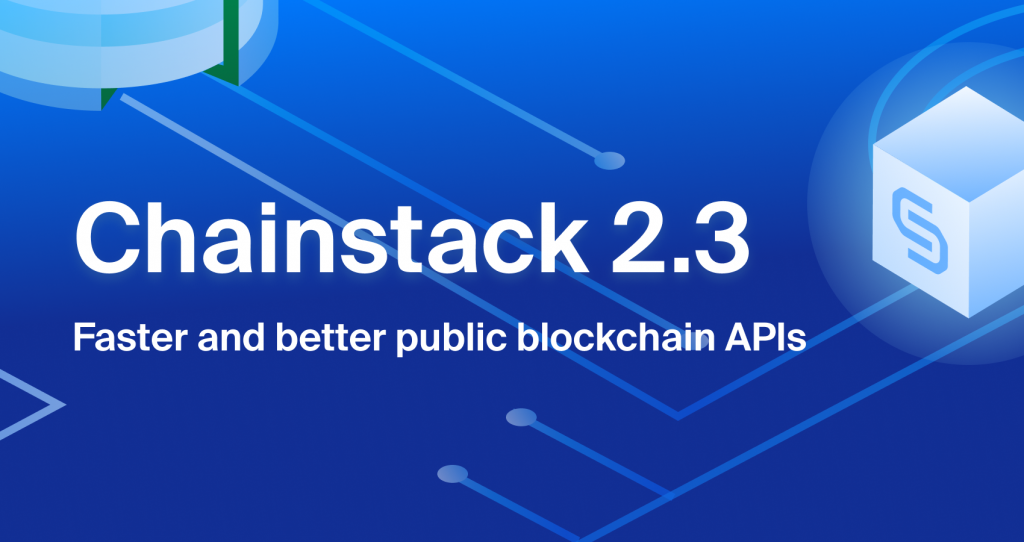 For one and half years Chainstack has been providing unlimited access to shared Ethereum and Bitcoin nodes, meaning there was no throttling, rate, or request limits. On top of that, we've been providing the most affordable Ethereum archive node services, available on Chainstack Business plan at just flat $49 a month.
This was a deliberate product decision, as we wanted to support the Web3 community and invest in the growth of decentralized projects. We saw the number and kind of unprecedented ideas appearing in DeFi, Layer 2, trading, and other spaces, and we wanted to boost this wave while taking a stance of a long-term decentralized infrastructure partner.
Now, it's time to welcome the new high-performing Chainstack shared public blockchain nodes services. As our community continues to grow and mature exponentially, so has the number of requests to our shared nodes that we are receiving every day.
With Chainstack 2.3 we're bringing additional robustness to the shared node infrastructure, as we're improving our quality of service dynamically based on the current and forecasted node usage.
Changes to shared node services pricing and billing
To continue making this a widely accessible and equally best-in-class performing offer, we are introducing a plausible contribution from the heavy users of this shared infrastructure to keep it free for the vast majority of our users.
We will start metering JSON-RPC requests to Ethereum and Bitcoin shared full nodes and to Ethereum shared archive nodes.
All customers registered before April 6 will be billed for requests exceeding the amount included in the plan only starting from May 1. For them, usage of shared nodes in April will be completely free, provided no plan changes.
The requests will be counted towards the monthly included request volume on every subscription plan as follows:
Developer, $0
Growth, $19
Business, $49
Enterprise
Full node requests
included monthly
3,000,000
8,000,000
20,000,000
Custom plan —
get in touch
Archive node requests
included monthly
–
–
3,000,000
Every extra request exceeding the monthly included volume will be billed per their tier:
| Extra requests | Price |
| --- | --- |
| 0 – 20M | $0.10 per 10K requests ($0.00001 per request) |
| 20M – ∞ | $0.05 per 10K requests ($0.000005 per request) |
Take an amount of 25M extra requests as an example: the resulting cost would be a sum of the first 20M requests ($200), and the remaining 5M requests ($25) = $225.
About 80% of our current customers will see no change in their monthly bill with the updated cost structure, as long as their usage remains the same. For the remaining ones, Chainstack will remain a long-term blockchain infrastructure partner at a highly competitive price.
Our Ethereum and Bitcoin shared full nodes continue to be more than affordable than Infura, Alchemy or QuikNode API service most of the time, and our Ethereum shared archive node service still beats other service providers' price several times.
What is a request?
A request is a single JSON-RPC method call sent to Ethereum or Bitcoin shared node over an HTTP or a WebSocket endpoint. This will apply to other public blockchain protocols on Chainstack to come, except for Corda Network available on our Business plan.
How do I check my current requests volume on the shared node that I am using?
Navigate to Settings > Billing and scroll down to the Usage section. There you will find the number of requests your organization on Chainstack sends to the shared nodes, updated each hour.
When do I get billed?
Your monthly period for the included request volume will start on the day of the month you signed up for the Chainstack, and you will be billed for extra requests on a monthly basis.
Cost examples as compared with Infura, Alchemy, and QuikNode
To help you simplify the comparison across Ethereum and Bitcoin shared node providers, we have put together two tables that will give you an idea of where the new Chainstack shared nodes services stands next to Infura, Alchemy, and QuikNode. We're assuming a full node request to be equal to 17 compute units, and an archive node request to be equal to 25 compute units on Alchemy.
Please note that to prepare this comparison we used publicly available information, therefore you should treat this only as an estimate.
Ethereum full node services
Monthly requests
Service cost
Infura
Chainstack
Alchemy
QuikNode
1M
$0
$0
$0
$16
10M
$225
$39
$437
$99
25M
$225
$99
$1046.50
$134
100M
$825
$292
$2788
$300
200M
$1400
$292
$4828
$300
Ethereum archive node services
Monthly requests
Service cost
Infura
Chainstack
Alchemy
QuikNode
1M
$250
$49
$0
$266
10M
$475
$119
$709
$349
25M
$475
$259
$1384
$384
100M
$1075
$634
$3754
$749
200M
$1650
$1134
$6754
$1249
Alice and Bob
Alice registered on Chainstack on May 1, 2021 with Developer plan and used up 3,500,000 requests sent to Ethereum shared full node within the period of 1 month (May 1 – May 31).
| | Infura | Chainstack | Alchemy | QuikNode |
| --- | --- | --- | --- | --- |
| Subscription | $50 | $0 | $49 | $9 |
| Extra full requests | $0 | $5 | $18 | $32 |
| Total cost | $50 | $5 | $67 | $41 |
With Chainstack, Alice will have to contribute just $5 for 500,000 extra full requests and $0 for Developer subscription billed on June 1.
---
Bob registered on Chainstack on December 1, 2020 with Business plan and used up 3,500,000 requests sent to an Ethereum shared archive node within the space of 1 month (May 1 – May 31).
| | Infura | Chainstack | Alchemy | QuikNode |
| --- | --- | --- | --- | --- |
| Subscription | $300 | $49 | $49 | $259 |
| Extra full requests | $0 | $5 | $150 | $32 |
| Total cost | $300 | $54 | $199 | $291 |
With Chainstack, Bob will need to contribute just $5 for 500,000 extra archive requests and $49 for Business subscription billed on June 1.
We now accept payments in cryptocurrency
Starting from April, Chainstack Enterprise customers will have the option to pay in advance for subscription, usage, and professional services fees using cryptocurrencies. Over the past few months, we have been discreetly testing with a number of beta customers and we are delighted to now be able to roll this service to all of our Enterprise customers.
Pioneering Web3 infrastructure
Chainstack remains the industry pioneer in multi-protocol, multi-cloud blockchain managed services. As the industry grows exponentially and blockchain applications become widely accepted in all aspects of business life, we want to continue to be a trusted ally for the Web3 community and support the growth of the industry. Our shared public blockchain node services will be even more high-performing and reliable than before, whilst remaining the most accessible option price-wise for anyone needing best-in-class infrastructure to build their applications on.
The Chainstack community continues to grow, and we would not be here without your continued support and trust. We would love to hear your feedback about these upcoming changes and answer any questions you may have. You can get in touch through Chainstack Support or by reaching out on our website.
Connect with the community
Have you already explored what you can achieve with Chainstack? Get started for free today.
SHARE THIS ARTICLE