Platform 6, the most comprehensive solution for the off-chain side of decentralized applications, is now on Chainstack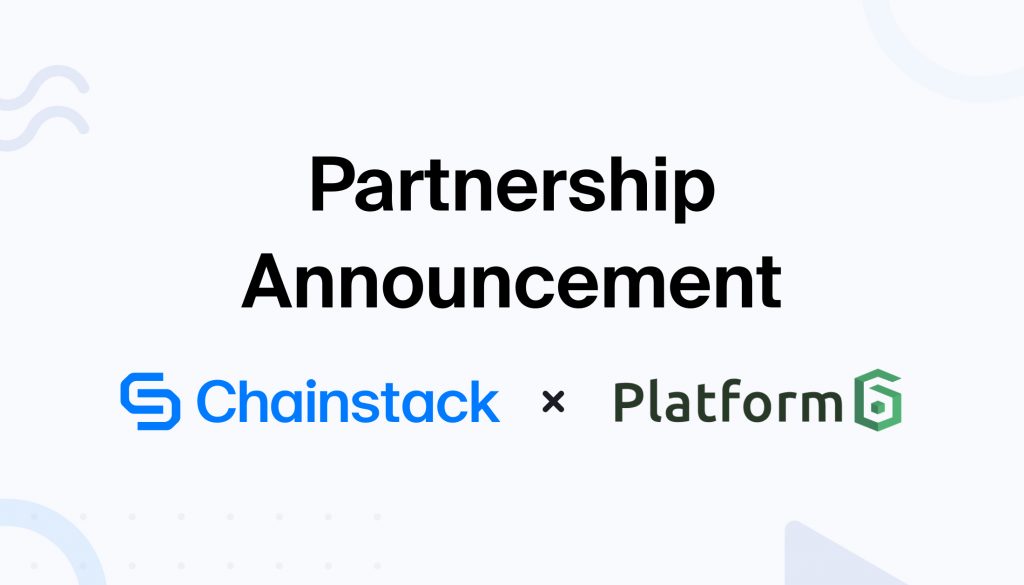 We are partnering with Platform 6, the easiest way for innovators, systems integrators, and enterprises to build decentralized applications related to structured business document exchanges. The platform is now available in the Chainstack Marketplace.
Beyond the blockchain ledger and the smart contracts, a lot of off-chain components and features must be combined to create an enterprise-class decentralized application, such as user and data management, workflows, interaction with the blockchain framework and other systems, user interface, APIs, and more.
Typically, developers have been building such applications by assembling open source and/or commercial components and gluing them together with custom code–making it a complex and time-consuming endeavor that requires a lot of development and testing. Thanks to Platform 6 comprehensive set of tools and services, developers are now able to build transactional blockchain applications in days or weeks instead of months.
What is Platform 6?
Platform 6 is a unique platform to develop, package and run applications involving business-to-business transactions combining data transformation, automated processes and user actions. It is the easiest way for developers at startups, systems integrators and corporate IT divisions to build enterprise-class decentralized applications related to structured business document exchanges.
Supporting enterprise interoperability and compatibility
We are thrilled about the partnership and the fact that Platform 6 is now listed on the Chainstack Marketplace. Both our solutions are enterprise-grade, blockchain-agnostic and share the same objective: making developers' life easier, Chainstack thanks to its incomparable managed blockchain infrastructure that makes it so simple to deploy, manage and scale blockchain networks; and Platform 6 thanks to its unique set of features to develop, package and run the off-chain part of decentralized applications.

Emmanuel Thiriez, CEO of Platform 6
Paired with Chainstack's suite of blockchain managed services, Marketplace add-ons, and APIs, blockchain developers will find their experience transformed, being able to build, deploy and scale their blockchain applications in a way that is enterprise-friendly, efficient, scalable, and flexible.
The goal of Chainstack is to help accelerate the adoption of blockchain technology by enterprises. The partnership with Platform 6 marks a great step forward in realizing this vision, as it creates a robust bridge between the blockchain and the enterprise world. Chainstack demonstrates again its commitment to creating an ecosystem of blockchain managed services designed to provide a superior developer experience.

Laurent Dedenis, CEO of Chainstack
Connect with the community
Have you already explored what you can achieve with Chainstack? Get started for free today.
SHARE THIS ARTICLE