Lootex on Chainstack: Powering a transparent trading environment for digital asset creators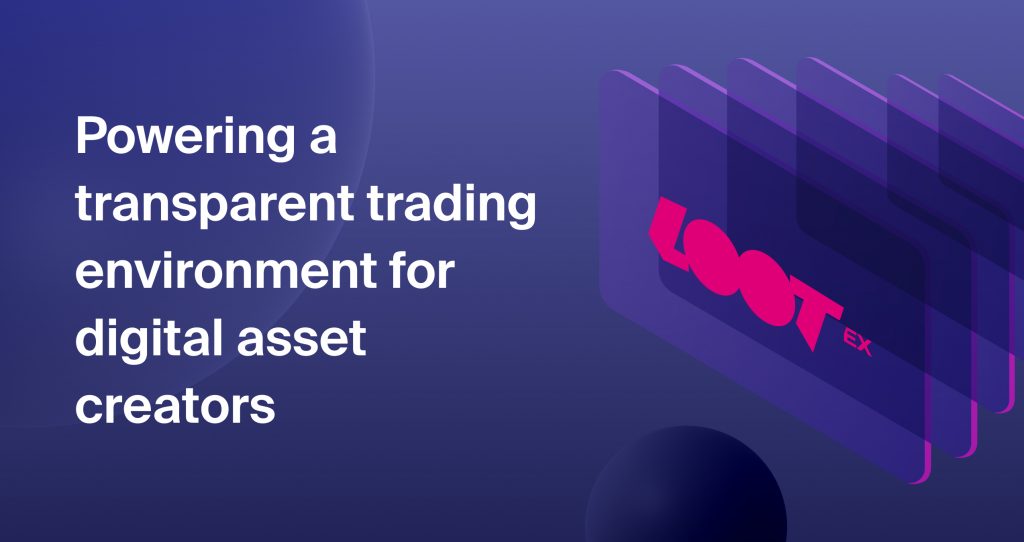 Lootex is a blockchain-based platform that allows digital asset creators to protect and trade their works. By providing a secure and transparent trading environment, Lootex enables creators to realize the full value of their digital assets.
What does Lootex do?
Lootex provides a number of benefits to digital creators. First, it allows creators to protect their works from unauthorized use or theft. Second, it provides a transparent and secure platform for trading such digital assets.
This allows creators to get the best possible market environment for their works, and to ensure that they are fairly compensated for their creations. By unlocking the full value of digital creation, Lootex helps empower creators in enriching the user experience.
Ever since its launch, Lootex has managed to accumulate a significant user base of more than 80,000 MAU with 400+ gaming and collection stores listed on the platform. Ultimately this has successfully generated over $2,000,000 in monthly trading volume.
How did Lootex come across Chainstack?
When Lootex first began their search, they needed a stable RPC node provider that could also support their main focus on the Binance Smart Chain (BSC) above anything else. Considering their use case and the fact that Web3 traffic can oftentimes spike significantly, this was no easy task.
The Lootex team scoured the web to find a robust infrastructure partner, as a potential solution to resolve their BSC stability woes. They compared all the alternatives, including public RPC but none of them could satisfy their needs for utmost node performance.
That is when their search led them to discover Chainstack. Looking at the metrics under the hood, the Lootex team quickly realized that Chainstack stood well above the rest in terms of stability, especially for the BSC network, ultimately becoming their choice for infrastructure provider.
How does Chainstack's offer match Lootex needs?
Considering their demanding use case, finding a robust infrastructure provider for the BSC network was a top priority for the Lootex team. Minting NFTs and hosting launchpad events can generate a significant amount of traffic in a moment's notice, which calls for a stable delivery and nothing less.
Without such a partner to support their efforts, Lootex would have seen preventable interruptions to their services, ultimately leading to poor user experience and reputational damage. Thankfully, the Lootex team could rely on the effective delivery of RPC requests with Chainstack, thus averting the potential crisis brewing on the horizon.
In doing so, Lootex found an adequate partner to adhere to their needs for exceptional stability on BSC. Not only that but thanks to Chainstack's flexible pricing structure, they could resolve their performance requirements with a solution that is also fit for their budget.
Outcome
Working together with Chainstack, meant that Lootex could now leave the performance and stability woes of the past right where they belong – in the past. This, in turn, allowed them to free much-needed resources and put them to work in providing a smooth experience for their users, regardless of the load their services are experiencing.
Additionally, with the help of Chainstack's robust RPC infrastructure and detailed reporting, the Lootex team was able to easily provide granular information about transaction delivery and other vital performance metrics to the end-user. Because of this, Lootex could further foster a trustworthy trading environment that is built on transparency.
What does Lootex like about Chainstack?
"Chainstack provided us with the robust RPC infrastructure we needed to power our services on BSC. Because of this, our team successfully managed to achieve the goal of network stability, which allowed for smooth trading and browsing experience for our users."

David Tseng, COO, Lootex
What does Chainstack like about Lootex?
"Fostering a creator-friendly environment for virtual assets represents an important step in driving mainstream blockchain adoption. That is why we are excited to work with projects, such as Lootex, which dedicate their efforts to building effective solutions in this avenue."

Eugene Aseev, Founder & CTO, Chainstack
What is the most interesting engineering challenge in working together?
Considering the demanding case of Lootex, their development team was happy to see a smooth onboarding process that was free of any major bottlenecks. With Chainstack's help, they successfully managed to deploy the robust infrastructure they needed to power their services on BSC.
Following the implementation of Chainstack's solution, Lootex no longer had to deal with the fallout of dropped requests and synchronization issues. In turn, pairing this with the ability to deliver granular insights about platform usage created a seamless user experience on the platform for both creators and collectors alike.
Power-boost your project on Chainstack
Have you already explored what you can achieve with Chainstack? Get started for free today.
SHARE THIS ARTICLE