DIA on Chainstack: Leveraging a robust oracle network for accurate and reliable data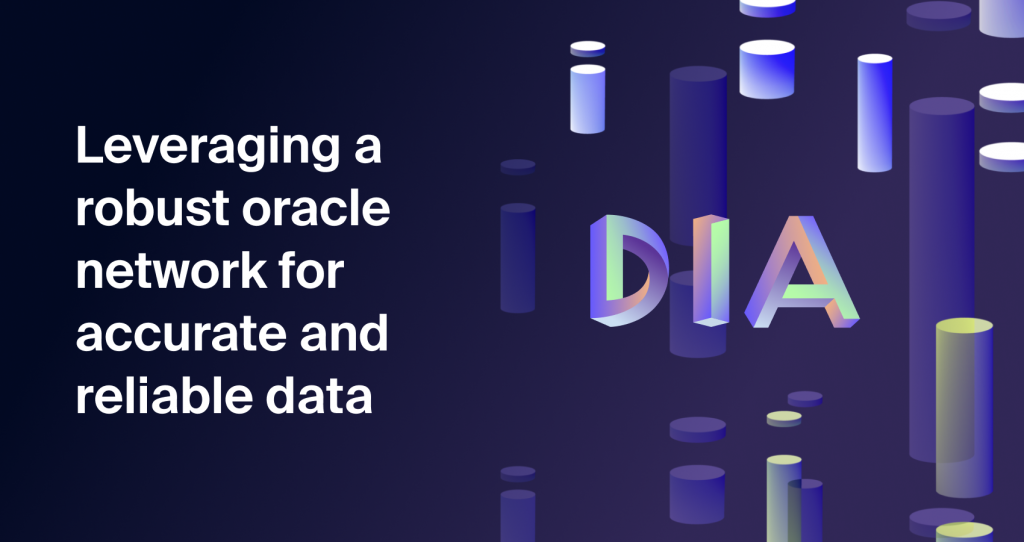 The Decentralized Information Asset, or DIA for short, is a comprehensive open-source data and oracle multi-chain platform. DIA's primary goal is to provide accurate and reliable feeds, needed for the effective operation of Web3 applications across protocols.
What does DIA do?
The DIA platform offers a comprehensive solution for sourcing, validating, and sharing transparent and verified data feeds for traditional and digital financial applications. With an extensive coverage of 6.000+ digital asset prices, 20k+ traditional assets, NFT floor data, metaverse data, and more, DIA's institutional-grade data feeds are a valuable resource for any organization.
DIA fetches a daily volume of 15bn trades directly and simultaneously from a palette of centralized and decentralized exchanges. data feeds simultaneously, This allows DIA to feed dApps with fully customizable data and oracle services, with tailor-made sources, filters and pricing methodologies. Because of this, the platform is able to foster an adequate environment for tailor-made and high-resilience feeds to thrive, ultimately setting a new paradigm for Web3 oracles.
Up until now, DIA has managed to extend its solution to 25+ key blockchain networks, such as Ethereum, Fantom, Solana, Arbitrum, Polkadot, Kusama, BSC, Polygon, Avalanche, Celo, and others. In doing so, DIA successfully covers the entire data value chain from sourcing to delivery and thus ensures accurate and up-to-date data without reliance on third-party providers.
How did DIA come across Chainstack?
In order to be successful in its implementation, first and foremost DIA needed a reliable RPC provider that could facilitate the retrieval of trading data from 50+ DEX platforms across multiple blockchains. Considering the platform's use case, however, this provider had to offer absolute stability in delivering large volumes of data with high, or no rate limits to make it all feasible for the team's budget.
After performing several trial runs with alternative infrastructure providers, DIA ultimately found none of them an adequate fit, due to various websocket endpoint and rate restrictions. This led the team to continue with the search until they discovered Chainstack as a potential solution for their RPC woes.
Ultimately, the exceptional flexibility that Chainstack offered, in terms of both features and pricing, made it an easy choice for the DIA development team. Without any general rate limits imposed for using our services, the DIA platform saw in Chainstack an adequate and reliable RPC support for its demanding use case.
How does Chainstack's offer match DIA needs?
Before making the ultimate choice, DIA laid out a set of three criteria for Chainstack to resolve. Above anything else, no rate limits could be imposed, because of the large volumes that came with the use case. With such limits being present, the platform could suffer unnecessary interruptions to its services, especially during peak traffic.
Second, there could be no restrictions, when it came to websocket subscriptions. This was vital, considering the cross-chain support that DIA was looking to capitalize on. Having such boundaries would ultimately restrict the platform severely, as each data feed constitutes a new subscription.
Last but certainly not least, websocket disconnect time needed to be unlimited just as well. Being an oracle implementation, an automatic reconnect, regardless of feed downtime was absolutely essential. Without it, the DIA development team would have to handle each manually, creating unnecessary labor and costs for the project.
Outcome
Chainstack ticked all the boxes when it came to the DIA's decision-making criteria. The flexibility of our platform and pricing was certainly a welcome sight that offered solace for the development team in knowing it could fit their use case like a glove.
By working together with Chainstack, DIA successfully secured the reliable infrastructure it needed to power its Web3 implementation. And keeping in mind just how critical RPC stability is for an oracle network, the DIA team found exactly what they were looking for to really make the mix complete.
With performance issues no longer being present, the platform's development team was able to free precious resources that could be put to better use. In turn, this created more opportunities to streamline the user experience and deliver the exceptional performance that makes an oracle network ultimately successful.
What does DIA like about Chainstack?
"We are thrilled to be working with Chainstack to scale DIA's data and oracle infrastructure. By leveraging Chainstack's decentralized node network, DIA will continue growing its end-to-end oracle services across multiple blockchains."

Samuel Brack, Chief Technical Officer, DIA.
What does Chainstack like about DIA?
"The "Oracle problem" is one of the most critical avenues for the effective long-term development of blockchain technology. That is why we see projects such as DIA as vital contributors to the entire Web3 landscape."

Eugene Aseev, Founder & CTO, Chainstack
What is the most interesting engineering challenge in working together?
Considering that stability was paramount for the DIA team, one of the most interesting challenges occurred during a websocket server disconnect. Should this have been left without attention, the platform would have seen a portion of its exchange scrapers disabled and thus suffer from deteriorating data feed quality.
Fortunately for all, however, our support team quickly jumped in to work the issue out. Following a quick discussion, we collaborated with the DIA team in debugging the bottleneck and were ultimately able to pinpoint its root cause.
By applying some minor tweaks and an update to the websocket server, our teams successfully resolved the matter in question. In doing so, we were both able to move to greener pastures and leave performance issues such as this, once again in the past, where they belong.
Power-boost your project on Chainstack
Have you already explored what you can achieve with Chainstack? Get started for free today.
SHARE THIS ARTICLE