Chainstack announces support for Solana blockchain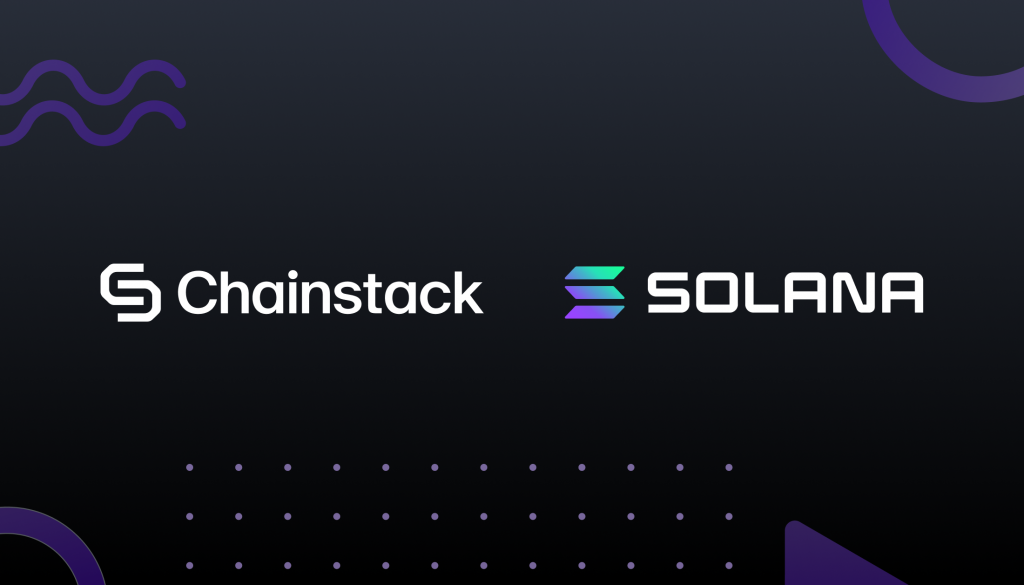 We are thrilled to announce that Solana is now fully supported on Chainstack. With Chainstack's extremely robust and scalable infrastructure solutions, Solana developers now have the easiest way possible to gain access to the Solana blockchain, deploy reliable access within seconds and focus on building a more connected and efficient future.
Solana is an open-source project that implements a new permissionless, high-performance blockchain. The Solana blockchain, which debuted in 2020, can execute up to 65,000 transactions per second at a cost of approximately $0.01 per transaction. Solana Labs raised $314.2 million early in 2021 from investors, including venture capital firm Andreessen Horowitz. Today, Solana already includes hundreds of Web3 apps.
What is Solana?
Solana is a permissionless network protocol with parallel smart contract processing functionality. A decentralized blockchain designed to provide the world with scalable, user-friendly apps. Solana has the status of being the industry's fastest blockchain. Furthermore, Solana accomplishes this without sacrificing decentralization or security. Solana has the fastest growing blockchain ecosystem in crypto, providing the best environment for building hundreds of projects spanning DeFi, NFTs, Web3, and more.
Solana has a unique proof-of-history feature that allows for decentralized, trustless transaction sequencing based on submission time, resulting in unprecedented speed and capacity. Validators can execute hundreds of smart contracts simultaneously, resulting in substantially faster block confirmations, more capacity, and lower transaction costs overall. Solana also has Ethereum compatibility thanks to a cross-chain bridge between the two chains.
Scalable for global adoption. Solana maintains a single global state as the network expands, ensuring composability amongst ecosystem projects. By leveraging hardware and bandwidth, Solana RPC nodes can be tuned and adjusted to improve the network's scalability, speed, and even lower fees. As a result of this competitive advantage, the network becomes faster as technology progresses. Solana is not just ultra-fast and low-cost, but it is also censorship-resistant due to its decentralized structure.
Building on Solana
The languages Rust C and C++ are used in Solana to create smart contracts that are deployed on-chain. Smart contracts, also known as programs in Solana, are essential for creating unique and powerful tools on the blockchain. These applications are created and distributed on-chain, and they are executed through the Solana Runtime, which keeps them running indefinitely.
Developers may utilize the Solana ecosystem's frictionless development tools to recreate the Solana user experience in their own decentralized apps (DApps). DApp development is quite similar to how Web2 and Web3 developers construct web apps in centralized applications, interacting with centralized APIs via 3rd party SDKs.
There are many 3rd party SDKs that have also been built on top of the JSON RPC API such as Java, C#, Python, Go, Swift, Dart-Flutter and Kotlin. Furthermore, Solana Labs has designed an easy-to-use solana-web3.js SDK that allows developers to communicate with the blockchain and Solana programs in the same manner that you would with any other API.
Solana on Chainstack
Solana can achieve elevated levels of scalability and performance even without the use of layer-2 solutions. The inclusion and implementation of timestamps for each transaction using a proof-of-stake, proof-of-history consensus makes network synchronization remarkably simple, enabling high throughput. This was previously impossible until Solana. Solana's capabilities make it simple to create thousands of projects in a variety of categories, including Web3, DeFi, and NFTs.
The addition of Solana to Chainstack is yet another step toward our objective of building a truly multi-chain platform that gives the community more customizability while simultaneously improving accessibility and scalability. Scalability and transaction costs are two of the most frequently mentioned roadblocks to the development of blockchain-based ecosystems. To make Web3 accessible to all, Chainstack is determined to create incredibly powerful infrastructure solutions and resolve scalability challenges with various protocols and chain types.
Chainstack allows developers to deploy and synchronize their nodes within minutes, with predictable pricing that is industry-leading, a high degree of automation and enterprise-grade infrastructure and engineering.
We are excited to have Chainstack join the Solana ecosystem.

Dan Albert, Executive Director, Solana Foundation
Web3 and DeFi developers and builders that want to build high-performing projects on Solana now have the option to scale with enterprise-grade infrastructure that can be depended on across various cloud networks and locations. Chainstack blockchain managed services include developer tools and services that make building and managing a DApp, a DeFi platform, or an NFT marketplace easier, in addition to node management and operations.
How to use Solana on Chainstack
Chainstack is a dependable and simple-to-use platform for quickly deploying nodes on a variety of hosting platforms, including fully managed public clouds like AWS, Azure, and GCP, as well as on-premises.
Companies can now deploy Solana RPC nodes in the same easy and cost-effective way, without needing to invest precious time and resources in setting up enterprise-grade infrastructure.
Developers may entrust their projects to Chainstack and significantly shorten their time-to-market while also benefiting from high-performing and dependable infrastructure.
Pricing
Thanks to its world-class engineering and lean infrastructure, Chainstack has a distinctive price advantage compared to other providers. This is reflected in the introductory pricing for Solana, which offers shared full nodes starting at $0/month on the Developer plan, along with 3M requests included.
Subscription tiers are well planned out to be highly cost-efficient, supporting all projects and use cases in different stages and types. Growth plan will provide 8M requests and Business plan provides 20M requests.
For all requests beyond those included in the plan, the price for the first 20M extra requests is $0.1 per 10K requests; then $0.05 per 10K requests. See also the full pricing information and a handy calculator.
Working together on making Web3 faster and better
Solana is ideally positioned within the blockchain industry to gain widespread adoption of its impressive blockchain implementation. We're thrilled that Chainstack enables developers' greater access to numerous chain types and helps them deal with blockchain scalability issues, supporting Solana and its ecosystem to thrive.

Eugene Aseev, Founder and CTO of Chainstack
Solana enables developers and builders to create high-performing, interoperable and customizable applications by utilizing blockchain technology that is designed for performance and scalability. By minimizing friction and optimizing operational procedures, Chainstack's enterprise-grade, easy-to-use infrastructure, tools, and services enable developers and project teams to focus on building breakthrough blockchain solutions and applications. The addition of Chainstack's enterprise-grade infrastructure to Solana's ecosystem accelerates blockchain adoption, paving the way for a more connected and efficient future in which projects and end-users can benefit from the innovative power of decentralized applications while also enjoying higher performance and lower fees.
Power-boost your project on Chainstack
Have you already explored what you can achieve with Chainstack? Get started for free today.
SHARE THIS ARTICLE