APY.vision on Chainstack: Bringing DeFi analytics to the masses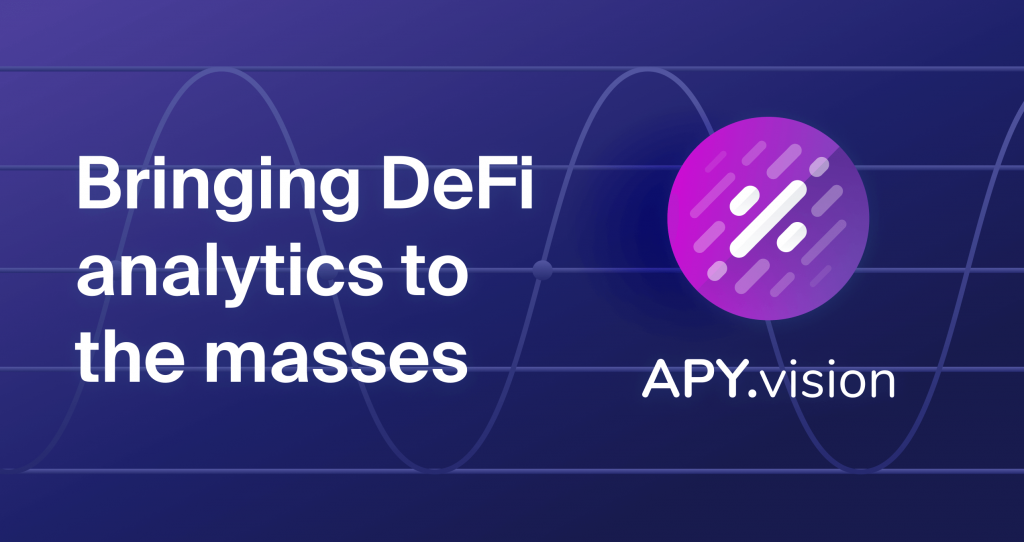 APY.vision is a DeFi analytics manager that helps users to track their transactions on dozens of DeFi platforms, as well as understand their profits and losses. The platform tracks the gains of its users across a variety of liquidity pools and yield farms to maximize their returns.
What is APY.vision?
The goal of the APY.vision platform is to aggregate and index DeFi analytics data, essentially providing a historical profit and loss breakdown for its users. In turn, this allows users to track their gains and impermanent loss, which is key for an adequate profitability overview to maximize returns. In layman's terms, the DApp's goal is to help users identify the most profitable opportunities before others and the best times to enter or exit.
This is made possible by APY.vision's ability to monitor vault, pool, farming, and AMM activities, calculate net profits, and compare pool performance by APY, impermanent loss, and collected fees. And while this is great already, the DApp also offers additional premium functionalities like real-time price data and advanced pool searches that are sure to make your experience even smoother!
At present, the APY.vision platform supports as many as 11 chains and even more protocols, the full list of which you can find here. Because of its wide cross-chain interoperability and powerful feature set, the DApp has effectively managed to garner over 70 000 users on its platform, while tracking billions of dollars worth of user assets across the DeFi landscape.
How did APY.vision come across Chainstack?
Considering APY.vision's extensive multi-chain coverage, their development team was looking first and foremost for a robust RPC node provider to support the resource-heavy operations that are a given when querying historical user data. But to be truly successful in this endeavor, the APY.vision team needed above anything else a provider that could offer up-to-par performance across all of the DApp's supported protocols.
After doing their due diligence in researching and comparing their potential options to reach the goals they sought to complete, the platform's development team eventually came across Chainstack. And in the end, it was Chainstack's exceptional performance across a multitude of top protocols that made them take the ultimate choice.
How does Chainstack's offer match APY.vision needs?
Having the above-mentioned factors that the APY.vision development team was looking to answer in mind, they saw Chainstack as a perfect match for their needs, especially in terms of cross-chain availability. Even so, it was the enterprise-grade performance of any node deployed on the Chainstack platform and the exceptional uptime offered that sealed the deal between us.
Thanks to Chainstack's wide multi-chain support, the APY.vision team was able to extend support swiftly and securely to exactly what their customers needed the most. And as icing on the cake, the versatility and flexibility of Chainstack's subscription packages ensured APY.vision was receiving what they were paying for and more, given their budget and needs.
Outcome
The APY.vision saw little need to interact with our team to help solve any mishaps in the integration process of our reliable infrastructure services. Thanks to the seamless and intuitive Chainstack platform interface, their development team enjoyed a smooth-sailing experience, which got them from testing to market both swiftly and securely.
What does APY.vision like about Chainstack?
Chainstack offers support to an extensive range of networks that our users prefer and are currently on. Their RPC nodes are stable and perform well, which is why we recommend them for their services.

Tom Chan, Founder and Core Developer, APY.vision
What does Chainstack like about APY.vision?
Navigating the DeFi space, while keeping an adequate birds-eye perspective over the profitability of your efforts is still quite a rare sight across the landscape. We are thrilled to support avant-garde use cases, like that of APY.vision, as they are essential for the healthy functioning of DeFi as we know it.

Eugene Aseev, Founder & CTO, Chainstack
Power-boost your project on Chainstack
Have you already explored what you can achieve with Chainstack? Get started for free today.
SHARE THIS ARTICLE