Moralis and Chainstack announce a partnership to accelerate Web3 development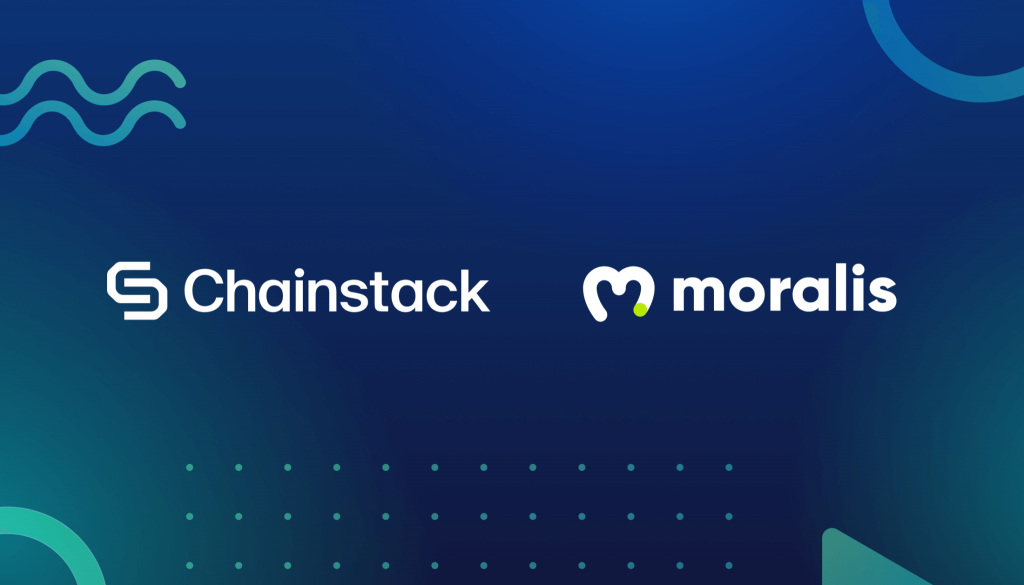 We at Chainstack are happy to announce a partnership with Moralis, the Web3 development platform
Chainstack and Moralis are now joining forces in a partnership to further Web3 development!
Specifically, this partnership will see Chainstack provide Moralis project builders and Web3 developers with powerful blockchain node infrastructure and node APIs capable of handling high throughput and scale while Moralis will continue to provide best-in-class blockchain development tools, software and comprehensive DApp development solutions.
Moralis and Chainstack complement each other perfectly, as both companies are passionate about lowering the barriers to Web3 and blockchain development. While on hand, Chainstack provides high-performance and accessible "nodeless" deployment of infrastructure, Moralis will be ready to pick things up on the other end and transform it into a powerful "codeless" database.
In doing so, this partnership achieves its goal to accelerate mainstream Web3 adoption. By pairing Chainstack's top-class node APIs with Moralis' flexible database implementation, we are able to help serve the Web3 industry in the best way possible, push the industry forward, and ensure developers get access to what they need to scale their efforts.
What is Moralis?
Moralis is a powerful Web3 platform that enables you to build sophisticated DApps with just a few lines of code. It is a fully managed and infinitely scalable Web3 development platform that helps you launch Web3 projects in minutes or hours, rather than weeks and months.
A significant part of Moralis' charm is the platform's accessibility. As a developer, this means you get the chance to focus more on creating exceptional Web3 experiences with just a few snippets of code. No more wasting time reinventing the blockchain wheel, when you can be creating more value, doing something else.
In short, Moralis allows you to easily build and scale Web3 projects without any of the extra complexity that usually comes with it. Whether you're looking to build NFT projects like your own NFT marketplace, put together the next groundbreaking DeFi protocol, or simply have some fun with a GameFi project, Moralis is there to greet you with open arms.
Where does Chainstack come into play?
Chainstack is a platform that enables developers to quickly deploy and synchronize nodes, with predictable pricing, high automation, and enterprise-grade infrastructure. This provides an opportunity for Web3 and DeFi developers to build high-performing projects on any of the supported blockchain protocols, with the assurance that the infrastructure can be relied upon regardless of cloud network or location.
This is absolutely essential for the successful implementation of Moralis' backend suite, which is what makes this partnership especially impactful. Having access to a powerful and easily deployable infrastructure directly translates into satisfied customers. Simply put, this ensures that any deployment of Moralis' suite will run smoothly and without any interruptions, anywhere on the globe.
But we are not stopping there. To further facilitate the cooperation, Chainstack will be extending support to Moralis' users with a dedicated support channel on Discord. Additionally, we will be pooling more product and engineering resources towards integrating both services and platforms in providing the most comprehensive solution for our customers. In doing so, we make sure developers get the best synergy from both offerings but also priceless assistance in setting everything up.
Being able to help developers be more successful in their initiatives is always a thrilling experience for us. It is no coincidence that this was one of the reasons for starting our journey and Moralis is the perfect partner to join us in building towards a better Web3 tomorrow.

Eugene Aseev, CTO & Founder, Chainstack
How will the partnership between Chainstack and Moralis accelerate Web3 development?
Chainstack and Moralis are truly a match made in heaven. Not only do we both share an utmost dedication and boundless passion for the development of the Web3 landscape but so do our core offerings complete each other, when paired together:
From idea to market, faster than ever before: Chainstack's managed blockchain services platform made its mark across the Web3 space by creating an accessible way for developers and enterprises to launch and scale decentralized applications. By working together with Moralis, we can further amplify each other's efforts in this direction, effectively putting the go-to-market time for projects into overdrive. With Chainstack taking care of swift and accessible node deployment and Moralis' flexible database implementation, this means less time wasted on unnecessary heavy-lifting and more capital being liberated to create extraordinary Web3 experiences.
Affordable and accessible development: And speaking of resource deliverance brings us to the next avenue of our collaboration. In our mission to create a better environment for blockchain developers, Chainstack and Moralis will share complementing efforts in advancing accessibility initiatives across Web3. Doing so directly translates into the ever more flexible and modular services that let you set the priorities for deployment. No more hidden costs, forced overcharges, and paying for services you hardly use. You are in complete control of your project's spending. Just how it was always meant to be.
Robust infrastructure with powerful features: The pièce de resistance. This is where Chainstack and Moralis' synergy truly reaches its pinnacle. With a reliable and robust infrastructure partner by their side, Moralis can easily execute their flexible backend implementations. And best of all, using the high-performance enterprise-grade node APIs Chainstack is known for, means that they can effectively work with clients with even the strictest of requirements, regardless of their size and location. Bigger, faster, stronger in both infrastructure and the powerful feature sets that make it truly worthwhile. An allied campaign to deliver the tools of tomorrow, built solely with the developers in mind, as a richly deserved token of appreciation for moving the Web3 space forward.
We couldn't be more pleased with Moralis' partnership with Chainstack. Our collaboration will greatly accelerate Web3 adoption and will give developers access to the very best tools in Web3. This partnership will help both those building Web3 projects and the industry as a whole.

Ivan on Tech, CEO of Moralis
Web3 adoption is set to receive a significant boost thanks to the Chainstack partnership with Moralis. In doing so, we will be able to serve the Web3 landscape in the best way possible, push the industry forward, and ensure its builders get access to the top-performing tools the current technology can offer. Simply put, Chainstack and Moralis will create the easiest and fastest way from idea to market in the blockchain development landscape.
Power-boost your project on Chainstack
Have you already explored what you can achieve with Chainstack? Get started for free today.
SHARE THIS ARTICLE