UniWhales on Chainstack: Real-time transaction data and alerts across networks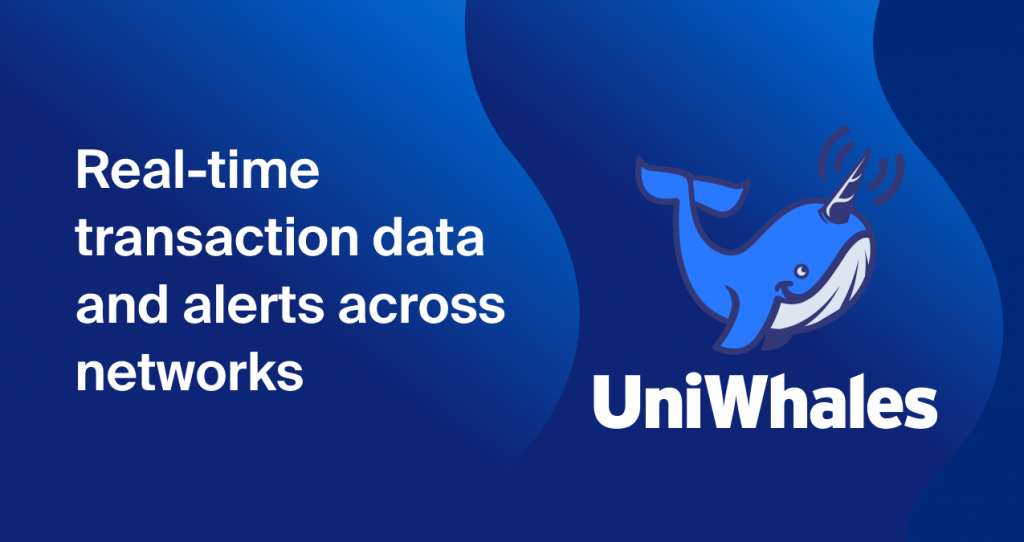 Real-time transaction data and alerts
UniWhales DAO is a web3 community curating on-chain, off-chain data, and research for the DeFi ecosystem. UniWhales helps bridge activities across multiple chains and layer 2s, building real-time dashboards, custom tracking bots and insightful data on DeFi and decentralized exchange activities across various markets including lending and NFTs. Launched in November 2020, UniWhales has over 10k free subscribers and a token-gated DAO with a growing number of over 300 hyperconnected traders, builders, and investors who help guide the direction of the project.
What does UniWhales do?
Bridging activities across multiple chains, UniWhales provides outstanding real time transaction data and alerts for Swaps, DEX Liquidity, NFTs, Bridges, and top wallets in Web3 and DeFi. Experience real time monitoring of tokens, whale addresses and their DeFi movements with the webapp dashboard, analyze whale data filtered by date, transaction size, token, or DEX using the purpose-built address filtering tool and get telegram alerts from the community channels for swaps, liquidity, and new tokens.
Beyond being a cutting edge DeFi data analytics and research tool, UniWhales describes itself as a decentralized autonomous organization (DAO). An outstanding community of top traders and builders in crypto. UniWhales combines data alerts and dashboards with community driven, curation and content that supports discovery of latest trends in projects and data. A utility token ($UWL) is used to gain membership to the UniWhales analytics platform and access to the dynamic community.
How did UniWhales come across Chainstack?
Obtaining real-time data that is usable in blockchain requires infrastructure that can provide reliable access that is not only stable for transactions on the blockchain, but also with low latency allowing querying on-chain data that is highly accurate and timely.
Chainstack was recommended to UniWhales by Valentin Mihov, ex CTO of Santiment and currently at Daedalus Angels, who invested in UniWhales during their seed round and have been first class in supporting the UniWhales team. With a growing user base and introducing new product features, the team experimented with a variety of blockchain node providers and managed hosting options before settling on Chainstack as the most cost-effective, dependable, and comprehensive solution that meets UniWhales' needs.
How does the Chainstack offer match the UniWhales needs?
UniWhales DeFi analytics community enables users, developers, and builders to see where capital flows in real time, allowing them to identify trends and market movements. In the DeFi and NFTs markets, things move swiftly, change and announcements happen frequently. Prices can change in a matter of seconds, and news of hacks are becoming increasingly common. Traders rely on data from UniWhales' tools and alerts to make educated decisions that might be the difference between generating tremendous gains or huge losses in a matter of seconds.
Looking for a provider that can provide node infrastructure that can accurately provide real-time transaction data across multiple chains, Chainstack provided constant and dependable access to blockchain networks with a distributed network of shared nodes across various deployment locations. Compared to highly congested public access endpoints, Chainstack's fully managed shared network allows for better connectivity to various regions with fewer network and performance difficulties. With Chainstack, UniWhales received access to a highly supportive and dependable partner, allowing them to spend more time developing business solutions that provide value for their users while knowing that the nodes are closely monitored and maintained by a highly competent team.
Outcome
Chainstack's team made it simple, with an open and helpful support team that responded quickly to any questions the team had. The engineering problems of maintaining node access are greatly minimized, and any service faults are rapidly addressed and remedied. Chainstack's fully managed hosting solutions, which are capable of high-traffic, consistent transactions, have helped to improve latency and connectivity, leading to a better product experience for end-users. Chainstack was the apparent choice for a long-term infrastructure partner to effectively allocate resources and improve operational procedures, thanks to a fantastic collection of features that met all of UniWhales' objectives, including accessible and flexible pricing choices. UniWhales no longer have to worry about node maintenance or upgrades because they now have access to a dedicated and experienced team.
UniWhales may now rely on Chainstack for resilient node infrastructure and as a vital partner in getting access to additional networks and protocol support in the ever-evolving DeFi space. Building a stronger analytics community, UniWhales can focus on developing new tools and features to monitor data with greater depth and scale across chains.
What does UniWhales like about Chainstack?
As UniWhales builds out real-time data analytics across DeFi and NFTs over multiple chains, we see Chainstack as a key partner along our journey. Chainstack's dedication to our collaboration is unwavering, allowing us to add new capabilities and focus on growing the analytics community. Chainstack has been a fantastic infrastructure partner for us as we progressed.

Timur Mirzosharipov, Founder, UniWhales
What does Chainstack like about UniWhales?
UniWhales creates solutions and data analytics that provide Web 3.0 communities with the knowledge and resources they need to make better, more informed decisions. The complexity of the environment and skills gap within DeFi is always increasing as the blockchain and cryptocurrency sectors reach new adoption heights and advance with innovative technology. Market participants are becoming increasingly reliant on the expertise of communities that are fast to adapt. To win in DeFi marketplaces, knowledge becomes a weapon. Similarly, Chainstack's commitment to technical innovation, customer empowerment, and aspirations to educate a broader market aligns with UniWhales' goals of growing and strengthening the analytics community. Chainstack must select dependable, well-established partners with extensive market expertise, such as UniWhales. The coming together of two highly skilled service providers yields ground-breaking technical solutions that help all clients and stakeholders in the industry expand faster.
Power-boost your project on Chainstack
Have you already explored what you can achieve with Chainstack? Get started for free today.
SHARE THIS ARTICLE