Polygon and Chainstack announce a partnership to power-boost Web3 adoption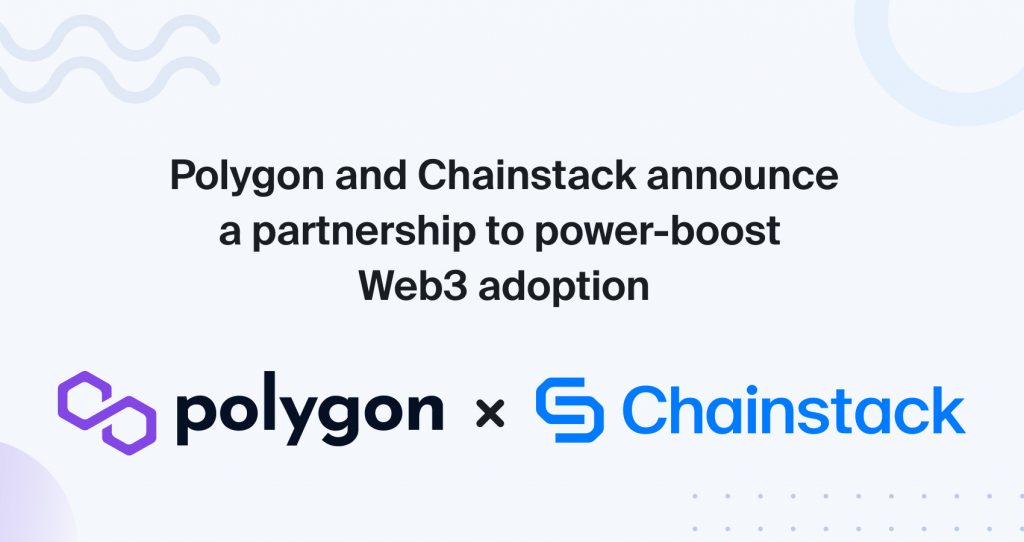 We are joining forces with Polygon (previously known as Matic) to provide intuitive, robust, and high performing blockchain infrastructure so that developers and enterprises can build projects on "Ethereum's Internet of Blockchains" without any scaling or accessibility limitations.
We are excited to be part of the next phase growth of Polygon, a protocol and a framework for building and connecting Ethereum-compatible blockchain networks.
We hope that our partnership will help bring the Web3 infrastructure to the business world and further widen the opportunities for developers and start-ups in this thriving ecosystem.
Having grown exponentially and gained wide adoption within the Web3 community over the past year, Polygon's Layer 2 solutions are paramount to keep lower gas fees and support high transaction throughput.
Polygon provides scalable, secure and instant transactions on a sidechain based on an adapted implementation of Plasma framework for asset security and a decentralized network of Proof-of-Stake (PoS) validators. The network is currently live and is powered by the MATIC token used for staking to secure the chain, in addition to being used to pay for transaction fees on the network.
With Polygon, any project can easily spin up a dedicated blockchain network combining the best features of stand-alone blockchains and Ethereum. Additionally, these blockchains are compatible with all the existing Ethereum tools such as MetaMask and Remix and can exchange messages among themselves and with Ethereum.
What is Polygon?
Polygon is a protocol and a framework for building and connecting Ethereum-compatible blockchain networks. Polygon aims to create a more generalised scaling solution to overcome the limitations imposed to projects wanting to leverage the thriving Ethereum ecosystem without compromising on security, low transaction fees, and transaction speed.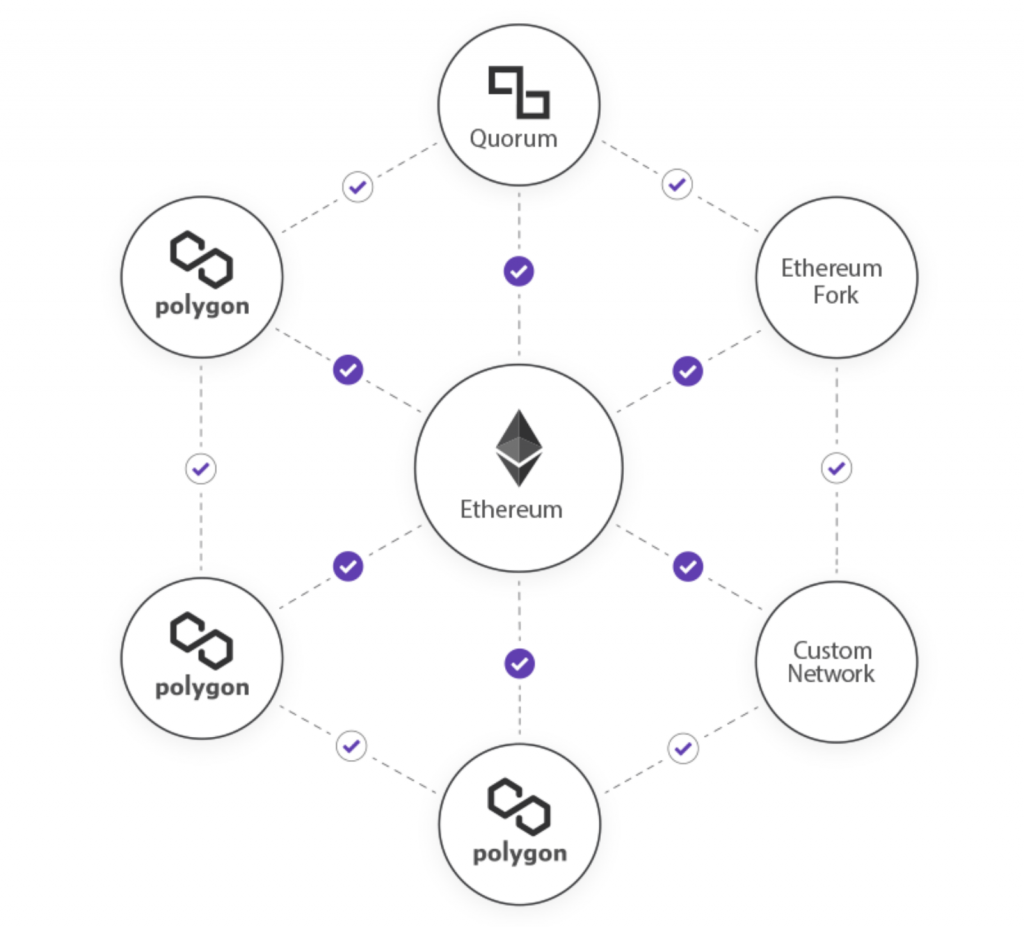 Polygon is uniquely positioned to be the solution to solve this issue thanks to:
One-click deployment of pre-set blockchain networks.
An interoperability protocol for exchanging arbitrary messages with Ethereum and other blockchain networks with native support for message passing (tokens, contract calls, etc.) and bridges to external systems.
Growing set of modules for developing custom networks with high customizability, extensibility and upgradeability, short time to market, and the collaboration of a large community.
Availability of adaptor modules for enabling interoperability for existing blockchain networks.
Modular and optional 'security-as-a-service provided by either Ethereum, or a by a pool of professional validators.
A developer experience equivalent to Ethereum, with no protocol level knowledge required, no token deposits, and no fees or permissions.
User experience comparable to Web2, 'zero-gas' transactions and instant (deterministic) transaction finality.
How will the partnership between Chainstack and Polygon power-boost Ethereum's "Internet of Blockchains"?
In this long-term collaboration, Chainstack will facilitate the creation of several solutions and tools that will make deploying Polygon's infrastructure as easy as sending an email.
Public RPC service: Public RPC endpoints that do not require authentication and will remain free of charge for the foreseeable future for both Polygon PoS mainnet and testnet. The Polygon community can now interact with Polygon PoS blockchain and smart contracts via brand-new RPC endpoints built and operated by Chainstack. This will further increase the accessibility of Polygon's Layer 2 chain, which has so far seen widespread adoption with 100+ DApps, ~10M transactions and ~230K unique users. The public RPC endpoints have an agreed IP-based fair usage limitation of 50 requests per second and 1500 per minute for both testnet and mainnet. While currently only the Polygon PoS is included in this service, in the future Chainstack will continue to support the expansion of the ecosystem with more blockchains as part of a long-term partnership.
Complete Polygon support on Chainstack: Chainstack platform makes running a blockchain node radically simple so that developers can focus on building their application instead of worrying about node availability, costly maintenance and upgrades, or uptime. In the coming weeks, Chainstack will launch automatic deployment of Polygon PoS nodes, adding it to the existing portfolio of enterprise-grade ready infrastructure, which already includes Ethereum, Bitcoin, Hyperledger Fabric, Corda, Quorum, Corda, and MultiChain. We hope that this will not only make the creation of new applications easier but that it will also open more opportunities for enterprises to build their blockchain projects on Polygon. Support on the Chainstack platform will open up the opportunity for custom SLAs, rapid prototyping and bespoke development with Chainstack's professional services, compatibility with Chainstack Marketplace tools and services, as well as our widely praised highly responsive customer support.
Block explorer for the Polygon PoS chain: Anyone will be able to view, query and track in real time all the transactions carried out on Polygon PoS network. Thanks to this co-funded initiative, the Polygon community will have access to a new explorer which promises to be highly resilient and available, being built on Chainstack's own infrastructure.
The rapid adoption of Polygon has resulted in the need for strong infrastructure that can support the high throughput on-chain txns from 150+ Dapps on Polygon. We are pleased to collaborate with Chainstack to make the blockchain experience seamless for users and developers.

Sandeep Nailwal, Co-Founder and COO, Polygon
In addition to the platform and protocol technical supporting the acceleration of the Polygon ecosystem growth, over the coming weeks and months Chainstack will help accelerate the growth of the Polygon ecosystem with a number of community initiatives and marketing campaigns. These will be targeted to both individual developers and to businesses alike, with the primary goal to support sustainable and widely accessible accelerated ecosystem growth for the entire Polygon community.
The partnership between Polygon and Chainstack has the potential to greatly accelerate Web3 adoption in the wider business community. Polygon's community has now a trusted ally to help power-boost experimentation, adoption, and scalability. We remain a highly accessible and secure platform that helps businesses incorporate Web3 into their existing systems and supports the development of a Web-native ecosystem.

Eugene Aseev, founder and CTO of Chainstack
Connect with the community
Have you already explored what you can achieve with Chainstack? Get started for free today.
SHARE THIS ARTICLE