Infrastructure and analytics come together for Avalanche subnets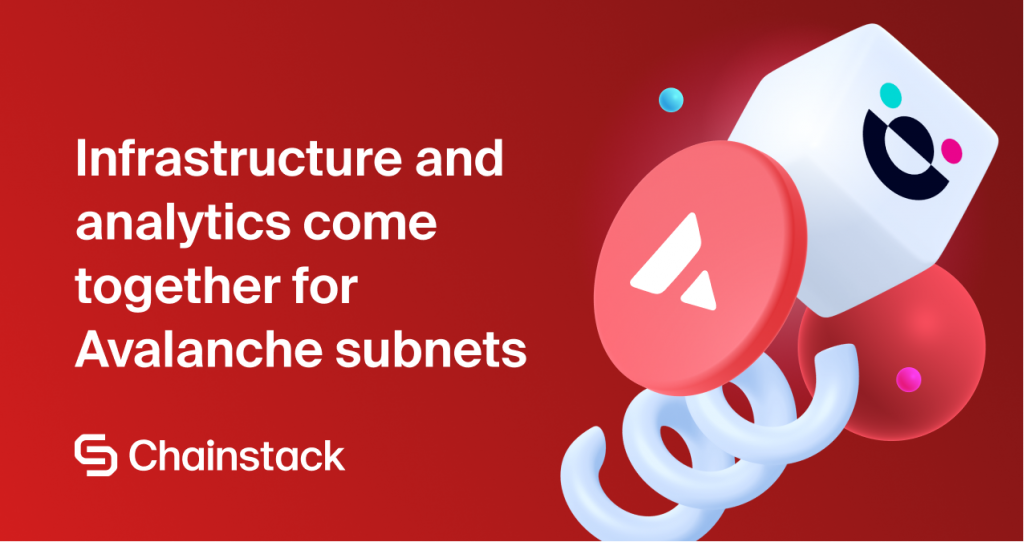 In brief
Launch your own subnet for the speed and reliability with Chainstack; peek into your subnet for insights and analytics with Covalent.
Get the same smooth uniform experience that thousands of public chain developers come to rely on with Chainstack and Covalent.
Introduction
With the Avalanche protocol, you can build your own blockchain protocol(s)—complete with a custom blockchain virtual machine—and launch it as a network that is validated by a set of the same validators that are securing the main Avalanche network.
Your custom blockchain protocol running as a network and secured by the Avalanche mainnet validators is called a subnet.
Subnet use cases
There is no limit or discovery end to the subnet uses at this stage, but the primary cases so far can be summed as the following:
Single-purpose blockchains—from private networks to storage (SpacesVM) and timestamp (TimestampVM) networks.
Layer 2 blockchains—to scale to your own network while still being part of the Avalanche mainnet. Example: Crabada's Swimmer Network.
Legal network requirements. Examples: geographical location of validators, licensing of validators, compliance with regulatory checks.
The subnet creation process overview
The mechanics of creating a subnet are the following:
Create your own blockchain virtual machine. You can use the Avalanche Virtual Machine (AVM) as base to create and exchange digital assets or use the Ethereum Virtual Machine (EVM) as base to run smart contracts on your subnet.
Create the genesis state for your network.
Run a validator node securing the Avalanche main network to validate your subnet or approach an existing validator.
Add at least one of the Avalanche main network validators to your network.
Register your network with the Avalanche mainnet Platform Chain (P-Chain).
Whitelist your registered subnet with the validators securing your network.
Join the subnet innovation with Chainstack and Covalent
Get the same blockchain experience with subnets you are used to and that thousands of developers and entrepreneurs rely on with the public chain networks from Chainstack and Covalent.
Create, run, and maintain your subnet with Chainstack.
Get the full analytics for your subnet with Covalent.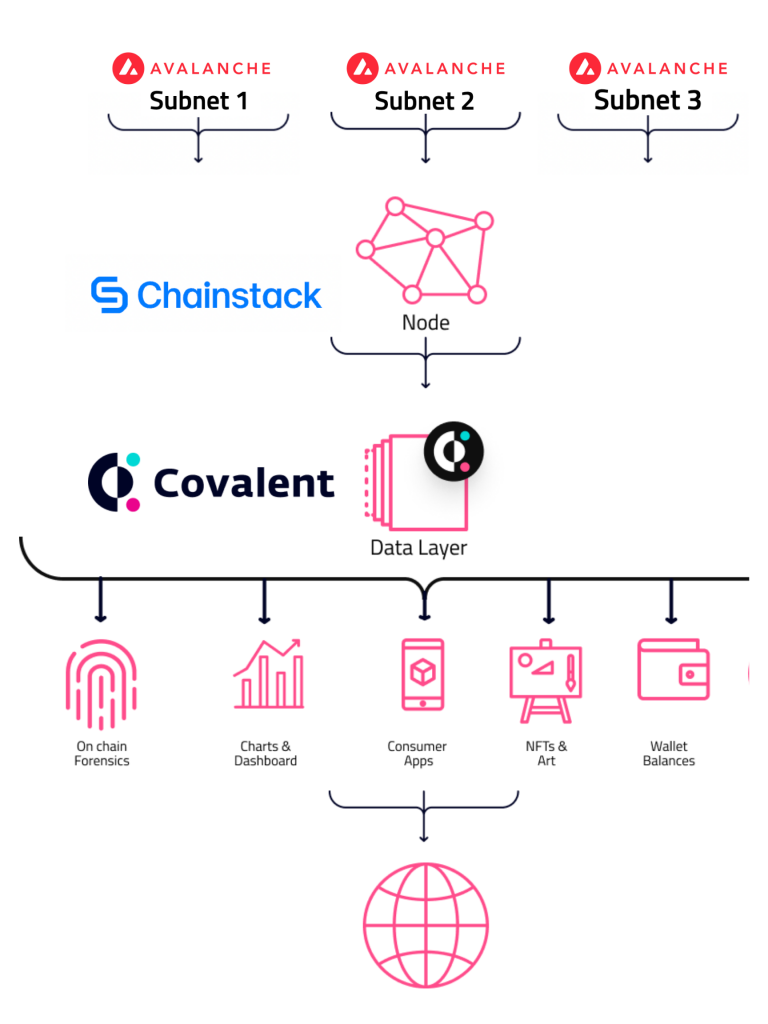 Avalanche is the protocol allowing for the subnet creation.
Chainstack is a platform that enables users to deploy, run, and manage their custom network and nodes quickly for Avalanche's subnets.
Covalent's industry-leading Unified API provides rich, granular data for users hosting their Avalanche subnets on Chainstack.
Deploy and scale subnets faster with Chainstack
Chainstack allows developers to deploy and sync fully dedicated nodes in minutes while taking care of node management and operations. Developers and builders in Web3, DeFi, GameFi, and the overall blockchain innovation who want to run high-performing projects on Avalanche use Chainstack to deploy Avalanche nodes easily and in the most effective way without needing to invest time and resources in setting up enterprise-grade infrastructure.
Chainstack currently serves over 30,000 community members and processes more than 12,000 requests per second.
Chainstack is committed to supporting the next leg of innovation in the public blockchain networks space which is Avalanche subnets.

Together with Covalent, we are excited to provide to subnet developers the same uniform and smooth experience that thousands of teams are used to rely on. Your custom VMs get the enterprise-grade treatment with us for infrastructure and the high-level reliability and data-granularity with Covalent.

– Eugene Aseev, CTO and Founder at Chainstack
Build faster on subnets with Covalent's Unified Blockchain API
Covalent has been providing rich, granular data on the Avalanche chain since March 2021. The Covalent unified blockchain API enables developers to pull Avalanche mainnet and Fuji testnet data within seconds by simply changing the chain_ID parameter.
Developers can extract data in seconds without writing indexing code so they can start building in minutes.
These are just a few of many types of best-in-class data developers can access:
Token balances per address
Get NFT transactions for contract
Historical transactions per address
Get all contract metadata
Covalent currently serves 15,000 developers who are creating new use cases every day and have over 1,000 projects using the API.
As blockchain ecosystems and use cases continuously expand, there is an increasing need for custom blockchain features. We're extremely bullish on Avalanche's subnets because they give users a convenient blockchain in a box that can be easily adapted to meet their unique needs and scale. We're thrilled to be providing rich data for developers to build incredible applications.

– Ganesh Swami, CEO at Covalent
Run your Avalanche subnet
Contact us to get started with node services for your Avalanche subnet provided by Chainstack.
Sign up for Covalent's blockchain API key to get historical C-Chain data.
Power-boost your project on Chainstack
Connect to the Ethereum, Polygon, Binance Smart Chain, Avalanche, Fantom, Solana, Harmony, and Tezos mainnet or testnets through the interface designed to help you get the job done.
Get access to the Ethereum, Polygon, Binance Smart Chain, Avalanche, Fantom, and Tezos archive nodes to query the entire history of the mainnet—starting at just $49 per month.
Choose where you want to deploy, and we will provide you with the dedicated managed infrastructure that can handle high-volume, high-velocity read/write access to the network.
To learn more about Chainstack, visit our Knowledge Center or join our Discord server and Telegram group. 
Have you already explored what you can achieve with Chainstack? Get started for free today.
SHARE THIS ARTICLE