Introducing new hosting options: Bring your own cloud, extended AWS and Azure capabilities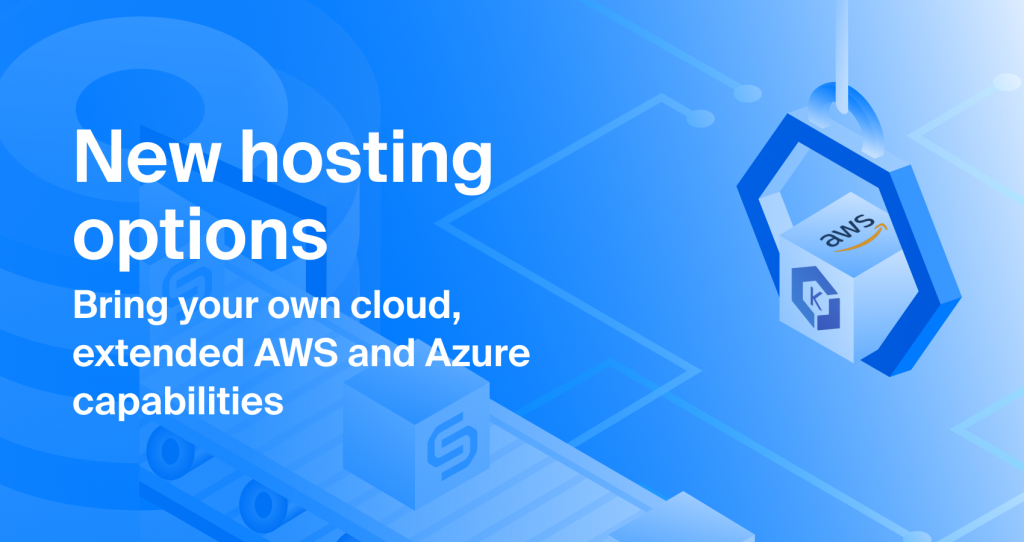 At Chainstack, we empower innovators by providing an open platform that enables a seamless experience of building on the blockchain. Since day one, we made it possible for our customers to deploy networks and nodes on the Chainstack-managed hosting layered over Amazon Web Services, Google Cloud Platform, and Microsoft Azure, while covering major regions such as the US, Europe, and APAC. This provided one of the most, if not the most, flexible managed blockchain services hosting offering in the market. However, we soon realized that this was not enough.
With the release of Chainstack 2.2, we worked to close this gap. Today we are adding new deployment options to Chainstack, including seamless private hosting integration and enhanced AWS and Azure support.
Bring your own cloud to Chainstack
Over the course of many months of customer interviews and careful listening, we have heard many businesses and builders needing a solution for the resources they already owned or that were provided for by their customers. We had numerous conversations with boutique and large software houses, Fortune 500s of finance and legal industries, large-scale exchanges and traders, exploring with them what would have been the best way to maximize the impact of Chainstack for them and their clients.
Common reasons for needing a private hosting option included:
Complexity behind compliance, data protection, and localization challenges.
Organizations already committed to infrastructure with cost-saving options, for example, AWS Reserved Instances or Saving Plans.
Project stakeholders require more control and flexibility over resource sizing and deployment locations.
Colocation of applications with blockchain nodes to get the lowest latency possible.
Today we are releasing the private hosting feature, initially supporting Amazon Elastic Kubernetes Service with 20 regions available around the globe. Our customers now can:
Increase network resiliency and decentralization through hosting regional distribution.
Meet compliance requirements imposed by data localization standards.
Leverage cost optimization options offered by their infrastructure providers.
Colocate their applications with blockchain deployments managed by Chainstack.
The best part is that Chainstack will continue to orchestrate private deployments, monitor health and activity, perform upgrades, and provide highly responsive support—within the same easy to use Chainstack UI and API.
In addition to the EKS support for Amazon, we are already working on the next phase, which will extend our private hosting to other cloud providers and bare metal setups. If you would like to participate in the early testing of this next phase, feel free to contact us.
We were looking for a solution that would offload our engineering team from DevOps and network management efforts. With Chainstack's private hosting, we now can launch projects in European jurisdictions and seamlessly hand-off projects to our customers, all deployed on a secure, easy to use and fully managed platform.

Stanislav Synko, CEO of Aleph One
Aleph One, a FinTech Software Consultancy company working across North America and Europe, migrated their Hyperledger Fabric networks to Chainstack as an early adopter of Chainstack private hosting. They now perform 90% of their blockchain application development and testing on Chainstack.
AWS US East support
The blockchain industry has matured and evolved in many aspects over the past few months, and our customer base has significantly grown and diversified.
In particular, Ethereum developers and entrepreneurs have found a trusted ally in us for their network access needs, especially for data discovery use cases like trading or indexing, largely depending on low latencies and fast transaction propagation speeds.
To make sure that our growing community of builders and traders succeed, with this new release we will be supporting one of the most concentrated Ethereum mainnet locations in the world for our Chainstack-managed hosting—Amazon's Ashburn data center.
Thanks to the new hosting location, our customers will benefit from significantly lower times for transactions discovery and finalization, thus gaining a robust competitive advantage.
This adds on to the existing rapid deployment feature Bolt, thanks to which our customers can deploy fully synced full and archive, mainnet and testnet dedicated nodes in minutes rather than hours and days.
New Azure capabilities
With Chainstack 2.2, we are also extending the availability of Ethereum and Bitcoin nodes in Microsoft Azure, with all mainnet and testnet, shared and dedicated options now fully supported.
We hope that this change will help support the robustness of the infrastructure provided to the blockchain community as it will diversify deployment options for public blockchain nodes and provide an alternative other than what is already available on the market.
Chainstack status
Finally, we wish to remain at the forefront of engineering excellence, demonstrated by a track record of consistently near-perfect uptime. For this reason, we are launching a status page which includes historical uptime data and real-time information about Chainstack services availability.
What's next?
We believe in the power of the decentralized web, and we strive to remain a core Web3 infrastructure provider.
We believe that only by keeping a personal connection with our customers we can continuously improve and make Chainstack a better service every day. A big thank you from the entire team to all the early adopters and participants in customer development interviews who helped us validate how our hosting options could make innovators increase their ROI by adopting Chainstack. Watch out for new customer stories in our blog to get inspired by what our customers are building with us!
With the market state in mind, from the OCC letter published in the first week of 2021 to a myriad of successful DeFi applications making their way to tangible market share, we feel that the blockchain industry is progressing on its path through Gartner's slope of enlightenment towards a world where collaboration is enabled through blockchain. We will continue to innovate, push the boundaries of what can be achieved through precision engineering, and include a wider set of protocols.
Our mission will remain to build and grow the most flexible and complete managed blockchain services provider on the market while making sure our customers get the best-valued service for its price with the highest quality.
Join our community of innovators
Have you already explored what you can achieve with Chainstack? Get started for free today.
SHARE THIS ARTICLE