Why we are excited about Hyperledger Fabric 2.0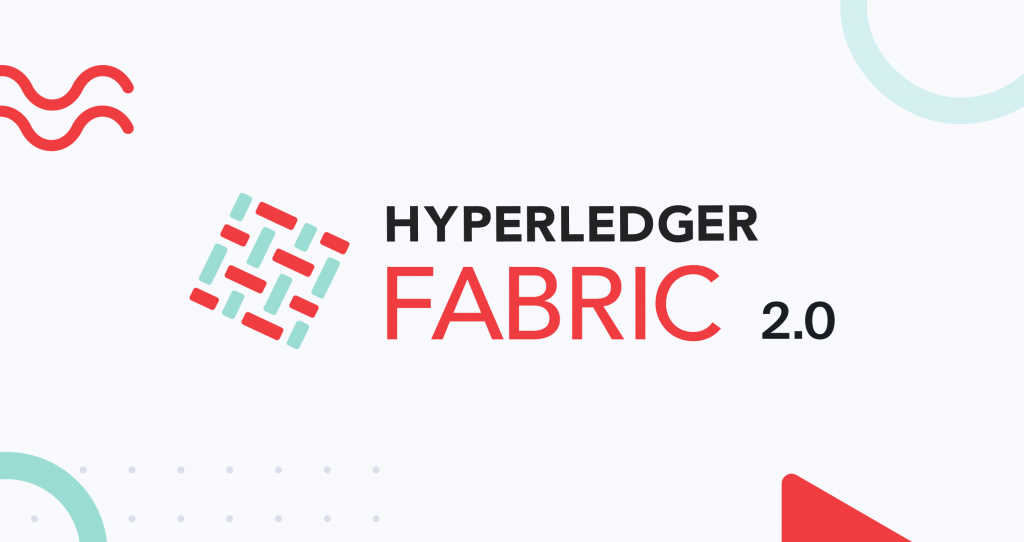 Several weeks ago, Hyperledger announced the general availability of Fabric version 2.0. Being the first of the Hyperledger projects to reach the 2.0 mark, the release was celebrated as a significant milestone throughout the enterprise blockchain ecosystem. Jerry Cuomo expressed how Fabric's 2.0 release was an attestation of the contribution and growth of Fabric's dedicated developer community—the largest across the enterprise blockchain space. Our recent report on enterprise blockchain developer activity revealed that Fabric developers represented 71% of the total number of developers that pushed code.
What's new in 2.0?
Amongst a variety of performance improvements, Fabric 2.0 includes new features centered around heightened data privacy, more granular controls, and greater optimization for consortia network governance. Fabric 2.0 introduces greater flexibility in how participants operate on the network, particularly in how they write and run chaincode—the applications that make networks useful. At the same time, the new decentralized governance for smart contracts means that a network can be configured to require that every organization must agree to the parameters of the chaincode before it can become active.
These are key and you can read the full announcement here.
Why does it matter?
The new features introduced have been based on the accumulation of iterations of feedback from enterprises that have developed on Fabric version 1.0 since its launch in 2017.
It's obvious why those building on Fabric are excited. Better, faster, easier-to-use technology makes it simpler for enterprises seeking to build on blockchain. For those outside the Fabric world, this milestone was also very positively received.
Enterprise protocols are evolving rapidly
Fabric is not the first enterprise blockchain to reach a major release. Last year, Corda 4.0 and MultiChain 2.0 also went live. After five years in development, PegaSys' Enterprise Ethereum client, Pantheon, rebranded and premiered as Hyperledger's first-ever public blockchain operable project—Hyperledger Besu, bridging the gap between public and private blockchains.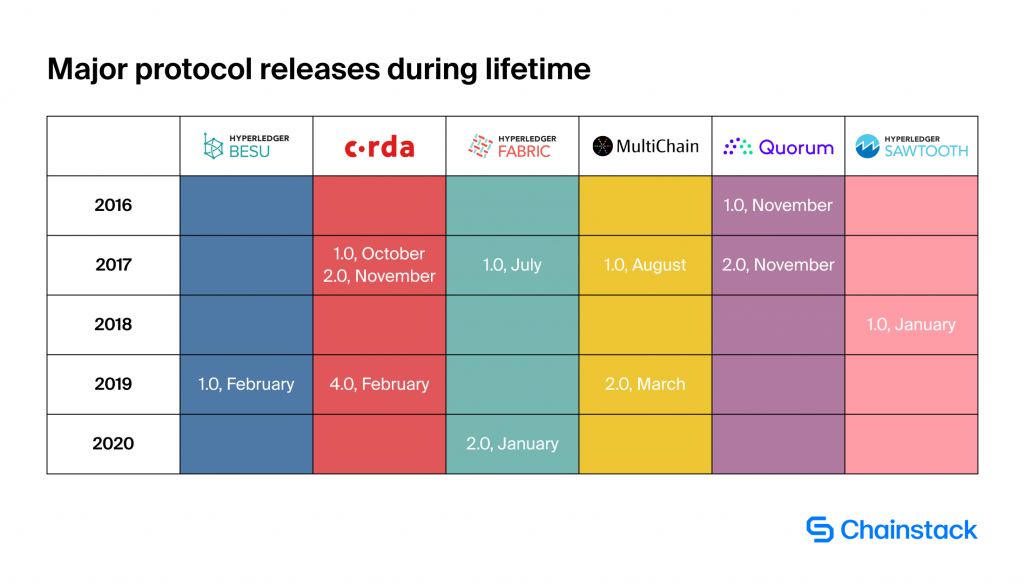 History of major protocol releases
Each major upgrade a major enterprise protocol goes through is a positive sign of growing maturity. As the protocols evolve to suit the requirements of enterprise use-cases, businesses are more able to leverage blockchain's key benefits. This is likely to accelerate adoption.
A key challenge inhibiting enterprise adoption cited by Gartner was the highly fragmented blockchain platform market with frequently overlapping offerings.
For companies keen but new to DLT, the profusion of options can often be a source of confusion. Deciding on new infrastructure, particularly emerging technology, can be relatively daunting, given the general lack of technical familiarity and experience with the technology. IT decision-makers also lack references and performance measures that they can consult.
Looking at a protocol's technological maturity is a useful metric in assessing the viability of a protocol—a protocol that has undergone significant upgrades is likely to have had a substantial amount of engineering resources invested into developing its features and codebase.
Upgrades are incredibly messy
While upgrades are inevitable, constant changes to infrastructure platforms make them challenging to work with. Typically, re-training and retention of entire ecosystems require significant coordination and resources.
Enterprises running systems on these distributed platforms must update their underlying infrastructure and migrate their existing systems each time a new upgrade is released. This is always going to be a very manual and cumbersome process involving a lot of downtime and a lot of troubleshooting. Migration is never a straightforward process, especially when working with relatively new technology.
Today, the severe shortage of skilled blockchain talent means that companies struggle to keep up with the capacity required to run their blockchain initiatives. Constant upgrades can cause blockchain skills to be outdated at a rapid pace, making it difficult for the already small talent pool to keep up with these new changes. This also means that the already trained blockchain infrastructure engineers must constantly be retrained. In addition, the need to be able to cope with these changes also increases the workload for the already strained development teams, distracting them from higher-value tasks and making the need for highly proficient infrastructure engineers even more crucial.
This is further exacerbated by the lack of proper documentation and dedicated support for general-purpose open-source blockchains with small developer communities, which make training and retraining difficult for aspiring blockchain developers.
Due to the technical complexity of these upgrades, organizations must build a meticulous migration strategy to ensure that all components of their infrastructure are successfully upgraded in the order required. Often involving significant planning and risk management, these must take into account all applications, software, systems, and business processes that may be impacted during this process.
Organizations working with blockchain should expect to face frequent upgrades.
New tools to help weather the storm
The development of increasingly sophisticated developer tools that simplify the blockchain developer experience is revolutionizing the way organizations can begin leveraging decentralized solutions.
For instance, managed services can enable companies to leapfrog the complexities of the rapidly evolving blockchain infrastructure and help to mitigate the impact of significant infrastructure upgrades, helping companies brace for these changes. By reducing the need for the hard-to-find niche blockchain DevOps expertise, these platforms are drastically lowering the cost and resources required to access decentralized technologies.
Lots to be excited about
Granted, beyond the maturity of technology platforms, many other factors remain to be addressed. Think governance challenges, regulatory restrictions, an unwillingness to collaborate, incompatibility across networks, platforms or corporate systems, and the lack of open standards. I could come up with a non-exhaustive list, but you get the point. Many of these require deep collaboration involving technology providers, regulators, governments, and enterprises across industries.
But signs show that the enterprise blockchain space continues to grow rapidly.
Chainstack's recent study revealed just how rapidly—the number of enterprise blockchain developers has increased 12-fold since 2015. The world's largest enterprises are implementing decentralized technologies to improve processes and these numbers grow every day.
And although there are conflicting estimates on when we will reach mass adoption (whatever that looks like, or whatever that even means), the recent developments within the enterprise blockchain space have left us fired up in anticipation of yet more good news to come.
Hyperledger Fabric 2.0, we're excited for the changes you are going to bring to the world.
P.S. We will also be at the Hyperledger Global Forum next week (Booth SU6) where we will be making an exciting announcement! Come say hi.
Join our community of innovators
Have you already explored what you can achieve with Chainstack? Get started for free today.
SHARE THIS ARTICLE