Chainstack joins Pocket Network as a trusted node provider to help build a more resilient Web3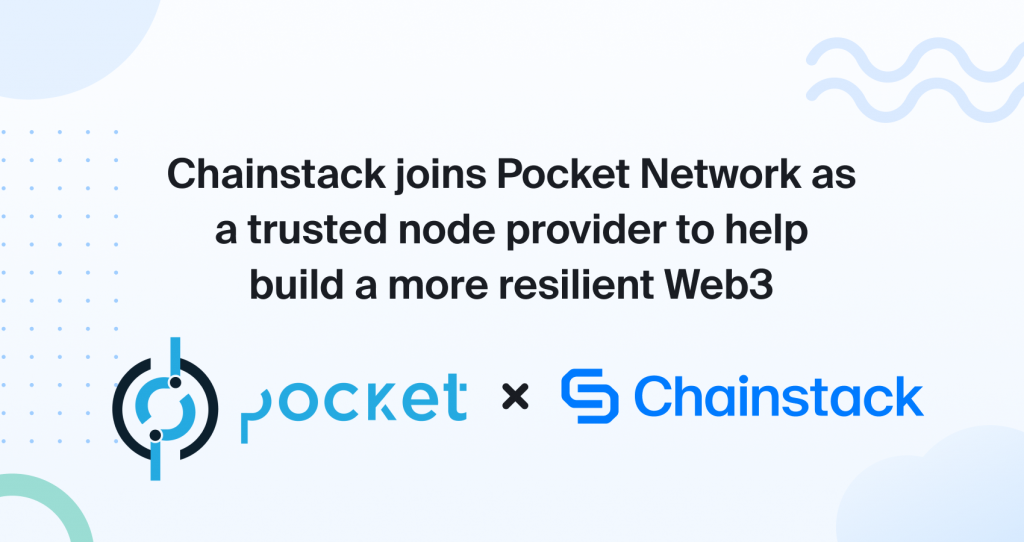 We are thrilled to announce that from today we will be an active force in the growth of the Pocket Network community. We will do so by making blockchain infrastructure more accessible, and by providing ongoing support to any developer wanting to engage with the ecosystem.
What is Pocket Network?
The mission of Pocket Network is to provide reliable, blockchain-agnostic, decentralized infrastructure to Web3 applications. Pocket coordinates requests through a decentralized relay network of diverse full-node operators in order to guarantee Web3 applications the censorship-resistance, resilience, and redundancy they need to be truly unstoppable. To fulfil this mission, Pocket Network created an incentive layer that completely changes how node operators are compensated for providing infrastructure services.
When registering an application on the Pocket Network, developers will be able to connect and relay data to any blockchain currently supported by Pocket Network's protocol. Reaping the benefits of a redundant-by-design, decentralized architecture, developers will benefit from a resilient infrastructure without single points of failure.
Ensuring the creation of resilient and accessible Web3 applications
As a trusted Pocket Network node provider, we will expand our existing support for the community. Since January we have been running 10 nodes as part of the Pocket Network Bootstrap Program, and we will now begin a wider campaign to make nodes available to the Pocket Network community:
Starting today, it will be possible for anyone to become an independent Pocket Network node operator on our platform with preferential pricing, and without the need and cost of running the underlying full Ethereum node separately.
We are further lowering the barrier to take part in the Pocket Network community by opening to the public low-code option to deploy Pocket nodes-as-a-service via our managed blockchain services' Marketplace.
Pocket Network significantly reduces centralization risk, decentralized application development costs, and lowers the barrier for developers to create peer-to-peer applications for any blockchain.
Chainstack has been a wonderful trusted ecosystem participant in Pocket Network! They've been running nodes since the beginning of the year. Alongside the long-tail of individual node runners, having a diverse set of enterprise-grade node infrastructure providers, like Chainstack, not only ensures a high degree of resiliency but also establishes an industry-leading baseline quality of service for Web3 applications. We're thoroughly excited that Chainstack will be extending its services to our community by offering cost-effective Ethereum full-nodes for those that want to become a Pocket node runner and lowering the barrier to entry for anyone to participate in Pocket Network with a low-code option.

Michael O'Rourke, Co-Founder CEO of Pocket Network
"We are a developer-first platform, rooted in precision engineering, radically simple, and built by a team of pioneers in the blockchain DevOps industry." says Eugene Aseev, Co-Founder and CTO of Chainstack. "Becoming a trusted node provider of Pocket Network is a great step forward because it reinforces our commitment to the decentralized community to support the creation of a resilient and accessible Web3. Our platform remains the most developer-friendly out there, and we will keep adding new applications, services and developer tools to continuously improve the experience of innovating using Chainstack."
The addition of Pocket Network to our Marketplace will mark a new frontier in merging enterprise and Web3 deployment, offering a sophisticated and mature decentralized alternative.
Connect with the community
Have you already explored what you can achieve with Chainstack? Get started for free today.
SHARE THIS ARTICLE