Zeedex on Chainstack: Skyrocketing a DEX with no gas fees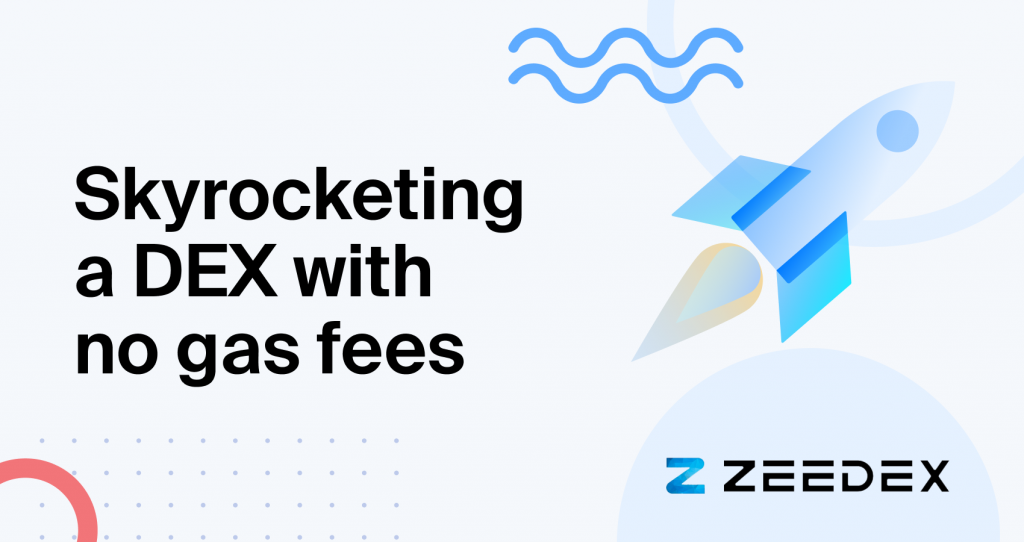 By offloading Ethereum infrastructure management to Chainstack, Zeedex launched their mainnet on time, achieved a 50% reduction in the total cost of ownership (TCO), and decreased DEX transaction latency by 35%.
Zeedex is a decentralized exchange with off-chain matchmaking and on-chain settlements. Heavily inspired by projects like Uniswap and IDEX, Zeedex plans to provide the best of both worlds.
What does Zeedex do?
Zeedex is a decentralized exchange that provides depositless and non-custodial limit orders, while simultaneously reducing trading fees on both the Ethereum and Binance Smart Chain (BSC) networks. Zeedex's users benefit from off-chain matchmaking and on-chain settlements resulting in zero gas fees.
How did Zeedex come across Chainstack?
Looking for an efficient solution for an Ethereum node with a JSON interface, archive data, and a backend service watcher with the ability to settle hundreds of transactions per second, Zeedex's team experimented with many managed blockchain service providers and, after careful evaluation, Chainstack was hands down the best provider of Ethereum nodes on the market.
How does Chainstack's offer fit into Zeedex?
Zeedex was looking at multiple infrastructure solutions to run the exchange that they built. They tried many products but were strapped by limitations like daily limits and heavy rates. After trying, experimenting, and almost giving up on finding a solution that fit them, Zeedex's team came across Chainstack.
According to Zeedex's engineering team, Chainstack has been a perfect fit for Zeedex due to:
Pay-per-use pricing model and competitive shared node pricing.
Proven uptime and reliability track records that enhance the trust Zeedex users and community have towards the exchange.
Reliable WebSocket and RPC endpoints.
Simple transition from other Ethereum service providers.
Highly responsive engineering support.
Chainstack takes care of node operations from deployment to management and monitoring. Joining forces with Chainstack turned out to be the most optimal and cost-effective solution for Zeedex because their team could focus on core product development (decentralized exchange) without worrying about the underlying blockchain infrastructure operations.
What does Zeedex like about Chainstack?
Zeedex trusts Chainstack with critical parts of their infrastructure. Chainstack continues to prove itself as a reliable and trustworthy technical partner, being able to handle sensitive and complex deployment needs. Zeedex is delighted with the service and support from Chainstack, because the Chainstack support team went the extra mile to help in every step while launching Zeedex's decentralized exchange.
What is the most interesting engineering challenge in working together?
On the day of Zeedex's mainnet launch, an update was pushed to the decentralized exchange SDK, which was a part of the Zeedex wallet. This made the Zeedex team worried about being able to meet the launch target, as this update affected the existing authentication methods and could have caused a delay in the launch of the DEX.
Looking for an immediate solution with only six hours to go to the launch of the mainnet, Zeedex didn't expect any help, since "it usually takes other providers 24-48 hours to reply back". The Chainstack support team quickly recognized the urgency of the request, and in a few hours the Zeedex team received a solution that made the launch target possible.
"It was the Chainstack team that came through with a quick solution, and the launch went smoothly", says Kyunghun Cheong, Zeedex founder.
Connect with the community
Have you already explored what you can achieve with Chainstack? Get started for free today.
SHARE THIS ARTICLE