Chainstack to contribute to Polygon's $150M #DeFiforAll Fund to help accelerate Web3 adoption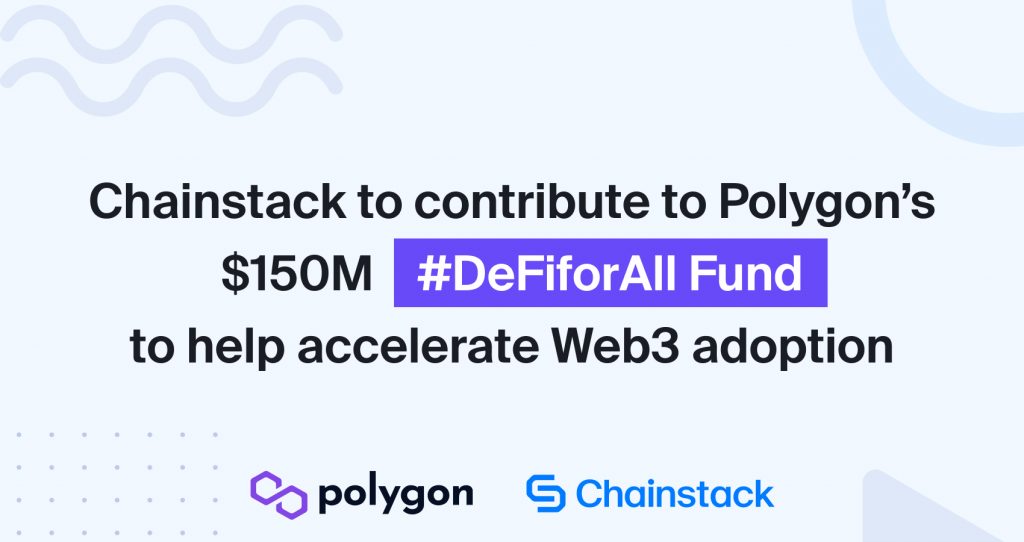 We are officially joining hands today with the Polygon network to add our contribution to Polygon's $150M #DeFiforAll Fund that was announced earlier this year. Our combined support is targeted at making DeFi more accessible and cost-effective, to bring the next million users to DeFi.
In our mission to make Web3 more accessible and efficient, Chainstack will provide free infrastructure to all the #DeFiforAll Fund's grantees and grants alumni. Chainstack is determined to help developers build applications on reliable infrastructure built for scale in the easiest way possible.
We are glad to have Chainstack with us on our journey to make #DeFiforAll and support Polygon's incredible community. Sustainable growth is what we want to promote with this grant program, and this must include reliable and cost-effective node infrastructure.

Arjun Kalsy, VP of Growth at Polygon
This initiative with Polygon will help provide entrepreneurial developers who are just starting up on their journey to build a new Polygon project with access to robust and scalable infrastructure. We are excited to see the community and ecosystem thrive and will extend our support to all projects to become the next mightiest Web3 projects such as QuickSwap and The Graph.
Chainstack is on a mission to make Web3 for everyone and ensure the next generation of the Internet is inclusive and diverse. We are thrilled to support the #DeFiforAll Fund and collaborate with the Polygon team to achieve this.

Alex Albano, Chief Growth Officer at Chainstack
What can you expect from us?
Grantees will receive the Chainstack Growth plan completely free for one month, unlocking up to 8M call requests to full shared nodes at absolutely no cost. Chainstack is committed to providing highly targeted advisory to ensure the most effective, reliable and cost-effective setup for each team, power-boosting their growth trajectory and accelerating their success.
In addition, our stellar team of best-in-class mentors at Chainstack will be providing strategic mentorship to all the teams part of the grant program to help them kickstart the journey in creating incredible projects and products, or to scale effectively their existing setup. The program we have created will be held on a monthly basis with infrastructure and DevOps clinics over 4 months.
What is the #DeFiforAll Fund?
Polygon's #DeFiforAll Fund was set up with the objective of bringing the benefits of DeFi, farming and lending to a larger user base that was traditionally completely priced out of the revolution. Polygon have committed up to 2% MATIC total supply ($150M at the time of writing) for a long-term fund to continually grow and support DeFi over the next 2–3 years. As part of this program, Polygon have supported leading projects such as Aave and Curve with massive liquidity mining programs and hopes to support the best DeFi protocols from the DeFi fund and take their incredible products to the masses and Polygon's incredible community.
Learn more about the #DeFiforAll Fund here.
Making Polygon network even more accessible
Polygon is a Layer 2 scaling solution created to help bring mass adoption to the Ethereum platform. Aggregating scalable solutions on Ethereum supporting a multi-chain Ethereum ecosystem, Polygon solves the pain points associated with other blockchains without compromising on security, low transaction fees, and transaction speed. The well-structured, easy-to-use platform for Ethereum scaling and infrastructure development is managed by its core component, Polygon SDK, a modular, flexible framework that supports building and connecting Secured Chains like Plasma, Optimistic Rollups, zkRollups, Validium etc and Standalone Chains like Polygon POS, designed for flexibility and independence.
In addition to technology innovation, Polygon have made building on Ethereum more accessible thanks to campaigns that promoted widespread adoption and attract the next million DeFi participants.
Learn more about Polygon here.
Choosing Polygon on Chainstack
Chainstack makes running a blockchain node radically simple so that developers can focus on building their applications instead of worrying about node availability, costly maintenance, and upgrades.
Deploy Polygon on Chainstack and get:
Instant access to reliable Polygon mainnet and Mumbai testnet infrastructure.
Start fast with shared Polygon nodes with multiple hosting locations, near-instant deployment, and secure HTTP and WebSocket endpoints.
Access Polygon mainnet archive data starting at $49 per month.
For request-intensive workload, deploy and sync your dedicated Polygon nodes in minutes thanks to Bolt technology.
Add advanced capabilities to your Polygon infrastructure with applications, developer tools, and services available on Chainstack Marketplace.
Get started with Chainstack with amazing options
Polygon ecosystem have over 600+ projects on the network divided into a broad range of categories. Join the widely adopted and fast-growing Polygon network using Chainstack.
Ideal for starting with Polygon, get Growth plan subscription at $19/month for 8M calls to shared full nodes per month.
Ideal for request-intensive use, get Business plan subscription at $49/month for 20M calls to shared full nodes and 3M calls to shared archive nodes per month.
Get up to 400M calls to Polygon, BSC and Ethereum shared full nodes and 60M calls to shared archive nodes per month on our Enterprise Web3 Pro package at $990/month all inclusive.
#DeFiforAll Fund grantee and grant alumni? Drop us a message here to access the free plan and register your interest for our mentorship program.
Learn more about Polygon on Chainstack click here.
Discover a wealth of information for Polygon on Chainstack
Have you already explored what you can achieve with Chainstack? Get started for free today.
SHARE THIS ARTICLE