SMARTy Pay on Chainstack: Delivering accessible historical data to optimize blockchain payment solution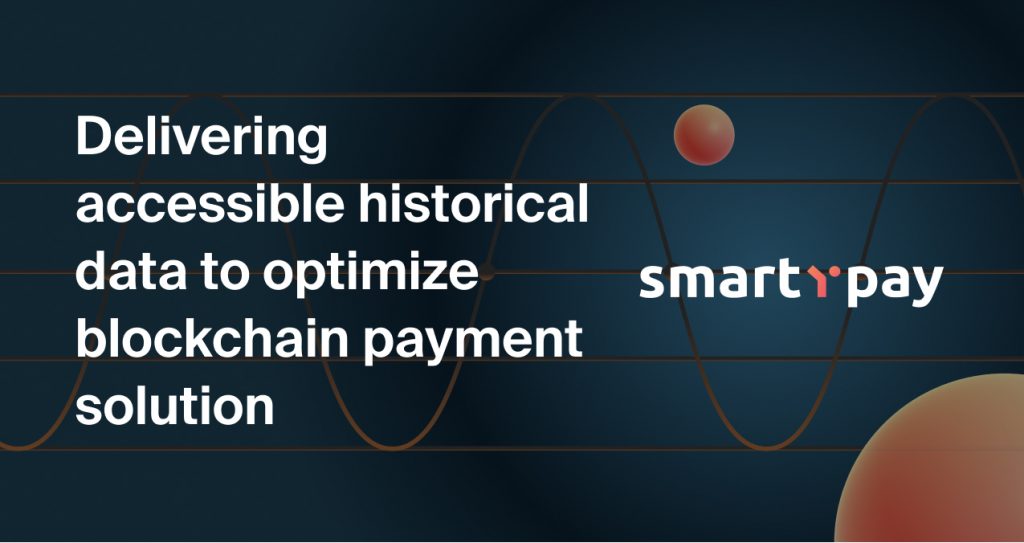 Blockchain payment solutions
SMARTy Pay provides consumers of decentralized assets and services with a holistic platform for accepting and processing blockchain payment simultaneously across various networks. This makes it easier for all market participants to start accepting any available digital currencies as a means of payment.
The platform ensures full confidentiality for the turnover of connected stores and provides support for modern DeFi exchange protocols. In doing so, it facilitates the transfer of funds and allows its users to take advantage of a palette of decentralized financial instruments in improving service quality and gaining additional income.
Merchants can effectively accept payments on their websites in a seamless and convenient manner by using SMARTy Pay technology. In doing so, they gain access to a huge audience of potential customers, as well as funds already in circulation within the Web 3.0 ecosystem.
SMARTy Pay provides support to a wide range of blockchain networks with its multi-chain operability but their main focus lies in BSC, Polygon, and other EVM-based options. It acts as both an on-ramp and an off-ramp for funds from numerous blockchains by integrating with their partners like MoonPay.
What does SMARTy Pay do?
SMARTy Pay's main advantage for its users is the complete non-custodial and decentralized approach to all processes on the platform. This ensures the transparent and user-friendly functionality of the ecosystem.
To make it all work, SMARTy Pay needed a robust API for the BSC network that could handle node deployment across multiple regions with archive support. After all, there is little room for error in production, with merchant balances and sensitive transaction data hanging in the balance.
The gravity of the situation led SMARTy Pay towards Chainstack as a dependable provider that could manage the significant throughput, expected of their implementation. SMARTy Pay successfully deployed Chainstack's stable infrastructure to perform critical tests, essential for the long-term reliability of its solution.
How does the Chainstack offer match SMARTy Pay needs?
The SMARTy platform is built upon a technologically complex system that leverages innovative contemporary implementations from the Web3 industry. But at the same time, this also comes with rigorous requirements to operate effectively.
Even so, Chainstack offers scalable deployment that can fully respond to such demanding use-case. SMARTy Pay primed their integral functionalities using Chainstack's flexible out-of-the-box solution in a cost-effective manner that fit their budget.
Working side-by-side together with our support team, SMARTy Pay applied the necessary changes to adapt Chainstack's infrastructure to their needs and ironed out the kinks that arose during the process. In the end, SMARTy Pay received the technological means they sought in the first place and responded with complete satisfaction to all aspects of our service.
Outcome
SMARTy Pay can now automate infrastructure network operations with databases and the blockchain application on a single platform, thanks to the Chainstack platform and managed services. SMARTy Pay takes advantage of trouble-free node maintenance and updates since it has uncompromised connection, security, and speed.
Chainstack's reasonable and predictable pricing structure allows SMARTy Pay to correctly allocate resources to strengthen its core services. In doing so, the company can focus on building critical product improvements and products that will improve their overall operations and user experience.
The collaboration with Chainstack allowed access to a broader range of customisation options that enable the streamlining of both operational processes and business operations. SMARTy Pay can create and perform tests on an array of protocols with ease, while integrating blockchain distribution applications, with the help of Chainstack's responsive support and do that at scale in a moment's notice.
What does SMARTy Pay like about Chainstack?
Chainstack was a match made in heaven for the BSC network API and the relevant features we were looking for. Their solution was easy to deploy and work with while adapting its functionality to our desired business case. We put great emphasis on testing all aspects of our core offering, so having access to the Chainstack archive nodes was incredibly useful in simulating various use-cases using main net historical data.

Vasily Lukoyanov, VP Engineering, SMARTy Pay
What does Chainstack like about SMARTy Pay?
For merchant-oriented projects, such as the case of SMARTy Pay, it is essential to be able to run effective tests against actual network data. This allows them to validate the output of their services prior to main net deployment and in doing so save themselves significant liabilities should something fail in production. We are thrilled to provide projects looking to create better opportunities for merchant blockchain adoption with the testing ground they need to try their applications pre-production.

Eugene Aseev CTO & Founder, Chainstack
What is the most interesting engineering challenge in working together?
SMARTy Pay's primary challenge was being able to perform cross-protocol critical structure tests against historical data at scale. Such tests are essential for identifying potential pitfalls that can cause significant loss of funds for their users in production and thus damage the project's reputation.
Chainstack supported SMARTy Pay throughout the deployment process of the BSC nodes they needed to begin testing their solution. Despite the gravity of the potential threats they faced, our team was there to deliver reliable infrastructure that was up to par with the strict standards, outlined in their requirements.
After rigorous collaboration in adapting the implementation to their use-case, SMARTy Pay successfully obtained the means to perform adequate tests against historical data. This created new opportunities for improvement within the SMARTy Pay core, and in doing so, the way towards product excellence was finally opened.
Power-boost your project on Chainstack
Connect to the Ethereum, Polygon, Binance Smart Chain, Avalanche, Fantom, Solana, Harmony, and Tezos mainnet or testnets through the interface designed to help you get the job done.
Get access to the Ethereum, Polygon, Binance Smart Chain, Avalanche, Fantom, and Tezos archive nodes to query the entire history of the mainnet—starting at just $49 per month.
Choose where you want to deploy, and we will provide you with the dedicated managed infrastructure that can handle high-volume, high-velocity read/write access to the network.
To learn more about Chainstack, visit our Knowledge Center or join our Discord server and Telegram group. 
Have you already explored what you can achieve with Chainstack? Get started for free today.
SHARE THIS ARTICLE