Chainstack announces support for Fuse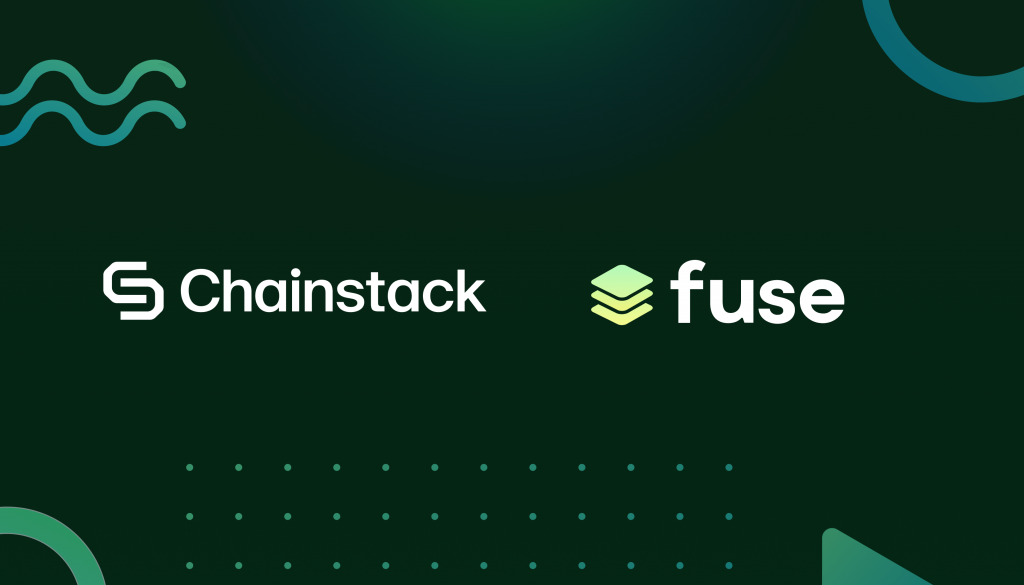 Have you heard the news? The official inclusion of the Fuse network to the Chainstack list of supported networks is now confirmed as coming soon! Once live, this will give you a fresh new opportunity to deploy a Fuse RPC node for your use case under all subscription plans.
Chainstack is the industry standard in delivering dependable and speedy blockchain infrastructure. The collaboration between Fuse and Chainstack is a major step forward in Fuse's mission to provide excellent development and customer support for the fuse network, the leading open source money infrastructure that focuses on the creation of community-centric payment systems and settlements. The tools and application programming interfaces (APIs) from Chainstack are utilized for the development, operation, and scalability of fuse blockchain applications. We were able to install our blockchain infrastructure on a global scale, across many cloud providers, and with the assurance of a fully secure enterprise-grade solution, all thanks to the tools provided by Chainstack. We could not be more excited to commence on this journey of collaboration, which will result in an improved Fuse Network infrastructure.

Mark Smargon, CEO and Co-Founder of Fuse.io
Thanks to Chainstack's robust infrastructure and exceptional performance, deploying a Fuse node is now more accessible to everyone than ever. So, take a break from the typical Web3 woes that come with running your own node and get a swift start into the Fuse network with Chainstack.
What is Fuse?
Starting its journey in 2019, Fuse embarked on a journey to deliver better access to mobile payments for communities worldwide. With a firm belief in open-source finance, the development team has made steady progress toward making this a reality. Now thanks to their efforts, launching and managing p2p networks has never been easier with simple and easy-to-use tools by your side.
And to top it all off, the Fuse network sports a brief block interval of 5 seconds making transaction processing swifter and more affordable than many other alternatives. At present, it is capable of approximately 120 native token transfers or 60 ERC20 ones per second. That is why currently confirming a transaction on Fuse would only cost you roughly $0.01. Now isn't that handy?
Building on Fuse
In order to provide adequate Sybil protection, the network takes advantage of delegated Proof of Stake (dPoS), powered by the AuRa algorithm to reach consensus. To secure it, Fuse relies on a diverse set of independent validators with just a single one being run by the core team.
On the protocol level, Fuse uses its own in-house VM, which is compatible with EVM. This means you will be able to leverage the powerful set of features it brings to the table across a wider range of networks. Even better – you can deploy any Ethereum smart contract on top of Fuse without any further effort required on your end.
And when it comes to cross-protocol connections, Fuse Network is connected to a range of major blockchains via leading third-party interoperability platforms, including Multichain, Connext, Allbridge, Elk Finance, as well as Fuse's own bridge accessible via the interface on Voltage Finance.
How to use Fuse on Chainstack
Gaining access to the Fuse network with Chainstack is quite straightforward – log into the Chainstack console, pick a cloud provider you prefer, and deploy the node to any location around the world that fits your needs, especially considering latency.
Developers and enterprises looking to leverage Fuse's advantages can now easily deploy, run and manage all Fuse nodes they are running from a single seamless Chainstack dashboard. Because of this, the entire operations process and scaling it becomes truly a walk in the park for anyone.
Seize the opportunity to become one of Fuse's earliest adopters and grab this quick win in time. Build with Chainstack today and secure reliable high-performance infrastructure for your project with commitment that fits both your needs and budget.
Pricing
With the help of its cutting-edge engineering and enterprise-grade infrastructure, Chainstack can help organizations drastically reduce the costs of running Fuse nodes and do so at higher efficiency, resulting in pricing that is both affordable and flexible at the same time.
But don't take our word for it – try it yourself by checking out our special Fuse introduction rates that offer zero-fee elastic full nodes with the Developer plan and up to 3M requests available at no extra cost.
And if you have some budget to spare too, you will be pleasantly surprised to discover that our subscription tiers are designed with price competitiveness in mind, so you can take advantage of a cost-effective deployment, regardless of the size of your project or the stage you are in.
That is why enrolling in the Growth plan will give you access to a total of 20M requests, while having up to 40M under the Business plan. Subscribing to the latter plan or above will also unlock unlimited requests on all dedicated nodes deployed.
Still not enough? Grab an extra set of 20M requests at $0.1 per 10K and $0.05 for quantities above that. No need to do the hard math yourself though, just let our pricing calculator do the heavy lifting for you instead.
Robust and reliable solutions for Web3
Chainstack makes it easier and faster for enterprises, governments, and organizations to work with blockchain technology. With Chainstack, you can develop, govern, and deploy decentralized protocols and applications securely while reducing complexity, simplifying operations, and lowering costs.
It is our mission to develop infrastructure solutions to make Web3 available and reliable for every developer, company, and user, which is why Fuse makes a perfect addition to the Chainstack list of supported networks:
Scalability is one of the biggest Web3 woes the current landscape faces, which is why outstanding efforts, such as those brought forward by the Fuse network are certainly a welcome sight. That is why we are excited to begin supporting the valuable contributions of developers interested in building on the protocol, while we offer them the means to launch and scale their solutions faster, easier, and more affordable than what was possible before.

Eugene Aseev, Founder and CTO of Chainstack
By adding Chainstack's enterprise-grade infrastructure to Fuse, both users and projects have access to a much faster, more reliable, and inexpensive entry into the network's ecosystem. And in doing so, we open the door to a more efficient, interconnected tomorrow in which entrepreneurs and end-users alike can benefit from the powerful set of features Fuse brings to the blockchain table, while at the same time enjoying exceptional performance and costs that fit their budget.
SHARE THIS ARTICLE