Chainstack partners with Polygon Village providing Polygon infrastructure for developers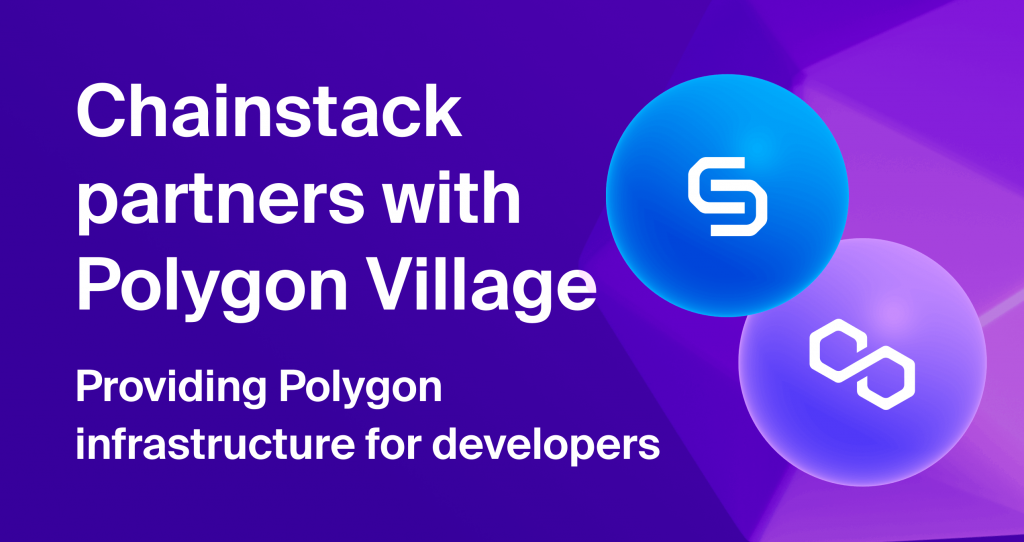 We are happy to announce that Chainstack is now supporting Polygon's DAO initiative called Polygon Village – a full stack ecosystem that aims to help developers along their Web3 journey by providing access to the best blockchain infrastructure to build and grow their future projects on Polygon.
At Chainstack, it is our goal too to provide developers—and enterprises of all sorts with access to the most reliable and scalable blockchain infrastructure, so they can build their projects in much more convenient and simpler ways, effectively speeding up Web3 mass adoption.
We are glad to have Chainstack supporting Polygon Village. To achieve a full-stack ecosystem that empowers our incredible Polygon community, developers, and projects to build and achieve sustainable growth, it is important to include access to dependable and scalable node infrastructure.

Marco Grendel, DAO Lead, Polygon
Seeing the dedication of the countless new developers coming to build on Polygon truly excites us, so we are certainly excited to be able to support this Polygon's DAO initiative (Polygon Village).
We believe every developer must be able to rely on robust and dependable blockchain infrastructure, so they are able to build the best tech and Chainstack will help developers who are part of Polygon Village do just that.
Thanks to this partnership, all Polygon Village participants will be able to redeem a unique voucher to access Chainstack's managed blockchain services for one entire month at the commitment-free special rate of $0 per month.
It is always exciting to be able to assist developers in making their endeavors more successful. In our goal to create a better Web3 tomorrow, we are delighted to be supporting the DAO's initiative and work with the Polygon Village to assure increased growth and scalability of next-generation Web3 builders and projects.

Eugene Aseev, Founder and CTO of Chainstack.
Free Polygon infrastructure for developers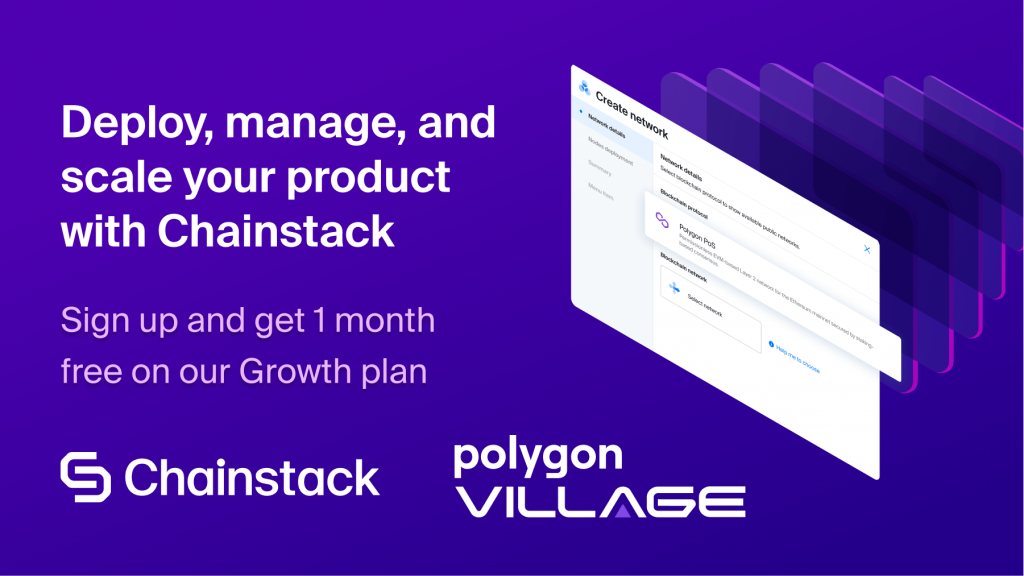 All grantees (Polygon Village developers) will enjoy the following major benefit:
Access to the Chainstack Growth plan for 1 month at the special rate of $0
The Chainstack Growth plan unlocks up to 8M RPC requests to elastic full nodes without the need to deploy, run, or manage a node yourself, which is an extremely cost-efficient, time-saving solution everyone can use to future-proof and accelerate the growth of their projects.
To benefit from all this, grantees will need to go through a few simple steps:
Apply and submit a voucher application at Polygon Village.
To redeem the voucher, you will receive instructions to:
What is the Polygon DAO Village?
Polygon Village is a Polygon DAO initiative aiming to decentralize, grow, and innovate the Polygon community. The projects which are part of Polygon Village have access to several highly practical solutions, such as hosting, audit services, infrastructure & API-related services, talent discovery, and much more.
Polygon Village provides all participants with welcome vouchers (e.g., Chainstack growth plan vouchers), shared grants, education sessions (Village Talks), a job board, and a bounty board. Read more here.
What is Chainstack & how to use Polygon on Chainstack?
Chainstack is a leading Node-as-a-Service provider that offers developers and enterprises of all shapes and sizes a single seamless way to launch and scale their Web3 projects. Backed by a bright team full of experts, Chainstack's all-in-one, easy-to-use platform allows you to deploy, run, and manage an elastic full node without having to worry about any infrastructure work – enabling you to focus on building next-level tech for your projects instead.
Use Polygon on Chainstack and get instant access to:  
The most reliable Polygon mainnet and Mumbai testnet infrastructure.
Elastic full Polygon nodes including personal, geographically diverse, and protected HTTP and WebSocket endpoints.
Polygon mainnet archive data to query the entire history of Polygon mainnet.
Chainstack's patented Bolt technology to sync your nodes in 3 hours or less.
Dedicated nodes to help you handle request-intensive workloads.
Plus, you can integrate advanced capabilities to your Polygon infrastructure with the applications, developer tools, and services available on the Chainstack Marketplace.
Learn more about Polygon on Chainstack here.
Discover a wealth of information for Polygon on Chainstack 
Have you already explored what you can achieve with Chainstack? Get started for free today.
SHARE THIS ARTICLE